Papua New Guinea: 'A beggar sitting upon a mountain of gold' 深耕四十載 台商:巴紐像坐在金山上的乞丐
Papua New Guinea is one of the poorest countries in the world. However, Wu Fu-tsai, who has been cultivating the market for four decades, says the country is like "A beggar sitting upon a mountain of gold." Although Papua New Guinea is sitting on an abundance of resources, it lacks the required processing technology, and so is reliant on imports, Wu says.
Wu, 72, is the president of the Papua New Guinea Taiwan Fellowship Association. After leaving the army in Taiwan, Wu initially went to Indonesia to work in the lumber industry. However, after the Indonesian and Malaysian governments banned the export of timber from their countries in 1976, Wu, assisted by a friend, came to Papua New Guinea to work in the fishing industry and became the first Taiwanese business to set up shop in the country, exporting fish primarily to Japan, South Korea and Taiwan. At the time, the company would export approximately two 40-foot containers worth of product every month.
Wu recollects the people and culture were completely unfamiliar to him when he pitched up in Papua New Guinea. The government of the day was extremely inefficient, Wu says: it took him all of two years to obtain his company's first licence. The concept of land ownership rights also differs drastically from other countries, Wu says. In Papua New Guinea, land is commonly owned by local residents. If someone wants to lease or purchase land, they must first obtain agreement from all the locals before they can make an application to the relevant national government body. This meant Wu had to spend a great deal of time flying around the country's mountainous areas in helicopters.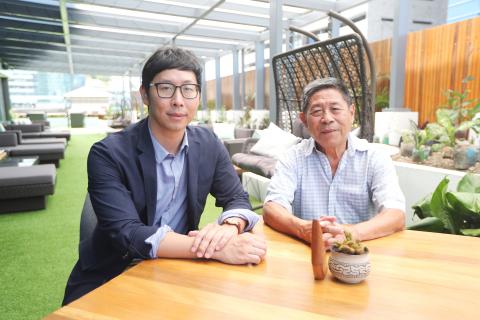 President of the Papua New Guinea Taiwan Fellowship Association Wu Fu-tsai, right, and his son, Wu Hung-po, are pictured in Papua New Guinea. 巴布亞紐幾內亞台灣同鄉會會長吳福財(右)與兒子吳弘博(左),攝於巴布亞紐幾內亞。
Photo: CNA
照片:中央社
Today, there are approximately 100 Taiwanese business people trading with Papua New Guinea, Wu says, and adds that if Taiwanese businesses want to do business here, there are opportunities in agriculture, fishing and industry since, locally, there is "almost no technology." Wu cites coffee as an example: Papua New Guinea is an abundant producer of coffee beans, but it has no processing factories, so it exports raw beans and imports instant coffee.
Wu says the reason for the small amount of trade between Papua New Guinea and Taiwan is because Taiwanese, unfamiliar with the country and having concerns about public order, tend to stay away. However, Wu says: "In fact, public security here is not as bad as people imagine," and if there are Taiwanese businesses interested in setting up here, Wu says he would gladly lend a helping hand. Four generations of Wu's family have emigrated to Papua New Guinea. His son, Wu Hung-po, works as a foreign trade ambassador at the Papua New Guinea Department of Trade, Commerce and Industry, responsible for investment promotion from the Asian region. Wu's daughter, Wu Hung-yu, has opened a Vietnamese restaurant that is popular with the local Caucasian population.
China has in recent years provided a constant stream of aid to Papua New Guinea for the construction of basic infrastructure. As a result, wave after wave of Chinese engineers have arrived in the country and, discovering there are profits to be made, have returned to do business once their projects are completed. However, Wu says that most have focused on running supermarkets, grocery stores and other retail businesses. Wu believes there is a good opportunity for Taiwanese businesses to penetrate into technology-related industries.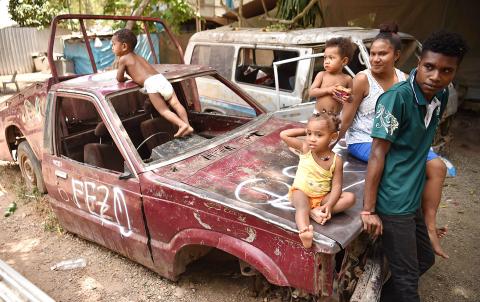 A family sits on the wreckage of a car in a village in Port Moresby, ahead of the APEC summit, on Thursday. 巴布亞紐幾內亞摩斯比港,坐在廢棄車輛上的一家人,攝於週四亞太經濟合作會議舉行前。
Photo: AFP
照片:法新社
(CNA, Translated by Edward Jones)
巴布亞紐幾內亞是全世界最貧窮國家之一,不過,在當地深耕四十年的吳福財說,其實巴紐就像「坐在金山上的乞丐」,坐擁豐沛資源,但卻沒有相應的加工技術,反而必須仰賴進口。
現年七十二歲的巴布亞紐幾內亞台灣同鄉會會長吳福財,退伍後就到印尼從事伐木業,一九七六年印尼、馬來西亞禁止原木出口後,他在朋友力邀下到巴紐從事漁業,成為第一個在巴紐發展的台商,主要出口至日本、南韓及台灣,一個月出口量約兩個四十呎貨櫃。
吳福財回憶,當年人生地不熟,當地政府行政效率低落,公司第一張證照辦了兩年才拿到,而當地地權觀念與其他國家不同,土地是當地居民共有,若要租地或買地必須取得所有「地主」同意,才能向國家申請,因此也必須常常坐著直升機來往山區。
如今在巴紐經商的台商約有百人,吳福財認為,若台商要來巴紐發展,「農業、工業、漁業都有機會」,因為當地「幾乎沒技術」,例如當地盛產咖啡豆,但卻沒有加工廠,因此變成必須出口原豆、進口即溶咖啡。
吳福財說,巴紐台商少,主要是台灣人對巴紐不熟悉,聽說治安差就不太敢來,但「其實沒有想像中差」,而且若有台商想來,他也很樂意幫忙。吳福財一家四代都已移居巴紐,兒子吳弘博更是巴紐貿易商業部貿易大使,負責向亞洲區招商,女兒吳弘渝則開設越南餐廳,受到巴紐白人喜愛。
中國大陸近年持續援助巴紐做基礎建設,來自中國的工程隊一批批進到當地,吳福財說,很多中國人來看了之後發現有利可圖,工程結束後自己也會來做生意,不過多以超市、雜貨店等零售業為主,若台商要切入,技術相關產業是不錯機會。
(中央社)
Follow up
讀後練習
Papua New Guinea hosts APEC summit
Last weekend, world leaders descended on the impoverished Asia-Pacific nation of Papua New Guinea for the annual Asia Pacific Economic Cooperation (APEC) summit. This year's meeting was the first in the summit's history to end without a formal leaders' statement.
Hosting the economic and political powwow was a big risk for Papua New Guinea's government and came with a hefty price tag. Due to security concerns, world leaders were housed in a chartered cruise ship moored alongside the nation's capital, Port Moresby, while the government raised eyebrows by purchasing 40 Maserati luxury sports cars to ferry delegates to and from conference venues.
In recent years, China has lavished cash on the nation as part of its Belt and Road Initiative. However, some of the infrastructure projects, such as a six-lane highway in the nation's capital — dubbed "the road to nowhere" — have drawn criticism for being improperly planned and of questionable utility. The US has repeatedly criticized China's Belt and Road Initiative as a form of "debt-trap diplomacy" that forces staggering levels of debt on poor countries.
Earlier this month, Australia announced a 2 billion Australian dollar South Pacific infrastructure fund, widely seen as a move to counter Beijing's growing influence in a region which Australia traditionally views as its own "backyard."
(Edward Jones, Taipei Times)
Publication Notes
TODAY'S WORDS
今日單字
1. processing technology phr.
加工技術 (jai1 gong1 ji4 shu4)
2. land ownership rights phr.
地權 (di4 quan2)
3. public order phr.
治安 (zhi4 an1)
4. emigrate v.
移居 (yi2 ju1)
5. basic infrastructure phr.
基礎建設 (ji1 chu3 jian4 she4)
Comments will be moderated. Keep comments relevant to the article. Remarks containing abusive and obscene language, personal attacks of any kind or promotion will be removed and the user banned. Final decision will be at the discretion of the Taipei Times.