Ministry of Economic Affairs: Time for Taiwanese manufacturers to come home 台商遷廠美國、東南亞? 經濟部喊話:台灣好
As the US-China Trade War continues to intensify and many observers are predicting it will turn into a protracted war of attrition, Taiwanese companies operating in China are one after another heading for the exit, turning to Southeast Asia, the US or returning to Taiwan.
According to Minister of Economic Affairs Shen Jong-chin, the ministry is currently aware of 35 Taiwanese businesses that intend to "reshore" production to Taiwan, which includes 25 publicly-listed companies the Ministry of Economic Affairs (MOEA's) Industrial Development Bureau is aware of, as well as 10 smaller-sized companies known to the MOE's Department of Investment Services. Additionally, over 20 Taiwanese businesses plan to relocate to Southeast Asian countries. Department Director-General Chang Min-pin says that the ratio of China-based Taiwanese businesses looking to relocate to Southeast Asian countries or Taiwan is currently 45:55. The main considerations driving relocation decision-making are sufficient availability of land and labor and whether there are readily available supply chain clusters.
Chang says that Taiwanese businesses are adopting a phased approach in their response to increased friction between between Washington and Beijing. In the short-term businesses are considering whether to shift production capacity, however in the medium-to-long term, the location of new production lines and entire production bases are both up for consideration. Which course of action to take is invariably dependent on whether supply chains are able to be relocated in their entirety, which would require manufacturers to negotiate with all of their suppliers and customers. A consensus must be achieved between all parties before they are able to relocate production.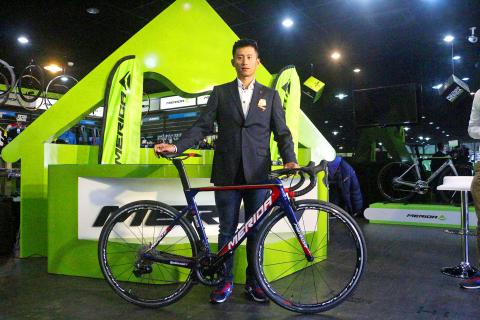 Taiwanese cyclist Feng Chun-kai stands next to a Merida bicycle on Jan. 10 at a promotional event in Taipei. Merida Industry Co earlier this month announced production of the majority of its bicycles destined for the US market will be returning to Taiwan. 台灣自行車手馮俊凱與美利達自行車,攝於一月十日。美利達於本月稍早宣布,將把多數銷往美國的自行車訂單移回台灣生產。
Photo: Nien Miao-yun, Liberty Times
照片:自由時報記者粘藐云
According to Chang, the completeness of Taiwan's supply chains and its close proximity to China means that manufacturers will find it relatively easy to relocate production back to Taiwan. Chang adds that Taiwan is an excellent choice for businesses whether they intend to source a new supply chain in Taiwan or continue working with existing suppliers which have yet to move out of China.
However, the cost of land in Taiwan is relatively high and businesses will also have to deal with other challenges, including importing labor from abroad. Chang emphasizes that some large Taiwanese manufacturers already operate manufacturing plants in Taiwan, while smaller-sized businesses will find that it is relatively easy to acquire land and set up a water and electricity supply. Therefore, if companies are able to satisfy their labor requirements, says Chang, then they should find "reshoring" to Taiwan is in fact a smooth process.
By comparison, if Taiwanese businesses relocate to Southeast Asian countries such as Indonesia, India or Thailand, one consideration worth bearing in mind is that it may not be possible to move entire supply chains. Chang says that a supply chain cannot be magicked out of nowhere and transportation lines will necessarily be longer. If a manufacturing company's upstream and downstream suppliers remain in China, the problem of increased transportation costs will also need to be factored in, says Chang.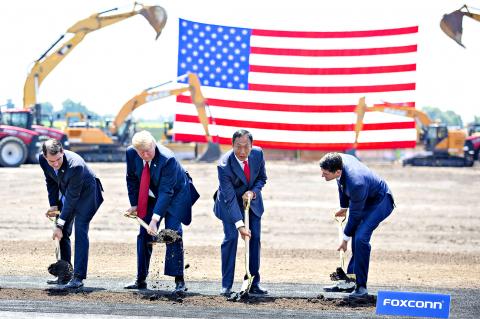 From left, Wisconsin Governor Scott Walker, US President Donald Trump, Foxconn Technology Group chairman Terry Gou and US House of Representatives Speaker Paul Ryan shovel dirt at a groundbreaking ceremony for the new Foxconn facility in Mount Pleasant, Wisconsin, on June 28. 威斯康辛州州長斯考特·沃克(左起)、美國總統川普、鴻海集團董事長郭台銘、美國眾議院議長保羅·萊恩,六月二十八日在美國威斯康辛州快樂山的鴻海新工廠預定地參與加破土動工儀式。
Photo: Bloomberg
照片:彭博社
As for Taiwanese manufacturers relocating to the US, Chang says that due to the relatively high costs involved, only companies with a truly global presence are able to shoulder the financial burden, such as Formosa Plastics or Hon Hai Precision Industry Co (also known as Foxconn). Since regulations and requirements differ from state-to-state in the US, Chang says the MOEA's Industrial Development Bureau provides help to Taiwanese companies such as obtaining information, negotiation assistance and facilitating Taiwanese companies' participation in US investment events such as the recent Select USA investment summit.
(Liberty Times, translated by Edward Jones)
美中貿易戰越演越烈,外界估計將成持久戰,在中國的台商也紛紛出逃,轉往東南亞、美國或回流台灣。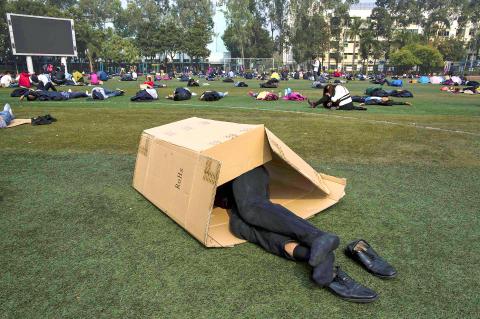 A worker takes a nap inside a cardboard box at a Foxconn factory in Guangdong Province, China on Jan. 21, 2015. 中國廣東省深圳鴻海的工廠一名工人在空紙箱裡午睡。攝於二○一五年一月二十一日
Photo: Reuters
照片:路透
經濟部長沈榮津指出,目前掌握到有意回台的台商約三十五家,包括工業局掌握上市櫃台商二十五家、投資處掌握較小型台商十家;而有意前往新南向國家的廠商也有二十多家。經濟部投資業務處長張銘斌則透露,根據調查,目前有意台商返台與新南向比例約45比55,主要考量土地、勞動力是否足夠,以及供應鏈是否有群聚效應。
張銘斌表示,因應美中貿易摩擦,台商目前有幾個階段的考量,短期先以移轉產能因應;但中長期就會考慮到新增產線或生產基地。至於何去何從,往往要看產業供應鏈能否整體到位,廠商必須與供應鏈、供應商及客戶協調,得到共識後才能移動。
他表示,由於台灣供應鏈較完整,距離中國也比較近,廠商回台相對較容易處理,不管在台灣找供應鏈或是配合尚未移出中國的其他供應鏈廠商,台灣都是較優的選擇。
不過,台灣土地成本較高,也要面對引進勞工等問題。張銘斌強調,大型台商部分在台已有廠房,而小型台商找地、供水、供電都比較不成問題,只要勞工條件滿足,相對能順利回台。
相較之下,台商若前往新南向國家,例如印尼、 印度、泰國等,供應鏈是否能整批移動,就是須考量要件。張銘斌表示,一方面是供應鏈從無到有,且運輸動線較遠,如果還有上下游廠商在中國未移出,就還要考慮運輸成本問題。
對於赴美設廠,張銘斌則表示,由於成本較高,可能已有能力全球布局的廠商,較能夠負擔赴美設廠費用,例如台塑、鴻海等。由於美國各州所開出條件及法規都相當不同,張銘斌表示,投資處也提供相關協助,包括助台商參加Select USA等美國大型招商活動,獲取資訊及洽談等。
(自由時報記者黃佩君)
Follow Up
讀後練習
Foxconn
Foxconn is a Taiwanese multinational electronics contract manufacturing company. It is the world's largest maker of computer components and assembles products for Apple, including the iPhone and iPad, as well as a wide range of products for other major technology companies.
Foxconn is the largest private employer in Taiwan, although most of the its manufacturing happens in China, where the company operates 12 factories across nine cities. The largest of Foxconn's manufacturing facilities is located in Longhua Town, Shenzhen, and this is where the majority of Apple's iPhones are assembled.
The factory hit the headlines in 2010 when a spate of worker suicides occurred, with 14 employees taking their own lives. There have been repeated allegations of poor working conditions, low wages, beatings by security guards, and enforced overtime at the facility.
In October, 2012, the company admitted 14-year-old children had worked at another of the company's facilities in Shandong Province.
(Edward Jones, Taipei Times)
Publication Notes
TODAY'S WORDS
今日單字
1. intensify phr.
越演越烈 (yue4 yan3 yue4 lie4)
2. war of attrition phr.
持久戰 (chi2 jiu3 zhan4)
3. head for the exit phr.
出逃 (chu1 tao2)
4. supply chain phr.
供應鏈 (gong1 ying4 lian4)
5. production capacity phr.
產能 (chan3 neng2)
6. which course of action to take phr.
何去何從 (he2 qu4 he2 cong2)
7. magicked out of nowhere phr.
從無到有 (cong2 wu2 dao4 you3)
Comments will be moderated. Keep comments relevant to the article. Remarks containing abusive and obscene language, personal attacks of any kind or promotion will be removed and the user banned. Final decision will be at the discretion of the Taipei Times.