Bilingual Music: The founder of Baroque organ music: Girolamo Frescobaldi 雙語音樂:巴洛克管風琴音樂的奠基者—弗列斯寇巴第
Girolamo Frescobaldi (1583 — 1643) was the founder of the Franco-Netherlandish-Italian tradition during the early Baroque period. He devoted his life to the creation of solo keyboard music, and popularized a great many genres that flourished in the middle-to-late Baroque period, leaving behind a profound musical legacy for later composers.
Frescobaldi was born in the Duchy of Ferrara in what is now northern Italy. As a young man, he traveled and performed extensively throughout Europe and, in 1608, was appointed organist of St. Peter's Basilica in Rome, remaining in this position until his death. In 1615, Frescobaldi published two major works of keyboard pieces: the first book of Ricercari et canzoni and another first book of Toccate e partite.
The term ricercar derives from Latin, and has the meaning of "searching out" or "seeking." In the early 16th century, the genre was akin to the improvisatory nature of a fantasia. In Frescobaldi's compositions, the music starts from one shorter theme in single voice and is then followed by multiple voices played on the keyboard in the exploration and development of the theme through imitation, with runs and passagework similar to polyphonic church cappella singing.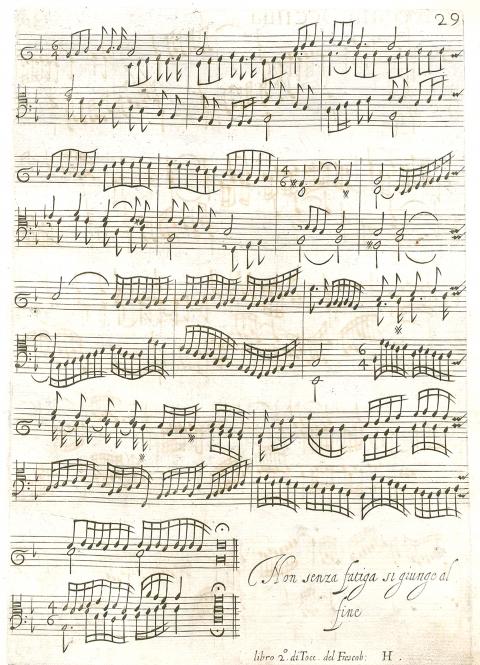 Virtuosic techniques permeate Frescobaldi's composition: Toccata IX from Secondo libro di toccata bears an inscription by the composer: "Non senza fatiga si giunge al fine": "Not without toil will you get to the end." 弗列斯寇巴第的作品中充滿華麗展技的演奏技術:在觸技曲第二冊的第九首結尾處,作曲家寫下這樣的註記:「沒有費盡千辛萬苦,是無法抵達終點的。」
Photo: Wikimedia commons
照片:維基共享資源
In 1627, Frescobaldi produced a second book of Toccate e partite, further demonstrating his exquisite, complex organ-playing technique. The term toccata comes from the Italian verb "toccare" meaning "to touch" and, as such, toccatas were warm-up pieces for the musician to play prior to the performance of a major work. Being essentially warm-up pieces, toccatas were generally played with an impromptu feel without rigid tempo instructions. Frescobaldi's pieces, developed to demonstrate technical virtuosity, with their rapid scale runs and changes in voicing, occasionally include contrapuntal sections, and sometimes incorporate intimate or contemplative passages, demonstrating the expressive diversity of organ music.
Contemporary and later musicians regard Frescobaldi as the most important founder of keyboard music. His development of the ricercar and toccata genres and the expressive effect achieved by rapid changes in mood, together with his arrangements of strongly contrasting passages, were essential to the development of the North German organ school tradition and the stylus fantasticus that would come to the fore soon after.
(Translated by Paul Cooper, Taipei Times)
作曲家吉羅拉莫‧弗列斯寇巴第(西元一五八三~一六四三)是早期巴洛克時代法蘭西─尼德蘭─義大利地區音樂學派的奠基者。他畢生致力於鍵盤獨奏音樂的創作,將巴洛克時代中後期盛行的許多樂曲類型發揚光大,對下一個世代的作曲家留下深刻的影響。
弗列斯寇巴第出生於義大利北部的城市費拉拉,成年後在歐洲大陸各處旅行與演奏,並在一六○八年成為羅馬聖伯多祿大殿附屬合唱團的風琴家,擔任該職直到過世。一六一五年,他發表了為鍵盤樂器寫下的兩部巨作:《里切爾卡與短歌曲》以及《觸技曲與組曲集》。
「里切爾卡」拉丁文原意為「追尋」,在十六世紀初期近似於帶有即興風格的幻想曲。在弗列斯寇巴第的筆下,里切爾卡由單一聲部演奏出一段短小主題開始,隨即在鍵盤樂器上演奏不同聲部,互相模仿、追逐,對主題進行探索與發展,彷彿模仿著教堂的複調合唱音樂。
一六二七年,弗列斯寇巴第發表第二冊《觸技曲與組曲集》,進一步展示管風琴華麗繁複的演奏技術。「觸技曲」源自義大利文「觸碰」,顧名思義就是大型作品演出前演奏者小試身手的音樂。帶有「暖身」性質的觸技曲,速度相對自由,帶有即興感,弗列斯寇巴第卻發展成展技性的作品,加入快速的音階與琶音上下爬升,中間有時會展開一段對位,有時則會轉入充滿親密感或是冥想性格的感性段,展現多樣化的情感表現。
當代與後世的音樂學者都將弗列斯寇巴第視為該時代最重要的鍵盤音樂奠基者。這位作曲家對里切爾卡與觸技曲的發展,陡然變化的情感表現,以及對比性強烈的段落安排,催生了稍後的「北德管風琴學派」以及著名的「幻想風格」。
(台北時報章厚明撰)
Comments will be moderated. Keep comments relevant to the article. Remarks containing abusive and obscene language, personal attacks of any kind or promotion will be removed and the user banned. Final decision will be at the discretion of the Taipei Times.