Gay-themed films to open in Taiwan's Pride Month 《紅樓夢》、《誰先愛上他的》 驕傲月將上映
To mark Pride Month in Taiwan, director Starr Wu's gay-themed film "The Story of the Stone" is in theaters from today. The film explores the colorful gay scene in Taipei, and the screening of the movie as the closing film at the Taiwan International Queer Film Festival attracted much attention earlier last month.
The film is adapted partially from one of the "Four Classic Novels" of Chinese literature, also known as the Dream of the Red Chamber. The red chamber is portrayed in the movie as the "Red House" in Taipei's Ximending area — a landmark for the LGBT community. Some film critics, however, have expressed concern about its overemphasis on drug use, orgies and HIV infection, worrying that this may lead to the reinforcing of negative stereotypes.
Meanwhile, directors Mag Hsu and Kidding Hsu's gay-themed film "Dear Ex" is also set to open in two weeks. The highly-anticipated romantic comedy won eight nominees at this year's Golden Horse Awards, including the nominations for best leading actor for Roy Chiu and best leading actress for Hsieh Ying-xuan.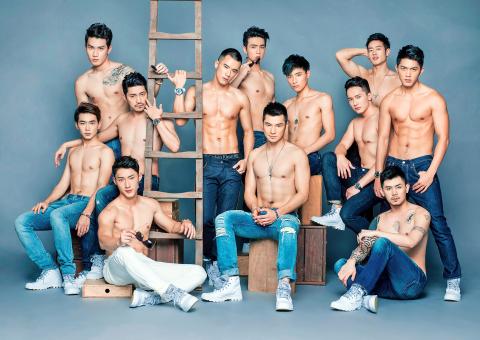 Promotional photo of the gay-themed film "The Story of the Stone" featuring the main cast. 同志電影《紅樓夢》的主角們在這張宣傳照中。
Photo courtesy of the VM magazine
照片︰VM質男幫雜誌
(Eddy Chang, Taipei Times)
適逢台灣同志驕傲月,導演吳星翔的同志電影《紅樓夢》將在今日上映。該片講述台北市五光十色的同志生活,稍早於上個月獲選台灣國際酷兒影展閉幕片,引發不少觀注。
該片部分改編自中國「四大名著」之一的《紅樓夢》,紅樓在劇中並化身為在台北市西門町的同志地標「紅樓」。然而有些影評人則擔心該片過分強調嗑藥、雜交、愛滋病,有可能會導致負面的刻板印象。
此外,導演徐譽庭與許智彥的同志電影《誰先愛上他的》,也將在兩週後上映。這部備受期待的浪漫喜劇,榮獲本屆金馬獎八項提名,包括男主角邱澤、女主角謝盈萱。
(台北時報張聖恩)
Publication Notes
TODAY'S WORDS
今日單字
1. Pride Month phr.
同志驕傲月
(tong2 zhi4 jiao1 ao4 yue4)
2. chamber n.
樓房 (luo2 fang2)
3. landmark n.
地標 (di4 biao1)
4. overemphasis n.
過分強調
(guo4 fen4 qiang2 diao4)
5. stereotype n.
刻板印象
(ke4 ban3 yin4 xiang4)
Comments will be moderated. Keep comments relevant to the article. Remarks containing abusive and obscene language, personal attacks of any kind or promotion will be removed and the user banned. Final decision will be at the discretion of the Taipei Times.