EBay names Britain's Kate this year's top fashion influencer 時尚指標出爐!凱特王妃最具影響力
Kate, the Duchess of Cambridge, has taken the crown as this year's top style influencer, according to eBay's annual UK retail report released last month. She outshone Meghan, the Duchess of Sussex, and had the biggest impact on shopping habits. Princess Charlotte, who was at the top spot last year, came third.
Throughout the year, Kate's favorite fashion choices such as Alexander McQueen, Jenny Packham and Seraphine saw a 20 percent surge in searches. And unlike Meghan, she was praised for often wearing her old clothes repeatedly in public — including a pair of boots she was wearing 14 years ago when she was in college.
Kate's ability to recycle her wardrobe comes in stark contrast to waste in the fashion industry. Not long ago, luxury brand Burberry was condemned for burning 28.6 million pounds (about NT$1.1 billion) worth of unsold clothes and accessories in the past year to "protect its brand." The British company was forced last month to stop destroying unsold goods and using real fur following the backlash.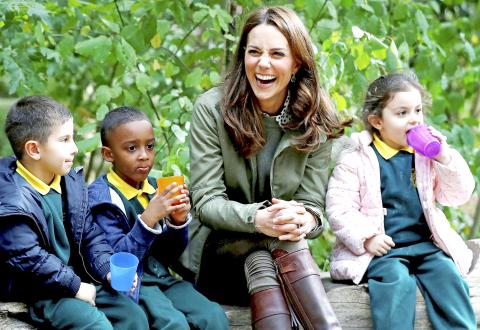 Kate, the Duchess of Cambridge, visits the Sayers Croft Forest School and Wildlife Garden in London on Oct. 2. 凱特王妃(劍橋公爵夫人)於十月二日,參訪位於倫敦的一所森林小學。
Photo: AP
照片:美聯社
(Eddy Chang, Taipei Times)
根據eBay上個月發布的年度英國零售業報告,凱特王妃(劍橋公爵夫人)今年奪下冠軍寶座,成為最具時尚影響力的人,超越亞軍的梅根王妃(薩塞克斯公爵夫人),對大眾的購物習慣影響也最大。第三名則是去年的冠軍——小公主夏綠蒂。
在過去一年,凱特王妃的愛牌像是Alexander McQueen、Jenny Packham、Seraphine等,搜尋量都飆升百分之二十。和梅根王妃不同的是,她還因為經常公開地重複穿著舊衣而受到讚賞——包括一雙她十四年前在大學時代穿的舊靴子。
凱特王妃回收舊衣的能力和時尚業浪費的情形可說是鮮明的對比!不久前,奢華精品Burberry才因為在過去一年,燒毀兩千八百多萬英鎊(約十一億新台幣)的未售出衣物和飾品以「維護其品牌」而飽受譴責。在各方強烈反對下,這家英國公司最終在上個月停止銷毀未售出產品,也不再使用真的毛皮。
(台北時報張聖恩)
Publication Notes
TODAY'S WORDS
今日單字
1. influencer n.
影響者
(ying2 xiang2 zhe3)
2. retail adj.
零售的
(ling2 shou4 de5)
3. impact n.
影響
(ying2 xiang3)
4. contrast n.
對比
(dui4 bi3)
5. luxury adj.
奢華的
(she1 hua2 de5)
Comments will be moderated. Keep comments relevant to the article. Remarks containing abusive and obscene language, personal attacks of any kind or promotion will be removed and the user banned. Final decision will be at the discretion of the Taipei Times.