Knotted gun sculpture unveiled in Beirut 反戰紀念雕塑「打結手槍」 貝魯特莊嚴揭幕
A copy of a knotted gun sculpture that has become an emblem for peace was unveiled on Tuesday, the International Day of Non-Violence, in Lebanon's capital Beirut near a tower block whose shattered facade evokes the civil war that once ripped the city apart. The International Day of Non-Violence falls on Oct. 2, the birthday of Mahatma Gandhi, who employed nonviolent civil disobedience and led India to independence.
Swedish artist Carl Fredrik Reutersward made the original sculpture, a revolver with its barrel tied in a knot, as a tribute to John Lennon after he was shot in New York in 1980. It stands outside the UN building in Manhattan, and the Non-Violence Project Foundation, created by Reutersward, has placed copies in other cities around the world.
The version in Beirut stands on the seafront, just around the corner from the old Holiday Inn building, a concrete tower block deeply scarred by shell and bullet holes from the 1975-1990 civil war. The conflict was fought largely between Christians and Muslims and also drew in Palestinians, Syria, Israel and other foreign powers.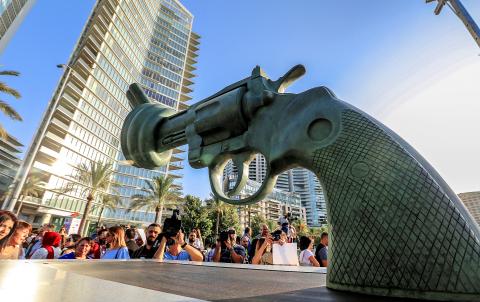 Photographers take pictures during the first celebration in Lebanon of "National Day for a Culture of Nonviolence" and the inauguration of the "Knotted Gun" sculpture in Beirut, Lebanon, on Tuesday. 週二在黎巴嫩的貝魯特,攝影師拍攝黎巴嫩第一屆「非暴力文化國家日」慶祝活動以及「打結手槍」雕塑的揭幕儀式。
Photo: EPA
照片:歐新社
For much of the war, Beirut was divided along its "green line" separating mostly Muslim west Beirut from the mostly Christian east. Twenty-eight years after the war ended, the damage is still visible in many parts of the city.
While Lebanon is now at peace, conflict has mired many other parts of the region and the seven-year war in neighboring Syria has sent a million refugees to seek refuge in its borders.
(Reuters)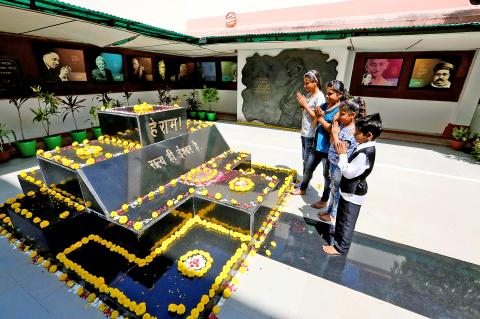 Indian school children pay tribute to Gandhi at a memorial at Gandhi Bhawan on the 150th anniversary of his birth in Bhopal, India, on Tuesday. 週二在印度的博帕爾,印度學童在甘地紀念館舉行的甘地追思會上致敬,紀念這位印度聖雄的一百五十歲冥誕。
Photo: EPA
照片:歐新社
今已成為和平象徵的一座槍管打結雕塑作品,在週二「國際非暴力日」揭幕於黎巴嫩首都貝魯特。雕塑座落於一棟高樓附近,建築正面碎裂的外牆喚起曾一度撕裂這個城市的內戰記憶。國際非暴力日落在每年的十月二日,以紀念印度聖雄甘地的生日,因他採取非暴力的公民不服從手段,帶領印度走向獨立。
這座雕塑的原件來自於瑞典藝術家卡爾‧弗雷德里克‧陸特斯瓦的創作,他將這件槍管被打成一個結的左輪手槍雕塑,獻給一九八○年在紐約遭到槍擊過世的歌手約翰‧藍儂。雕塑原件現今矗立於曼哈頓的聯合國大廈外,而陸特斯瓦創立的非暴力計畫基金會,今日已在世界各城市豎立多座這件雕塑的複製品。
貝魯特的這件雕塑樹立在城市面海的那一側,就在舊假日酒店建築旁邊的街角。一九七五年到一九九○年期間爆發的內戰帶來砲火與子彈,在這座高聳的水泥大樓牆面留下深刻的傷疤。這場內戰主要源起於基督教徒與穆斯林教徒之間的衝突,同時也將巴勒斯坦、敘利亞、以色列,以及其他外國勢力捲進戰爭中。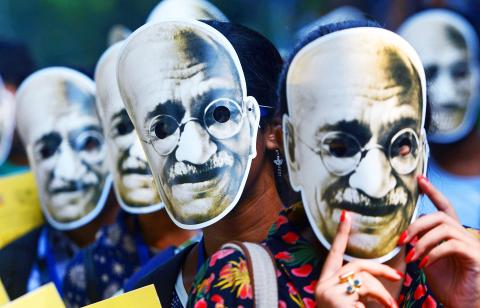 Indian students and volunteers wear masks of Mahatma Gandhi during a march to celebrate the 150th anniversary of his birth, in Kolkata, India on Tuesday. The anniversary is also observed as the International Day of Non-Violence. 右圖:週二在印度的加爾各答,印度學生和義工們戴上聖雄甘地的面具參加遊行,慶祝甘地一百五十歲冥誕。甘地的一百五十歲冥誕也被紀念為國際非暴力日。
Photo: AFP
照片:法新社
在內戰的大部份時期,貝魯特被一條俗稱的「綠線」分成兩半,一邊是主要人口組成為穆斯林的西貝魯特,另一邊則是大多是基督教徒的東貝魯特。內戰結束後二十八年的今天,這座城市仍然有許多地方可以看到戰亂留下的斷垣殘壁。
儘管黎巴嫩目前處於和平狀態,武裝衝突仍然讓這個地區許多地方深陷困境,鄰國敘利亞的七年內戰已經讓數量多達百萬的難民湧向邊界尋求庇護。
(台北時報章厚明譯)
Comments will be moderated. Keep comments relevant to the article. Remarks containing abusive and obscene language, personal attacks of any kind or promotion will be removed and the user banned. Final decision will be at the discretion of the Taipei Times.