European nations plan to use more hydrogen for energy needs 歐盟計畫擴大應用氫氣能源
Dozens of European countries are backing a plan to increase the use of hydrogen as an alternative to fossil fuels to cut the continent's carbon emissions.
Energy officials from 25 countries pledged last Tuesday to increase research into hydrogen technology and accelerate its everyday use to power factories, drive cars and heat homes.
The proposal, which was included in a non-binding agreement signed in Linz, Austria, includes the idea of using existing gas grids to distribute hydrogen produced with renewable energy.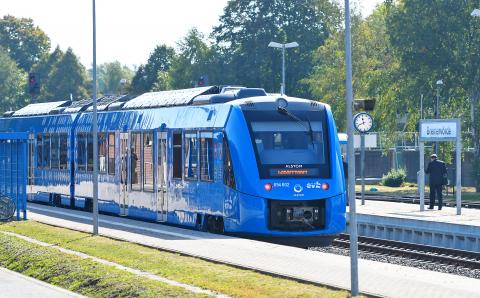 The world's first hydrogen fuel cell train, made by French rain transport manufacturer Alstom, passes the railway station in Bremervorrde, northern Germany on Sept 16. 世界第一列以氫燃料電池為動力的火車,九月十六日行經德國北部布雷梅爾弗爾德市火車站。該列車是由法國火車製造商阿爾斯通所製造。
Photo: EPA
照片:歐新社
The idea of a "hydrogen economy,'' where fuels that release greenhouse gases are replaced with hydrogen, has been around for decades. Yet uptake on the concept has been slow so far, compared with some other technologies.
Advocates of hydrogen say it can solve the problem caused by fluctuating supplies of wind, solar, hydro and other renewable energies. By converting electricity generated from those sources into hydrogen, the energy can be stored in large tanks and released again when needed.
Electric vehicles can also use hydrogen to generate power on board, allowing manufacturers to overcome the range restrictions of existing batteries. Hydrogen vehicles can be refueled in a fraction of the time it takes to recharge a battery-powered vehicle.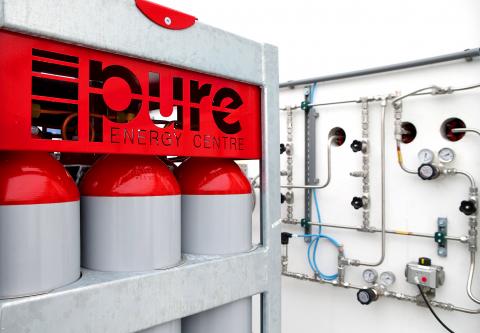 Hydrogen cylinders are pictured at the "wind2hydrogen" pilot plant in Auersthal, Austria, on Aug. 19, 2015. 「wind2hydrogen」試驗工廠中的氫氣瓶,二○一五年八月十九日該廠揭幕當日攝於奧地利奧爾施塔爾。
Photo: Reuters
照片:路透
Last Monday the world's first commuter train service using a prototype hydrogen-powered train began in northern Germany. The European Union's top climate and energy official said hydrogen could help the bloc meet its obligations to cut carbon emissions under the 2015 Paris accord. Miguel Arias Canete told reporters it could also contribute to the continent's energy security by reducing imports of natural gas, much of which currently comes from Russia and countries outside of Europe.
Kirsten Westphal, an energy expert at the German Institute for International and Security Affairs, said encouraging the use of hydrogen as a means of storing and transporting energy makes sense, but added the overall goal for should be reducing fossil fuels rather than pushing a particular energy alternative.
(AP)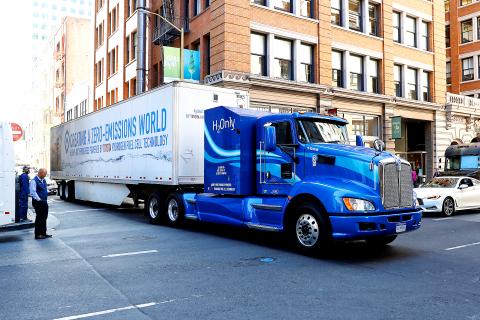 A Toyota Project Portal hydrogen fuel cell electric semi-truck is shown during an event in San Francisco, US, on Sept. 13. 豐田「Project Portal」氫燃料電池重型貨卡車。九月十三日攝於美國加州舊金山市。
Photo: Reuters
照片:路透
歐洲二十多國為一項計畫背書,擴大使用氫氣來代替化石燃料,以減少歐洲大陸的碳排放。
歐洲二十五國的能源官員上週二做出承諾,將加強對氫科技的研究,使其儘快能夠常態應用於工廠、汽車和家用暖氣。
該計畫為一項非約束性協議的內容,在奧地利林茨簽署,其中包括利用現有的天然氣管線來輸送再生能源所產生的氫氣。
「氫經濟」的構想已有數十年之久,它是要以氫氣來取代會釋放溫室氣體的燃料。然而,跟其他科技相比,目前為止對氫科技的開發一直很緩慢。
氫氣倡議人士表示,它可以解決風力、太陽能、水力等再生能源供應不穩的問題。若將這些再生能源所產生的電轉換成氫,能量便可以儲存在大型儲罐內,等需要時再釋出。
電動車還可運用氫氣在車上發電,使製造商能夠克服現有電池的限制。氫氣車補給燃料的速度,比電動車充電的時間還要快得多。
上週一,世界第一班以原型氫動力火車提供載運的通勤列車,在德國北部開始營運。歐盟主管氣候和能源的最高官員卡內特表示,氫氣可以協助歐盟履行二○一五年巴黎協議中所規定的,有關減少碳排放的義務。卡內特告訴記者,它還可以減少天然氣的進口,增進歐洲的能源安全,因為目前歐洲使用的天然氣,大部分是來自俄羅斯和歐洲以外的國家。
德國國際安全事務研究所的能源專家威斯特法爾則表示,鼓勵使用氫氣作為儲存和運輸能源的方式言之有理,但總體目標應是要減少化石燃料,而非在於推動特定的替代能源。
(台北時報林俐凱編譯)
Publication Notes
TODAY'S WORDS
今日單字
1. hydrogen n.
氫氣 (qing1 qi4)
2. non-binding agreement phr.
非約束性協議
(fei1 yue1 shu4 xing4 xie2 yi4)
3. fluctuate v.
波動;變動
(bo1 dong4; bian4 dong4)
4. on board phr.
在車∕船∕飛機上
(zai4 che1/chuan2/fei1 ji1 shang4)
5. meet obligations phr.
履行義務v(lu3 xing2 yi4 wu4)
Comments will be moderated. Keep comments relevant to the article. Remarks containing abusive and obscene language, personal attacks of any kind or promotion will be removed and the user banned. Final decision will be at the discretion of the Taipei Times.