Scientists unpick how cannabis component may fight psychosis 科學家破天荒新發現 大麻成分可抗精神疾病
British scientists have unraveled how a non-intoxicating component of cannabis acts in key brain areas to reduce abnormal activity in patients at risk of psychosis, suggesting the ingredient could become a novel anti-psychotic medicine.
While regular use of potent forms of cannabis can increase the chances of developing psychosis, the chemical cannabidiol or CBD appears to have the opposite effect. CBD is the same cannabis compound that has also shown benefits in epilepsy, leading in June to the first US approval of a cannabis-based drug, a purified form of CBD from GW Pharmaceuticals.
Previous research at King's College London had shown that CBD seemed to counter the effects of tetrahydrocannabinol or THC, the substance in cannabis that makes people high. But how this happened was a mystery.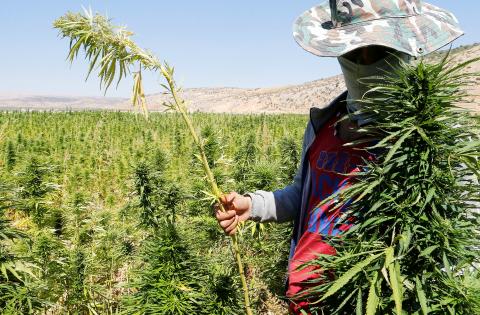 A farmer holds a cannabis plant in a field near Baalbek, Lebanon on Aug. 13. 一位農夫手握一株大麻植株,站在接近黎巴嫩巴勒貝克附近的一片大麻田上,攝於八月十三日。
Photo: Reuters
照片:路透
Now, by scanning the brains of 33 young people who were experiencing distressing psychotic symptoms but had not been diagnosed with full-blown psychosis, Dr. Sagnik Bhattacharyya and colleagues from King's College London showed that giving CBD capsules reduced abnormal activity in the striatum, medial temporal cortex and midbrain. Abnormalities in all three of these brain regions have been linked to the onset of psychotic disorders such as schizophrenia.
Most current anti-psychotic drugs target the dopamine chemical signaling system in the brain, while CBD works in a different way. Significantly, the compound is very well tolerated, avoiding the adverse side effects such as weight gain and other metabolic problems associated with existing medicines.
"One of the reasons CBD is exciting is because it is very well tolerated compared to the other anti-psychotics we have available," Bhattacharyya said. "There is an urgent need for a safe treatment for young people at risk of psychosis."
The Institute of Psychiatry, Psychology and Neuroscience at King's College now plans a large 300-patient clinical trial to test the true potential of CBD as a treatment. Recruitment into the trial is expected to start in early 2019.
The latest findings underscore the complexity of the cocktail of chemicals found within the marijuana plant, at a time when cannabis laws are becoming more liberalized in many countries. (Reuters)
英國科學家近日解開一項謎團,找出大麻中不具興奮效果的成分如何作用於大腦關鍵區塊,以減緩具精神疾病風險病人的異常腦部活動,同時指出該原料可望成為嶄新的抗精神病藥物。
相對於經常性使用高效能型態的大麻,可能增加精神疾病的形成風險,大麻二酚(或稱CBD)這種化學物質似乎卻呈現出相反的效果。大麻二酚就是對癲癇呈現正面療效的同一種大麻化合物,也因此,由GW製藥公司推出的純化大麻二酚,在今年六月成為首款獲美國核准以大麻為基礎製成的藥物。
倫敦國王學院先前的研究顯示,大麻二酚似乎能夠抵銷四氫大麻酚(或稱THC)的效能,後者也就是大麻成分中會讓人感到興奮的物質。不過,這個抵銷作用如何產生在當時仍是一團謎。
近日,倫敦國王學院的薩格尼克‧巴塔恰里雅博士與同事展開實驗,對三十三名年輕人的腦部進行掃描,這些受試對象當時承受諸多痛苦的精神疾病症狀,但還未被診斷為全面發作。研究結果顯示,服用大麻二酚膠囊,能夠減少大腦紋狀體、顳葉內側神經元、中腦等部位的異常活動。以上三個大腦區域的異常,都被認為和思覺失調症等精神病性的疾患發作相關。
最新型的抗精神疾病藥物主要作用於大腦中的多巴胺化學傳導系統,不過大麻二酚卻有不同的作用方式。特別的是,這種化合物非常容易被人體適應,避免了許多跟現存藥物相關的有害副作用,例如體重增加,以及其他新陳代謝問題。
巴塔恰里雅指出:「大麻二酚讓人興奮的原因之一在於,和其他目前市面上的抗精神病藥物相比,它具有極佳的適應性。」他表示:「對於陷於罹患精神疾病風險的年輕人來說,我們非常迫切地需要一種安全的治療方式。」
倫敦國王學院的精神病學、心理學和神經科學學會目前計畫進行一項由三百名病人參與的大型臨床試驗,以測出大麻二酚作為治療方式的真正潛力。該試驗預計於二○一九年初開始招募受試者。
在許多國家的大麻相關法令逐漸轉向自由化的此時,這份最新研究成果強調出大麻植株中所能發現的眾多化學物質,其複雜程度堪比雞尾酒。(台北時報章厚明譯)
Publication Notes
TODAY'S WORDS
今日單字
1. cannabis n.
大麻
(da4 ma2)
2. abnormal adj.
異常的
(yi4 chang2 de5)
3. psychosis n.
精神疾病
(jing1 shen2 ji2 bing4)
4. full-blown adj.
全面發作的
(quan2 mian4 fa1 zuo4 de5)
5. tolerate v.
適應(藥物)
(shi4 ying4)
6. clinical trial phr.
臨床試驗
(lin2 chuang2 shi4 yan4)
Comments will be moderated. Keep comments relevant to the article. Remarks containing abusive and obscene language, personal attacks of any kind or promotion will be removed and the user banned. Final decision will be at the discretion of the Taipei Times.