Students return to schools as new academic year begins 各級學校開學日 學生勤做收心操
The new school year for most elementary schools and junior and senior high schools across Taiwan begins today, and that for universities in two weeks. To help students re-adjust to campus life, local education departments are introducing a series of exercises to refocus their minds, and various "back-to-school" apps that provide online reading and interactive learning.
This year, Taiwan Yuansheng International Academy, the nation's first Aboriginal experimental senior high school, was launched at Christ's College Taipei in New Taipei City's Tamsui District. Ten Bunun freshmen will take special music and cultural lessons in addition to their regular classes.
Meanwhile, a back-to-school sales war is heating up. According to A-mart hypermarket chain and Kuang Nan Fashion Shop, items below NT$500 (US$16), such as the NT$299 book holder, are most popular this year. The nation's three major telecom companies are also attracting student customers with a NT$488 flat-rate cellphone monthly package.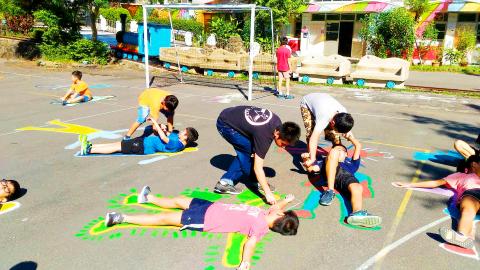 Students at Badu Elementary School in Keelung measure each others' height on campus on Aug. 20, preparing for the school opening day. 基隆市八堵國小的學生,八月二十日在校園互相幫忙量身高,準備迎接開學日到來。
Photo courtesy of Badu Elementary School
照片︰八堵國小提供
(Eddy Chang, Taipei Times)
全國大部分的國小、國中和高中的新學年將於今日展開,大學則在兩週後開學。為了要幫助學生們即早適應校園生活,各地教育局推出一系列收心操,並透過各種開學應用程式來提供線上閱讀和互動學習等活動。
全台首間原住民實驗高中原聲國際學院,今年亦在台北基督學院成立,該校位於新北市淡水區,十位來自布農族的新生除了學習一般課程,還有特別的音樂與文化課程。
此外,開學季的促銷大戰也已開打。根據愛買量販店和光南大批發的觀察,今年以五百元(十六美元)以下商品最受歡迎,例如兩百九十九元的桌上型書架。台灣的電信三雄則推出手機每月四百八十八元吃到飽的單一費率學生價,希望能搶攻學生族群。
(台北時報張聖恩)
Publication Notes
TODAY'S WORDS
今日單字
1. school year phr.
學年 (xue2 nian2)
2. campus n.
校園 (xiao4 yuan2)
3. back-to-school adj.
開學的 (kai1 xue2 de5)
4. experimental adj.
實驗的 (shi2 yan4 de5)
5. flat-rate adj.
單一費率 (dan1 yi1 fei4 lu4)
Comments will be moderated. Keep comments relevant to the article. Remarks containing abusive and obscene language, personal attacks of any kind or promotion will be removed and the user banned. Final decision will be at the discretion of the Taipei Times.