Trade war or not, China Inc already reining in American brands 無論有無貿易戰 中國公司早已壓制美國品牌
As Beijing and Washington veer towards a full-blown trade war, American brands in China face what may be an even bigger threat: local rivals armed with innovative products and the Chinese government's blessing. American household names like Apple Inc, Starbucks Corp and Procter & Gamble Co's Pampers are seeing their dominance challenged, a potential threat to the hundreds of billions of dollars US firms make in China.
According to an analysis of data from Bain and Kantar, local brands snatched almost three-quarters of China's 639 billion yuan (US$97 billion) market for fast-moving consumer goods — a category that includes items like soft drinks and shampoo — last year, up from two-thirds in 2013. The data, shared with Reuters, shows that US products like Pampers, Colgate toothpaste and Mead Johnson infant formula saw their market share drop around 10 percentage points in the past five years. The data was based on a survey of 40,000 urban households.
At the same time, savvy Chinese brands like SeeYoung, offering a popular silicon-free shampoo, and Pechoin, a maker of skincare products that uses local ingredients, gained rapidly. "Local competition is now extremely high on the agenda of foreign firms in China," said Bruno Lannes, Shanghai-based partner with Bain & Co, the consultancy firm that co-authored the report. "In order to win in China now they need to beat not just traditional competitors," he said. "But they need to win against local companies that are faster and more innovative than they had realized."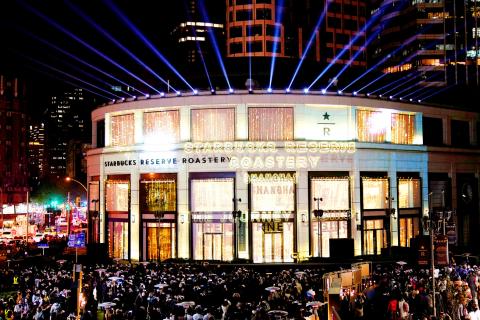 The exterior of Starbucks Reserve Roastery in Shanghai, China is pictured during its opening ceremony on Dec. 5. 星巴克臻選上海烘焙工坊外觀,攝於去年十二月五日的開幕典禮。
Photo: Reuters
照片:路透
American brands have long enjoyed a vaunted status in China. US fast food, beverages and coffee chains are ubiquitous in China's cities, while consumers lap up US-branded infant formula, designer jeans, cars and smartphones. That dominance, however, is threatened by China's push to bolster domestic brands by creating champions in certain categories and weeding out weaker players to improve quality.
Apple Inc's iconic iPhone has seen its share of the country's smartphone market stall at around 10 percent since 2012, according to data from the analytics firm Canalys, and has been overtaken by upstart domestic phone makers like Oppo, Vivo and the more established Huawei.
Starbucks, which boomed in China on the back of a budding coffee culture, said its same store sales growth in the country slowed to zero in the second quarter of 2018. The firm cited delivery issues, but it has also been facing a rising tide of small, fast-growing domestic rivals in China's big cities.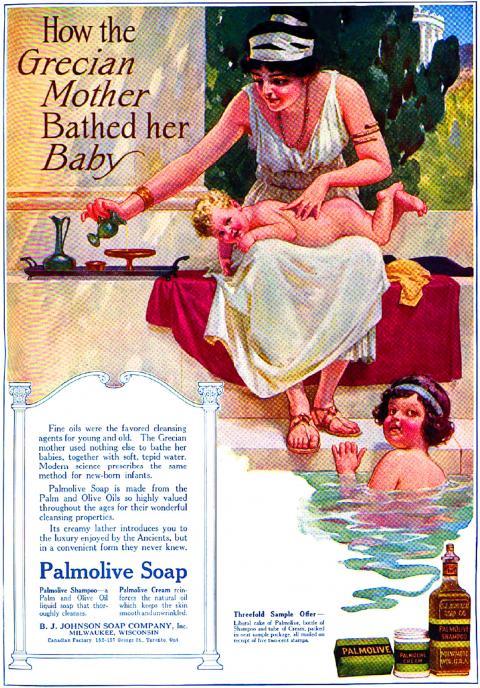 A 1915 advertisement for Palmolive soap. 一九一五年的棕欖香皂廣告。
Photo: Wikimedia Commons
照片:維基共享資源
(REUTERS)
隨著北京與華盛頓之間的貿易戰將全面爆發的態勢,在中國的美國品牌則面臨更為巨大的威脅:既有創新商品,又有中國政府加持的本地競爭對手。諸如蘋果、星巴克、寶僑的幫寶適等家喻戶曉的美國品牌,正眼睜睜地看著他們的市場優勢受到挑戰,這對美國公司在中國賺進的數千億美金商機構成潛在威脅。
根據國際商業諮詢公司貝恩以及市場研究機構凱度提供的數據分析顯示,中國本土品牌去年在快速消費品──此類商品包括飲料、洗髮精等──總市值達六千三百九十億人民幣(九百七十億美金)的市場中,攫取了將近四分之三的市佔率,較二○一三年的三分之二大為成長。這份和路透社共享的資料也顯示,幫寶適尿布、高露潔牙膏,以及美強生嬰兒配方奶粉等美國商品,在過去五年來市佔率下滑約百分之十。此數據來自於對四萬個都市家庭進行普查的結果。
在此同時,精明的中國品牌則急遽成長,例如推出廣受歡迎無矽靈洗髮乳的滋源,以及強調旗下護膚用品使用當地原料製造的百雀羚。貝恩諮詢公司這份報告的共同作者,該公司駐上海的合夥人布魯諾‧蘭恩斯表示:「對中國的外商公司而言,當地的競爭是目前最需優先處理的議題。」蘭恩斯也指出:「為了在中國市場贏取勝利,他們不單單只須打敗傳統的競爭對手,這些外商公司還必須贏過比他們以往所認知還要更快、更具創新性的本土公司」。
長久以來,美國品牌在中國享有極受吹捧的地位。在中國的各線城市,舉目所及都是美國的速食、飲料,以及咖啡連鎖店,消費者也相當愛用美國品牌的嬰兒配方奶粉、名牌牛仔褲、汽車,和智慧型手機。然而,以往的這種優勢現在因為中國政府大力提攜國內品牌而受到威脅──他們會在若干商品類別中創造出模範品牌,而能力差的公司也會被淘汰,藉此改善品質。
根據分析公司易觀國際的數據顯示,從二○一二年開始,蘋果公司最具代表性的iPhone在中國智慧型手機市場上的市佔率一直停滯在百分之十,現在更被新竄紅的國內手機製造業者──例如OPPO、vivo,以及更具規模的華為等公司──迎頭趕上。
靠著中國萌芽初期的咖啡文化迅速在當地崛起的星巴克,也表示中國同一間店面在二○一八年第二季的銷售成長率已經減速到零成長的程度。星巴克提及外送咖啡服務對該公司的衝擊,實際上,他們一直都在對抗小規模但成長迅速的國內競爭者,在中國大城市中興起的新浪潮。
(台北時報章厚明譯)
Follow Up
Reading Comprehension
Collgate-Palmolive
English soap and candle maker William Colgate established the William Colgate & Company in 1906 in New York after emigrating to the US. The company initially produced cakes of soap. On Colgate's death in 1857, the company was reorganized and renamed Colgate & Company under the management of Colgate's son, Samuel Colgate. Colgate Toothpaste, intially sold in glass jars, was released in 1873. In 1896 the company released the world's first toothpaste in a tube, called Colgate Ribbon Dental Cream.
Another American company, the B.J. Johnson Company, began producing a soap made entirely of palm oil and olive oil in 1898. The soap was a runaway success, so much so that the company renamed itself Palmolive after its star product. Palmolive merged with another soap company, the Peet Brothers, and then purchased the Colgate Company in 1928 to become Colgate-Palmolive.
Did you know?
The world's oldest-known formula for toothpaste was invented by the ancient Egyptians in 4 AD over 1,500 years before Colgate began marketing its toothpaste. Egyptian toothpaste was comprised of crushed rock salt, mint, dried iris flower and pepper, which were combined to create a cleaning powder surprisingly similar to today's modern toothpastes. When the powder is mixed with saliva in the mouth it turns into a paste, and this is how ancient Egyptians used to clean their gnashers.
"You can't put the toothpaste back in the tube" is a popular English saying. It means a situation has already happened and cannot be reversed.
(Edward Jones, Taipei Times)
Publication Notes
TODAY'S WORDS
今日單字
1. innovative product phr.
創新商品
(chuang4 xin1 shang1 pin3)
2. household name phr.家喻戶曉
(jia1 yu4 hu4 xiao3)
3. fast-moving consumer good phr.
快速消費品
(kuai4 su4 xiao1 fei4 pin3)
4. domestic brand phr.
國內品牌
(guo2 nei4 pin3 pai2)
5. upstart adj.
新竄紅的
(xin1 cuan3 hong2 de5)
6. established adj.
已具規模的
(yi3 ju4 gui1 mo2 de5)
7. domestic rival phr.
國內競爭者
(guo2 nei4 jing4 zheng1 zhe3)
Comments will be moderated. Keep comments relevant to the article. Remarks containing abusive and obscene language, personal attacks of any kind or promotion will be removed and the user banned. Final decision will be at the discretion of the Taipei Times.