Rescued hawksbill sea turtle with tracking device dies in Philippines 玳瑁「魷魚絲」野放不到三個月 命喪菲國魷魚籠
National Taiwan Ocean University's (NTOU) sea turtle rescue team rescued a juvenile hawksbill sea turtle that was beached off Yilan County's Nanfangao last December. The team named the hawksbill Youyusi as one of the members had been eating the snack "youyusi" (dried shredded squid) during the rescue. Unfortunately, the hawksbill, having been released in late March, was later found dead, possibly from suffocation, in a Philippine fisherman's squid cage.
When it was found on Dec. 4 last year, the hawksbill was very weak. According to the veterinary diagnosis given at the time, it is thought to have swallowed man-made objects such as fishing lines, rayon and marine litter, causing indigestion and infection, with complications including hypotension and sepsis. Under the care of the rescue team, the hawksbill recovered over time, before being released again in late March.
Before being released, the hawksbill had a satellite transmitter attached on its back by NTOU marine biology professor Cheng I-jiunn to track its migration route. Over the next few months, the hawksbill traveled from Yilan County's Waiao beach to waters near Japan's Ishigaki Island, before turning southward through the west Pacific Ocean to offshore waters between Barcelona and Isla han Samar in the southern Luzon Island of the Philippines. The hawksbill had traveled a total of 3,753km. Satellite trajectory data analysis indicates that the areas visited during this time could be its foraging habitat.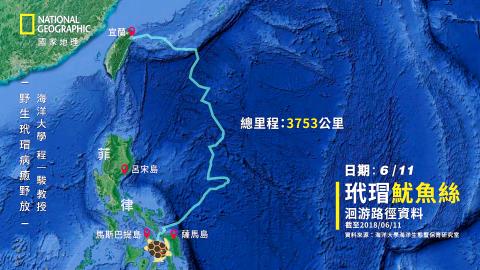 The migration route of the hawksbill sea turtle nicknamed "Youyusi" after it was released, recorded from March 29 to June 11. 玳瑁「魷魚絲」三月二十九日野放後至六月十一日之洄游路徑。
Photo: Screen grab from YouTube
照片:擷圖自YouTube
However, sad news came on June 27. A fisherman in the town of Cauayan in Negros Occidental, Philippines found a dead hawksbill, weighing about 15kg and measuring 83cm long and 47cm wide and with trackers, a contact phone number and e-mail address on its back, in his squid cage on June 26. Local environmental agency officials speculated that the hawksbill might have become trapped inside the squid cage and suffocated, because turtles must surface every four-to-five minutes to breathe.
National Geographic confirmed in a report on its Facebook page on June 27 that the dead hawksbill was Youyusi. According to its Facebook page, despite the the sad end, the case is an excellent example of international turtle conservation through the media and the Internet.
(Liberty Times, translated by Lin Lee-kai)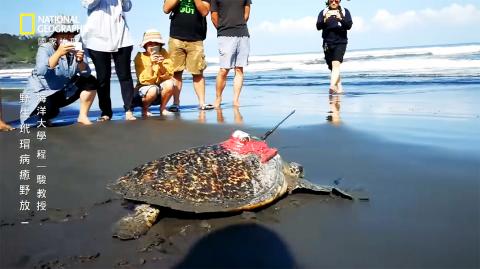 The hawksbill sea turtle nicknamed "Youyusi" was released on March 29 at Yilan County's Waiao beach. 玳瑁「魷魚絲」三月二十九日在宜蘭外澳沙灘被野放。
Photo: Screen grab from YouTube
照片:擷圖自YouTube
海洋大學海龜救援團隊曾於去年十二月在宜蘭南方澳救援一隻擱淺在岸邊的亞成玳瑁,因當時有救援成員正在吃魷魚絲,於是將牠命名為「魷魚絲」;不過今年三月底才剛被順利野放的「魷魚絲」,卻疑似因受困於菲律賓漁民的魷魚籠窒息而死。
這隻玳瑁在去年十二月四日被發現時,身體很虛弱,據當時的獸醫診斷,牠吃下像是魚線、人造棉線等人造物及海洋垃圾,導致消化不良與感染問題,進而引發低血壓及敗血症症狀,所幸在救援團隊細心照護下,牠得以逐漸恢復健康,並於今年三月底被野放。
「魷魚絲」在野放前,背甲上也繫上海洋大學海洋生物教授程一駿裝置的衛星發報器,經過數月之追蹤,發現「魷魚絲」從外澳沙灘一路游往日本石垣島,並經由西太平洋向南游到介於菲律賓南呂宋島的巴塞羅那市及薩瑪島之間的近海海域,「魷魚絲」一共洄游了三千七百五十三公里,從衛星軌跡資料分析,「魷魚絲」所到的區域,應該為牠的覓食棲地。
不過,上月二十七日卻傳來不幸的消息──二十六日上午在菲國西內格羅省高岩鎮,有漁民在他的魷魚籠中發現了一隻已斷氣的玳瑁。這隻玳瑁重約十五公斤,長八十三公分、寬四十七公分,背甲上也有追蹤器、聯絡電話及電郵。菲律賓當地環境局人員推測牠可能是受困於魷魚籠窒息而死,因為海龜在水底待四到五分鐘後,就必須浮上海面換氣。
國家地理雜誌上月二十七日也在臉書官網上證實,這隻不幸喪生的玳瑁就是「魷魚絲」,並指「魷魚絲」的死令人難過,但這卻是一項經由媒體與網路達到國際海龜保育的實例。
(自由時報)
Publication Notes
TODAY'S WORDS
今日單字
1. sea turtle phr.
海龜
(hai3 gui1)
2. hawksbill n.
玳瑁
(dai4 mei4)
3. dried shredded squid phr.
魷魚絲
(you2 yu2 si1)
4. transmitter n.
發報器
(fa1 bao4 qi4)
5. foraging habitat phr.
覓食棲地
(mi4 shi2 qi1 di4)
Comments will be moderated. Keep comments relevant to the article. Remarks containing abusive and obscene language, personal attacks of any kind or promotion will be removed and the user banned. Final decision will be at the discretion of the Taipei Times.