New mountain lion kittens found in California mountains 加州山區發現初生美洲獅幼獅
Four new mountain lion kittens have been found by researchers studying the wild cats living in Southern California's Santa Monica Mountains, wildlife officials announced in video posts on June 19 showing the blue-eyed babies meowing and one feisty one hissing and even taking a swipe at the person filming her.
The four female kittens are about 5 weeks old and are the first litter that has been found in the Simi Hills, a small area of habitat between the Santa Monica and Santa Susana mountain ranges just north of Los Angeles. Researchers have added the four kittens to their ongoing study of mountain lions in the area. Their mother is a mountain lion researchers have been tracking since January.
Researchers visited the kittens while their mother was away on June 11, taking tissue samples, conducting a general health check and marking them with ear tags, which will allow them to keep track of their movements as they grow up. It's the 15th den the researchers have marked as part of their study of mountain lions in the region.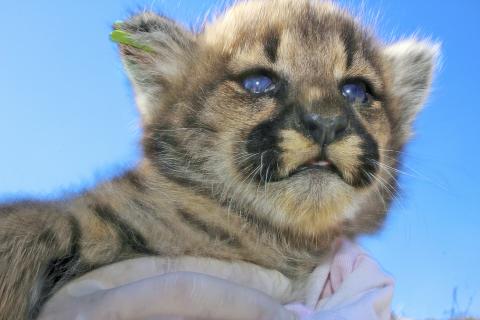 One of four new mountain lion kittens, identified as P-69, stares at the sky while being held by the researchers on June 11. 四隻美洲獅幼獅的其中一隻,代號為P-69,六月十一日在研究人員的手掌中看著天空。
Photo: AP
照片:美聯社
Biologists have been studying the cougars to determine how they survive in fragmented wilderness amid urban sprawl. Each member of the species, especially males, requires a very large home territory, and young cats face difficulties dispersing. Jeff Sikich, biologist for Santa Monica Mountains National Recreation Area, said the spot where the kittens were found in the Simi Hills is "a critical habitat linkage between the Santa Monica Mountains and larger natural areas to the north." "We are very interested to learn about how they will navigate the fragmented landscape and whether they will remain in the Simi Hills or eventually cross one or more freeways to the north or south," he said.
Except for the kittens' mother, researchers say every mountain lion they've tracked in the Simi Hills has crossed either the 101 freeway to the south or State Route 118 to the north. Since 2002, 18 mountain lions have been killed on freeways and roads in the region, most recently a 5-year-old female earlier this year.
The area's most well-known mountain lion, P-22, has become famous for having somehow crossed freeways to take up residence in sprawling Griffith Park in the middle of Los Angeles. (AP)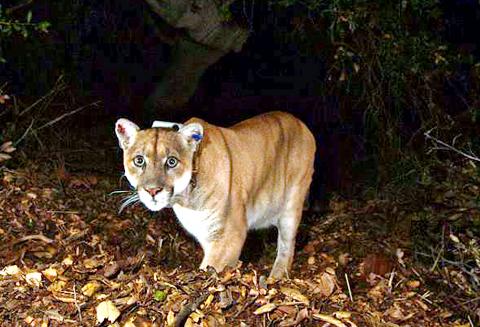 This Nov. 2014 file photo provided by the US National Park Service shows the Griffith Park mountain lion known as P-22. 代號P-22的格利菲斯公園美洲獅,這張二○一四年十一月的檔案照由美國國家公園管理局提供。
Photo: AP
照片:美聯社
野生動物保育官員在六月十九日的影片貼文中公布消息,表示研究人員在調查南加州聖塔莫尼卡山區的野生貓科動物時,發現四隻初生的美洲獅幼獅。影片中,藍眼睛的小獅喵喵叫著,其中活力特別充沛的一隻小獅還發出不愉快的嘶嘶聲,甚至企圖拍打正在攝影的人員。
這四隻小母獅約五週大,是西米丘陵首度發現的一窩幼崽。西米丘陵座落聖塔莫尼卡山脈與聖塔蘇珊娜山脈之間,位於洛杉磯北邊,是美洲獅的小塊棲息地。研究人員已經將這四隻小獅納入他們在該地區持續進行的美洲獅研究中。牠們的母親是研究人員今年一月開始追蹤的一隻美洲獅。
六月十一日,研究人員趁母獅不在時,前去探訪這窩小獅,採集牠們的細胞組織樣本、進行基本健康檢查,並在牠們的耳朵裝上識別標籤,藉此讓研究人員得以在小獅長大後繼續追蹤牠們的行動。這是該地區美洲獅研究人員標記到的第十五窩小獅。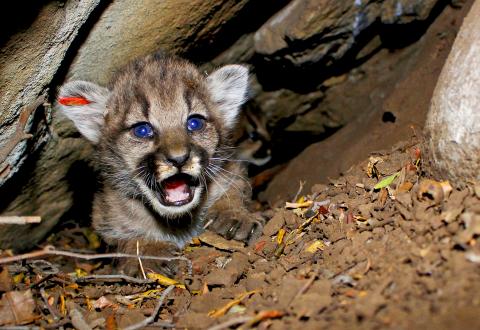 One of four new mountain lion kittens, identified as P-68, hisses at the researchers on June 11. 四隻美洲獅幼獅的其中一隻,代號為P-68,六月十一日對著研究人員發出嘶嘶聲。
Photo: AP
照片:美聯社
生物學家一直都在研究美洲獅,希望查明牠們如何在因為都市蔓延而愈益支離破碎的野外環境中存活。這個物種的每一位成員──特別是公獅──都需要很大的領域,年輕的小獅在長大後往其他領域遷移時往往會面臨困難。負責聖塔莫尼卡國家休憩區的生物學家傑夫‧希奇克指出:在西米丘陵發現小獅的這處地點是「一塊相當關鍵的棲息地,連接聖塔莫尼卡山脈以及北方更大片的自然區域。」他表示:「我們很想了解牠們會在這塊破碎的土地遷移,也想知道牠們是否會留在西米丘陵這邊,還是最終會穿過高速公路,向北邊或南邊移動。」
除了這窩小獅的母親,研究人員表示,目前他們在西米丘陵追蹤的每一隻美洲獅後來都跨過國道一○一號往南移動,或穿越加州一一八號州道往北遷徙。自二○○二年以來,已有十八隻美洲獅喪生於該地區的高速公路和一般道路,最近一次是今年初喪命的一隻五歲大母獅。
該地區最為人熟知的美洲獅是P-22,牠曾以某種未知的方式穿過重重高速公路,從此住進洛杉磯中心向外延伸的格利菲斯公園裡。
(台北時報章厚明譯)
Publication Notes
TODAY'S WORDS
今日單字
1. feisty adj.
活力充沛的
(huo2 li4 chong1 pei4 de5)
2. cougar n.
美洲獅
(mei3 zhou1 shi1)
3. fragmented adj.
破碎的
(po4 sui4 de5)
4. urban sprawl phr.
都市蔓延
(dou1 shi4 man4 yan2)
5. territory n.
領域
(ling3 yu4)
6. disperse v.
擴散
(kuo4 san4)
Comments will be moderated. Keep comments relevant to the article. Remarks containing abusive and obscene language, personal attacks of any kind or promotion will be removed and the user banned. Final decision will be at the discretion of the Taipei Times.