Hot air balloon carnival to take off in Taitung 全球最驚豔熱氣球節 台東盛大登場
The 2018 Taiwan International Balloon Festival is set to open tomorrow in Taitung County's Luye Township. Since tourism in eastern Taiwan has been hurt by February's earthquake in Hualien County, Taitung County decided to extend the annual festival to 45 days this year from June 30 to August 13, hoping to attract more tourists to the east to experience hot air balloon rides firsthand.
The festival has been named one of the 12 amazing hot air balloon carnivals around the world by the Travel Channel. As it enters its eighth year, a total of 39 stunning hot air balloons from home and abroad will be displayed at Luye High Land, including balloons in the shape of the popular Minions characters.
Yilan County also held the "Yilan Dongshan Hot Air Balloon Carnival" earlier this month, while Taoyuan is now holding the Taoyuan Shihmen Reservoir Hot Air Balloon Carnival, featuring a special blimp show for the first time. The Taoyuan event will run until Sunday.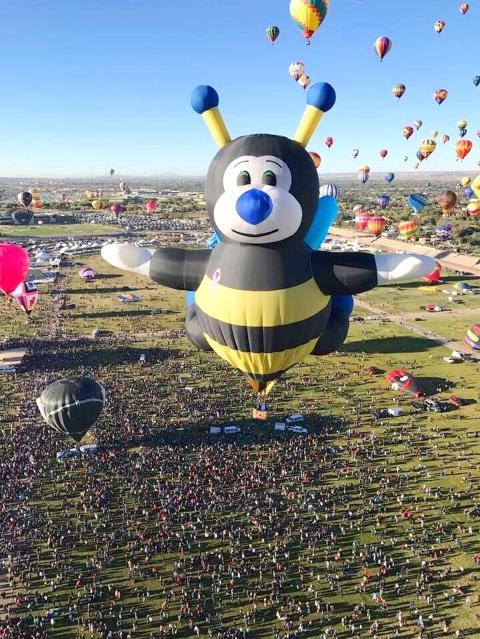 A giant bee-shaped hot air balloon is pictured in this undated photo from previous years taken for the "Taiwan International Balloon Festival" that opens tomorrow in Taitung County. 「台灣國際熱氣球嘉年華」明天即將在台東縣登場,圖為大型的蜜蜂造型熱氣球,拍攝日期不詳。
Photo: CNA
照片︰中央社
(CNA, translated by Eddy Chang)
二○一八年「台灣國際熱氣球嘉年華」,將於明日在台東縣鹿野鄉盛大登場。因為花東旅遊受到二月花蓮大地震衝擊,台東縣決定今年的嘉年華日期從六月三十日開始至八月十三日為止,延長為四十五天,希望吸引更多遊客來東部親身體驗搭乘熱氣球。
該活動榮獲旅遊頻道Travel Channel入選全球十二處最令人驚豔的熱氣球嘉年華,在即將邁入第八年之際,這次在鹿野高台上還會展示來自國內外三十九顆造型酷炫的熱氣球,例如超人氣「小小兵」的造型。
搭上這股熱氣球旋風,宜蘭縣於本月稍早舉辦了「宜蘭冬山熱氣球嘉年華」。桃園市亦舉辦了「桃園石門水庫熱氣球嘉年華」,今年更首度引進飛行船航行秀,活動預計將持續至週日。
(中央社)
Publication Notes
TODAY'S WORDS
今日單字
1. extend v.
延長
(yan2 chang2)
2. hot air balloon phr.
熱氣球
(re4 qi4 qiu2)
3. amazing adj.
驚豔的
(jing1 yan4 de5)
4. Minion n.
小小兵
(xiao2 xiao3 bing1)
5. blimp n.
飛行船
(fei1 xing2 chuan2)
Comments will be moderated. Keep comments relevant to the article. Remarks containing abusive and obscene language, personal attacks of any kind or promotion will be removed and the user banned. Final decision will be at the discretion of the Taipei Times.