Kingstone's branch on ailing "book street" closing down next Sunday 金石堂城中店將收攤 「書街」岌岌可危
Kingstone Bookstore's Chengzhong branch on Chongqing South Road, Taipei's "book street," is closing down next Sunday after more than 30 years of business. Kingstone has rented this century-old Western-style building, built in 1912, since the 1980s. For many, the building is full of fond memories.
Kingstone said that the focus of the entire "book street" has shifted from bookstores to business hotels and the dining sector, so the landlord decided not to renew the lease. The branch is having a big sale, offering free coffee to shoppers who buy books, to express its gratitude.
Although 151 bookstores from across the country have shut up shop in the past four years, some, such as Tsutaya Bookstore from Japan, are still going thanks to a complex business model. In the face of the current trend, Eslite Bookstore also announced last month its intention to innovate its current business model and actively develop more personalized services.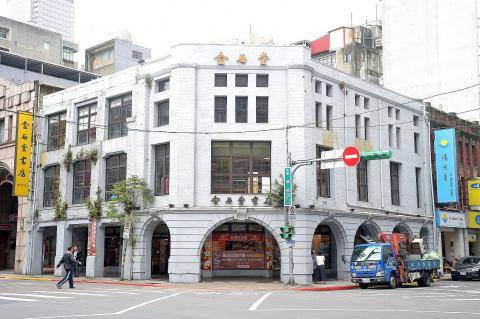 Kingstone Bookstore's Chengzhong branch on Taipei's Chongqing South Road, known as "book street," is pictured on April 27. 位於台北市「書街」重慶南路上的金石堂城中店,照片攝於四月二十七日。
Photo: Huang Yao-cheng, Liberty Times
照片︰自由時報記者黃耀徵
(Eddy Chang, Taipei Times)
金石堂城中店在台北市的「書街」重慶南路屹立三十多年後,即將於下週日結束營業。金石堂在一九八○年代,租下這棟建於一九一二年的百年洋樓作為分店,而這裡也充滿許多人過去美好的回憶。
金石堂表示,整條「書街」重心已轉移至商旅和餐飲,因此房東決定不再續約。該分店正舉辦全館特賣、買書送咖啡的感恩活動。
全台書店四年來收掉一百五十一家,但仍有像是來自日本的蔦屋書店等,因採取複合經營而崛起。為因應這股潮流,誠品書店上個月亦宣布,將創新既有的經營模式,並積極研發個人化服務。
(台北時報張聖恩)
Publication Notes
TODAY'S WORDS
今日單字
1. branch n.
分店
(fen1 dian4)
2. business hotel phr.
商務旅館
(shang1 wu4 lu2 guan3)
3. landlord n.
房東
(fang2 dong1)
4. lease n.
租約
(zu1 yue1)
5. complex adj.
複合式
(fu4 he2 shi4)
Comments will be moderated. Keep comments relevant to the article. Remarks containing abusive and obscene language, personal attacks of any kind or promotion will be removed and the user banned. Final decision will be at the discretion of the Taipei Times.