Tainan Sigang Qingan Temple: The burning of the King Boat 慶安宮香科醮典 送王船圓滿落幕
The "kuah hsiunn" (刈香) ceremonies, held by Qingan Temple in Tainan's Sigang District this year, concluded on Monday with the sending off of the wangye by burning the King Boat.
In Taoism, the wangye are a group of deities directly affiliated to Heaven and assigned by the Jade Emperor to descend to Earth and conduct inspection tours. The wangye worshiped in Sigang Qingan Temple are "the twelve disease lords of inspection and hunting on behalf of Heaven." They can be traced back to the traditional folk belief of deities responsible for spreading plagues, later evolving into deities who dispel epidemics, expel bad spirits, reward the virtuous and punish the wicked.
The term "kuah hsiunn" refers to the Taoist rituals for requesting incense from deities. Held every three years for more than 230 years, Sigang Qingan Temple's "kuah hsiunn" ceremonies are recognized as a national folk event.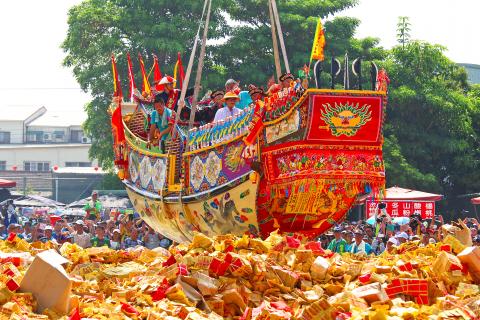 Captain, chief mate and executives of the King Boat, as well as Daoist masters, inspect the boat and chant prayers on board on Monday in Tainan. 週一在台南的「送王」儀式中,船長、大副、執事人員,以及道士登上王船,檢查一切是否就緒,並誦經祈禱。
Photo: Perry Svensson, Taipei Times
照片:台北時報記者蘇沛攝
After a lively and bustling three-day inspection tour, the wangye sending-off ceremony on Monday started with worshiping and inviting royal lords and Matsu aboard.
After arriving at the designated spot, the King Boat was lifted by crane onto a huge pile of joss paper. Mast and sail were installed onto the boat, along with divine soldiers made of paper and packages of donations from the faithful. At 10:17am, after the wangye had been thanked for bringing blessings down and ridding the area of pestilence, disease, evil demons and misfortune, dense smoke began to emerge from the boat cabin. As palanquins and zhentou troupes encircled the boat, accompanied by the sonorous sound of gongs and drums, the King Boat was quickly engulfed in flames and "ascended to Heaven," the main mast collapsing toward the northeast side, pointing in the direction of downtown Sigang.
(Translated by Chang Ho-ming, Taipei Times)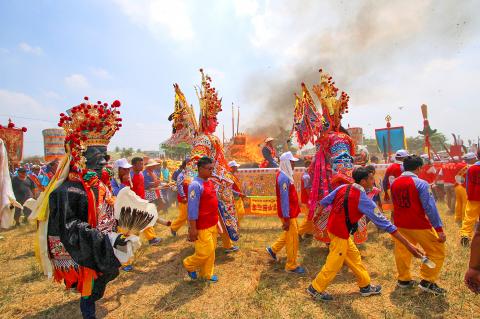 Figures known as the Black Impermanence or the Eighth Master Baye, first left, Matsu's servants Thousand-Mile Eyes and Wind-Riding Ears, as well as the King Boat staff, encircle the King Boat, burning in the background, in Tainan on Monday. 週一在台南的「送王」儀式中,八爺(左一),千里眼和順風耳,以及王船的執事人員繞行著後方正在燃燒的王船。
Photo: Perry Svensson, Taipei Times
照片:台北時報記者蘇沛攝
台南西港慶安宮今年的刈香活動,於週一舉行壓軸的「送王」燒王船儀式,宣告醮典圓滿完成。
在道教信仰中,「王爺」是直屬天庭,由玉皇大帝授命下凡巡察人間的神祇。西港慶安宮供奉的王爺為「代天巡狩十二瘟王」,原為傳統的瘟神信仰,流傳至今成為替百姓驅除瘟疫與魑魅,甚至賞善罰惡的神祇。
「刈香」指的是向神明乞取香火的道教法事科儀。西港慶安宮的刈香活動三年一科,至今已有二百三十多年歷史,被評定為國定民俗活動。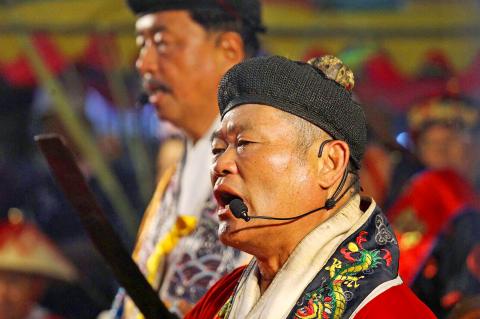 Taoist masters preside over a ceremony in Tainan on May 30 inviting the royal lords down to earth, where they will gather all pestilence, disease, evil and bad demons and cleanse the area for the next three years. 五月三十日在台南的一場儀式中,道士邀請王爺下凡巡察人間,掃除該地區未來三年的瘟疫、魑魅與災厄。
Photo: Perry Svensson, Taipei Times
照片:台北時報記者蘇沛攝
經過三天熱鬧的遶境活動後,週一的送王儀式先舉行參拜,並恭請王爺、媽祖登船。
抵達王船地後,王船由吊車置放於金紙的小山丘上,並裝上船桅、風帆。紙糊的天兵神將和信眾的添載包也被放到王船上。隨後,信徒感謝千歲爺帶來福運,並把地方的災厄帶走,王船船艙遂於上午十點十七分冒出濃煙。隨著護持的神轎與陣頭在鑼鼓喧天中繞行四周,王船很快地被熊熊大火吞沒,中桅倒向東北方的西港市區,象徵興旺。
(自由時報記者楊金城,台北時報章厚明報導)
Comments will be moderated. Keep comments relevant to the article. Remarks containing abusive and obscene language, personal attacks of any kind or promotion will be removed and the user banned. Final decision will be at the discretion of the Taipei Times.