Visually impaired Taiwanese athletes run in Boston Marathon 台灣視障選手 本週勇闖波士頓馬拉松
During their recent visit to the US, Hung Kuo-chang and Lu Kuan-lin became the first two visually impaired runners from Taiwan to participate in the Boston Marathon — one of the world's six most renowned marathons. Hung said his biggest wish at the event was to be seen by the world when crossing the finish line with Taiwan's flag.
The Boston Marathon is an annual race taking place in Boston, Massachusetts on "Patriots' Day," the third Monday of April. The 38-year-old Hung said he had trained for about three years for the event. By competing in international events, the marathoner hoped to show others that visually impaired people can overcome all kinds of challenges and engage in extreme sports, just like everyone else.
Due to space and safety constraints, only 70 runners are allowed to participate in the visually impaired division. Hung and Lu were led by their guides throughout the 42km race.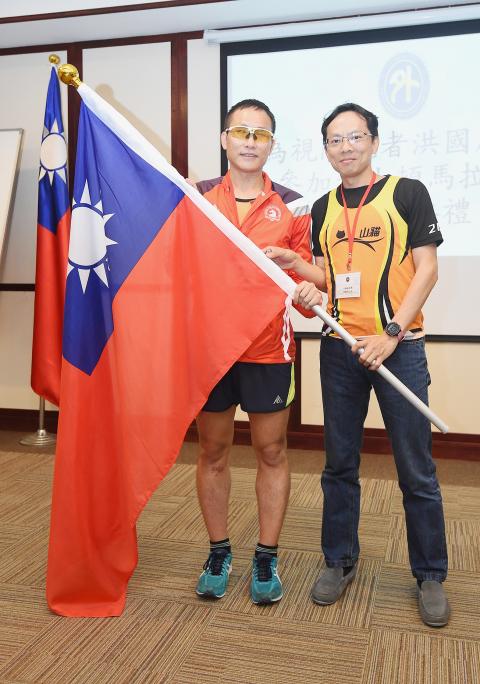 Visually impaired runner Hung Kuo-chang, left, and his guide Yang Chung-ting receive Taiwan's flag at the Ministry of Foreign Affairs on March 27 before departing for the Boston Marathon. 視障馬拉松選手洪國展(左)與陪跑員楊鍾鼎,在出征波士頓馬拉松前,於三月二十七日在外交部獲贈台灣國旗。
Photo: Liu Hsin-de, Liberty Times
照片︰自由時報記者劉信德
(CNA, translated by Eddy Chang)
兩位視障馬拉松選手洪國展、呂冠霖,近日前往美國,挑戰世界六大馬拉松之一的波士頓馬拉松,這也是台灣第一次有視障選手參賽。洪國展表示,這次參賽最大的意義是在穿越終點線時,帶著台灣的國旗「被世界看見」。
波士頓馬拉松是每年於「愛國者日」,也就是四月的第三個星期一,在麻薩諸塞州波士頓所舉行的馬拉松大賽。三十八歲的洪國展表示,他為了參賽已準備三年。藉由參加各種國際賽事,這位馬拉松跑者希望讓更多人看到,視障人士一樣可以克服困難、挑戰極限運動。
由於空間和安全限制,視障組跑者名額僅七十名。此外,洪、呂兩人在長達四十二公里的全馬賽程中,均由其陪跑員在前引導。
(中央社)
Publication Notes
TODAY'S WORDS
今日單字
1. visually impaired phr.
視障的
(shi4 zhang4 de5)
2. marathon n.
馬拉松
(ma3 la1 song1)
3. finish line phr.
終點線
(zhong1 dian3 xian4)
4. marathoner n.
馬拉松跑者
(ma3 la1 song1 pao2 zhe3)
5. extreme sport phr.
極限運動
(ji2 xian4 yun4 dong4)
Comments will be moderated. Keep comments relevant to the article. Remarks containing abusive and obscene language, personal attacks of any kind or promotion will be removed and the user banned. Final decision will be at the discretion of the Taipei Times.