Katy Perry stages Taipei concert on Wednesday 流行小天后凱蒂佩芮 再度來台開唱
US pop singer Katy Perry staged a concert at the Taipei Arena for the second time on Wednesday. To put on a perfect show, 10 containers were flown in with props weighing over 50 tonnes, including her six stunning stage costumes. The audience of more than 10,000 were treated to a sensory experience at a show full of constant surprises.
According to Perry's music label, since her "Witness: The Tour" began in September last year in North America, the singer has already put on over 60 dates of the well-received show in the past few months to promote her fifth album, "Witness." The most expensive tickets for the Taipei concert were priced at NT$8,800 (US$300) each.
Perry reportedly rekindled her relationship earlier last year with actor Orlando Bloom, who appeared at her first Japanese concert late last month to show support. She was set to perform in China in November last year, but was unable to get a work visa.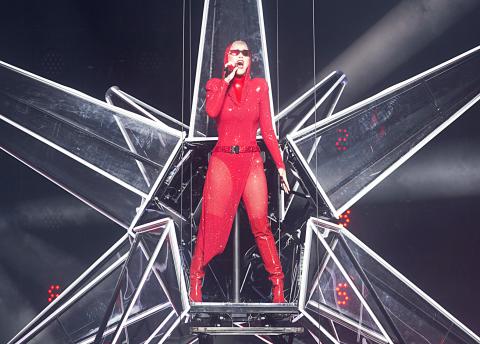 Pop singer Katy Perry performs at the first concert of her world tour "Witness: The Tour" on Sept. 19 last year in Montreal, Canada. 流行歌手凱蒂佩芮在「見證:巡演」首場演唱會演出。該巡演從去年九月十九日自加拿大蒙特婁起跑。
Photo: AP
照片︰美聯社
(CNA and Liberty Times, translated by Eddy Chang)
美國流行歌手凱蒂佩芮二度來台攻蛋,於週三舉行演唱會。為了呈現完美演出,還空運十個貨櫃的設備來台,包括重達五十多公噸的道具及六套炫麗的服裝,為上萬名歌迷帶來感官衝擊、驚喜不斷。
唱片公司指出,凱蒂的「見證:巡演」演唱會去年九月從北美起跑,短短幾個月已熱唱了六十幾場,並大受好評。該巡演是為了宣傳她的第五張專輯「見證」所舉行,這次台北場最高票價為八千八百元(約三百美元)。
凱蒂去年被爆出與知名男演員奧蘭多布魯復合,上月底在日本首場演唱會上奧蘭多還現身捧場。她原訂去年十一月在中國演出,最終卻因工作簽證被拒而取消。
(中央社、自由時報)
Publication Notes
TODAY'S WORDS
今日單字
1. container n.
貨櫃
(huo4 gui4)
2. stunning adj.
炫麗的
(xuan4 li4 de5)
3. sensory adj.
感官的
(gan3 guan1 de5)
4. witness n.
見證
(jian4 zheng4)
5. work visa phr.
工作簽證
(gong1 zuo4 qian1 zheng4)
Comments will be moderated. Keep comments relevant to the article. Remarks containing abusive and obscene language, personal attacks of any kind or promotion will be removed and the user banned. Final decision will be at the discretion of the Taipei Times.