US-China trade war heats up as Beijing imposes retaliatory measures 北京實施報復性措施 美中貿易戰升溫
US President Donald Trump on Friday announced the US will impose a comprehensive set of trade tariffs on Chinese imports — estimated to amount to at least US$50billion — following an investigation by US government agency, Office of the United States Trade Representative (USTR) into intellectual property theft by China.
In addition to the imposition of 25 percent duties on targeted Chinese products, Trump also instructed US Treasury Secretary Steven Mnuchin to impose new investment restrictions to prevent Chinese companies from acquiring strategically important US technologies.
The investigation, which commenced in August last year, found China uses joint venture conditions, foreign investment restrictions, and administrative review and licensing processes to force or pressure technology transfers from American companies.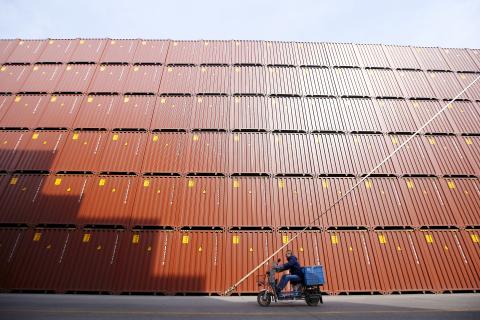 A man rides a vehicle past containers at a port in Shanghai, China. 一名男子騎車經過上海一港口的貨櫃。
Photo: Reuters
照片:路透
The USTR also found that China directs and facilitates investments and acquisitions which generate large-scale technology transfers and conducts and supports cyber intrusions into US computer networks to gain access to valuable business information.
Prior to the announcement, Wei Jianguo, executive deputy director of a Beijing think tank, China Center for International Economic Exchanges, used robust language: "If Trump really signs the order, it is a declaration of trade war with China." Wei continued: "China is not afraid, nor will it dodge a trade war. We have plenty of measures with which to fight back, in areas of automobile imports, soybean, aircraft and chips. Trump should know this is a very bad idea, and there will be no winner, and that there will be no good outcome for either nation."
Following the imposition of the tariffs, China unveiled reciprocal tariffs on approximately US$3billion of US imports ranging from pork, recycled aluminum, steel pipes, fruit and wine.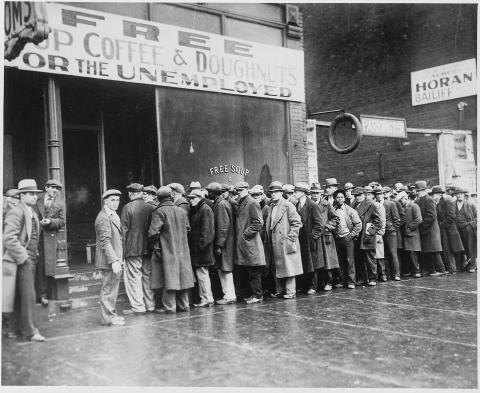 Unemployed people queue outside a soup kitchen in Chicago in 1931. 一九三九年在美國芝加哥,失業的民眾在一間施粥場旁排隊。
Photo courtesy of United States Information Agency /Wikimedia Commons
照片:美國新聞署/維基共享資源
"The US declared a trade war, but China is acting quite restrained. The list that China has announced appears to be a retaliation, but still it is very measured," said Li Yong, senior fellow of China Association of International Trade, quoted by Bloomberg. "The move sends a message that China is able to fight back, but we still want a trade peace instead of a trade war," said Li.
(Edward Jones, Taipei Times)
美國總統川普週五宣布,美國將對中國進口商品課徵全面性關稅,預估金額將超過五百億美元。這項決定奠基於美國政府機構──美國貿易代表署──日前針對中國從美國竊取智慧財產所展開的調查。
除了對特定中國產品課徵百分之二十五的關稅之外,川普同時指示美國財政部長梅努欽制定新的投資限制,以防制中國公司收購美國具戰略重要性的科技。
美國貿易代表署從去年八月開始進行調查,發現中國利用合資企業條件、外國投資限制等方式,並且藉由行政審核與授權程序等手段,強迫或是向美國公司施壓,要求對方進行技術轉移。
美國貿易代表署同時發現,中國透過主導和促使國內公司進行投資與併購,進而產生大規模的技術轉移,並主導和支援發動網路攻擊行動,入侵美國的電腦網路系統,以獲取珍貴的商業資訊。
在川普宣布這項決議之前,北京智庫中國國際經濟交流中心副理事長魏建國強硬地表態:「川普若真簽署命令,等同宣告中美貿易戰開打。」魏建國進一步表示:「中國不會害怕,也不會迴避貿易戰爭。在汽車進口、大豆、飛機和晶片等方面,我們有許多反制措施。此外,川普應該曉得這是非常糟糕的想法,也不會有贏家,對兩國來說都是有害而無益。」
在美國宣布課徵關稅後,中國緊接著揭露報復性的關稅措施,預估將對美國進口商品──範圍從豬肉、回收鋁製品、鋼管、乃至於水果與酒類──課徵大約三十億美元的關稅。
據彭博社報導,中國國際貿易學會的資深研究員李永指出:「美國此舉宣示貿易戰開打,但中國的行動非常節制。中國公布課徵關稅的貨物清單,看起來像是報復,其實仍是斟酌後的結果」。李永表示:「這個舉動是為了要傳達一個訊息,那就是中國仍有能力反擊,但我們要的並不是貿易戰爭,而是一個平和的貿易環境。」
(台北時報章厚明譯)
Follow up
讀後練習
Reading Comprehension
The current US-China trade war is not the first time protectionist trade measures have been adopted by the US — but will it work and how could it affect the global economy?
Perhaps the most famous example of a trade war is the series of reciprocal protectionist trade policies which were adopted by many countries during the Great Depression of the 1930s. Following the Wall Street Crash of 1929, the US Senate passed the Tariff Act of 1930, commonly known as the Smoot–Hawley Tariff, which raised tariffs on over 20,000 imported goods. Other countries soon retaliated with boycotts of US goods and reciprocal tariffs against US products.
Although the tariff initially appeared to be a success, between 1929 to 1933 US exports decreased 61 percent from US$5.4billion to US$2.1billion and unemployment in the US jumped from 8 percent in 1930 to 16 percent in 1931, and reached 25 percent by 1933.
Meanwhile, US tariffs forced Canada, France and Britain to forge closer economic links which each other and develop new trading partners, while Germany pursued a system of autarky (economic self-sufficiency), resulting in an overall reduction in global trade.
However, economists disagree to what extent protectionism was responsible for worsening the Great Depression. US economist Paul Krugman has argued that the Tariff Act exacerbated the Great Depression by preventing a recovery in trade after production had recovered. However, another US economist, Milton Friedman, attributed the Great Depression to severe monetary contraction caused by a banking crisis and poor policy making by the Federal Reserve.
Questions
1. Why did US President Donald Trump decide to impose tariffs on Chinese goods? Was he justified in doing so?
2. Do you think it is possible that the US-China trade war could escalate out of control and cause a new Great Depression?
3. If you were the US president, would you have handled the situation any differently? If so, how?
(Edward Jones, Taipei Times)
Publication Notes
TODAY'S WORDS
今日單字
1. tariff n.
關稅
(guan1 shui4)
2. intellectual property phr.
智慧財產
(zhi4 hui4 cai2 chan3)
3. joint venture phr.
合資企業
(he2 zi1 qi4 ye4)
4. technology transfer phr.
技術轉移
(ji4 shu4 zhuan3 yi2)
5. trade war phr.
貿易戰
(mao4 yi4 zhan4)
6. retaliation n.
報復
(bao4 fu4)
Comments will be moderated. Keep comments relevant to the article. Remarks containing abusive and obscene language, personal attacks of any kind or promotion will be removed and the user banned. Final decision will be at the discretion of the Taipei Times.