USING IDIOMS 活用成語
Chinese practice
木已成舟
the wood has already been made into a boat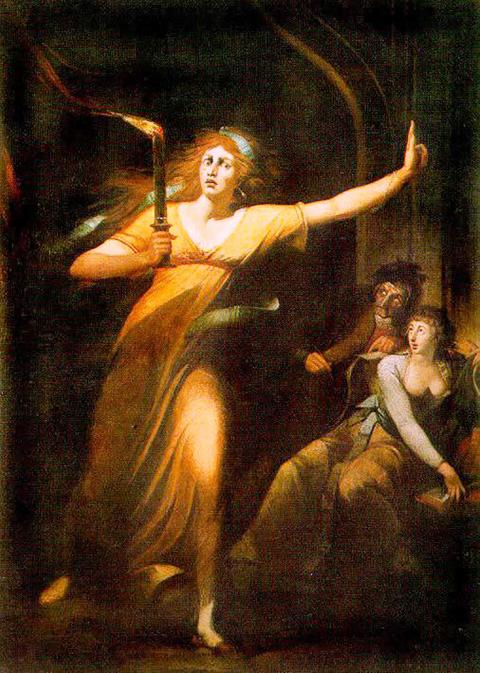 The Sleepwalking Lady Macbeth by Johann Heinrich Fussli. 《夢遊中的馬克白夫人》,約翰‧亨利希‧菲斯利作。
Photo: Wikimedia Commons
照片:維基共享資源
(mu4 yi3 cheng2 zhou1)
許多出於古中國經典的成語、概念及隱喻,常是經由後世文學作品的引用,才廣為人知,例如明代及清代的文人寫作之通俗文學。
清代學者及作家夏敬渠(西元一七○五~一七八七年)著名的長篇小說《野叟曝言》(約成書於西元一七八○年)中,主人公文素臣的母親水夫人說道:「據你說來,則木已成舟,實難挽回了!」這是水夫人在獲知文素臣已秘密在外納妾後的反應。這事令水夫人非常不悅,但她了解到,若想要再去做什改變,已經無濟於事了。
夏敬渠所用的「木已成舟」一語,字面意義為「木材已經變成了船」,其概念是由古中國占卜經典《易經》而來。《易經.繫辭下》曾提到古代造船的步驟:「刳木為舟,剡木為楫」(把樹木挖空做成船,把木頭削尖做成船槳)。
夏敬渠在中國遊歷甚廣,並博通經史、哲學及天文,其讀書及科舉應考過程中也必曾讀過易經──雖然他最後並未中第。
樹木被砍下後,可以做成很多東西;一旦你把樹木中間挖空了,就是已決定要做一艘獨木舟,你沒辦把這木材還原成先前的狀態,把它做成別的東西。《野叟曝言》的廣為流傳,讓「木已成舟」這說法變成了一個成語,用來指改變不了的事,或無法逆轉結果的行為。
當然,在其他語言中,成語也會透過文學作品的引用或創作而家喻戶曉。威廉‧莎士比亞的劇作即為英文中許多創新語言及諺語的出處。
莎翁一六○六年的劇作《馬克白》第三幕第二場中,馬克白夫人安慰她丈夫說,無論是後悔殺了國王,或是後悔已下令要殺害朋友班柯及其子,都是沒有意義的。馬克白夫人說:
「Things without all remedy
Should be without regard. What's done is done.」
(無法補救的事,也就不必放在心上;已經做了的事就是做了。)
後來在第五幕第一場中,夢遊中的馬克白夫人看著手上的血,狂亂地說:「What's done cannot be undone」(已經做了的事無法挽回)。
「what's done is done」和「what's done cannot be undone」都用來表示,想要去逆轉某件事,或身深陷在懊悔中,都是沒有意義的。最好還是認清既定事實、邁步向前。
另外,還有一個相同意義的短語也很常見:「you can't unscramble eggs」(你無法把炒蛋回復原狀),這是出於美國金融家及藝術收藏家約翰‧皮爾龐‧摩根(西元一八三七~一九一三年)所言。
(台北時報林俐凱譯)
他們倆的婚事受到家族強烈反對,生下一對雙胞胎後,雙方家族眼看木已成舟,只好接受這個事實。
(The families were dead set against their marriage, but when the twins arrived, they saw there was no going back, and they had no choice but to accept the union.)
我們一定要嚴加把關這個軍購案,因為一但木已成舟,要翻案就太遲了。
(We have to push for an agreement on this arms procurement deal. Once it has been inked, it will be difficult for them to go back on it.)
英文練習
what's done has been done
what's done cannot be undone
you can't unscramble eggs
Idioms, ideas and metaphors originating in ancient Chinese classics would often only become widely known through their inclusion in popular literary works penned by educated writers in later dynasties, such as the Ming and Qing.
In his monumental novel yesou puyan (approx. 1780, Humble Words of a Rustic Elder), the Qing Dynasty scholar and writer Xia Jingqu (1705-1787) has Mme Shui, the mother of his protagonist Wen Suchen, say 據你說來,則木已成舟,實難挽回了: "from what you tell me, what's done is done, there's no going back now." She was reacting to the news that Wen had secretly taken a woman as his concubine, something she was none too happy about, but realized there was nothing she could do to change.
Xia would have obtained the idea for the phrase 木已成舟, literally "the wood has already been made into a boat," from the ancient Chinese divination classic the Book of Changes, or yijing. In the Great Treatise II section there is a reference to the process of making boats in ancient times: 刳木為舟,剡木為楫 (they hollowed out trees to form canoes; they cut others long and thin to make oars).
Xia had traveled extensively in China, and was learned in the ancient classics, philosophy and astronomy. He would have studied the yijing as part of his education and his — ultimately unsuccessful — preparation for the civil service examinations.
The tree, when felled, can be put to many uses. Once you have hollowed it out, you are committed to making a canoe; you could not return the wood to its former state and make something else instead. Through the popularity of yesou puyan, the phrase 木已成舟 would enter the language and become used as an idiom to refer to something which cannot be changed, or an action that cannot be reversed.
Of course, idioms become popularized in other languages, too, through their inclusion or initial use in literary works. In English, the plays of William Shakespeare are a rich source of linguistic innovation and the origin of proverbs.
In Act 3, Scene 2 of the 1606 play Macbeth, Lady Macbeth offers consolation to her husband, saying there is little point regretting either their regicide or the imminent murder of Banquo and his son that they have ordered, saying to him,
"Things without all remedy
Should be without regard. What's done is done."
Later, in Act 5, Scene 1, a sleepwalking Lady Macbeth raves about the blood on her hands, declaring, "What's done cannot be undone."
Both "what's done is done" and "what's done cannot be undone" are used to express the idea that there is no sense in trying to reverse an action or wallow in feelings of regret, and that it is better just to move on and act upon the new reality.
Another popular phrase is "you can't unscramble eggs," attributed to the US financier and art collector J. Pierpont Morgan (1837 - 1913).
(Paul Cooper, Taipei Times)
Don't be upset, there's no point crying over spilled milk. What's done has been done.
(別難過了,覆水畢竟難收。)
We have to accept the result of the referendum. What's done cannot be undone.
(我們應該要接受公投的結果。木已成舟,大局已無法逆轉。)
Comments will be moderated. Keep comments relevant to the article. Remarks containing abusive and obscene language, personal attacks of any kind or promotion will be removed and the user banned. Final decision will be at the discretion of the Taipei Times.