Tattoos discovered on mummies after millennia under wraps 數千年歷史木乃伊 層層包裹暗藏刺青
Researchers have discovered the oldest figurative tattoos in the world on the upper arms of two ancient Egyptian mummies, according to news released by the British Museum on March 1.
A male mummy was found to have tattoos depicting a wild bull and a Barbary sheep on its upper arm, while a female has linear and S-shaped motifs on its upper arm and shoulder.
The artworks appeared as dark smudges in natural light but researchers at the British Museum and Oxford University's Faculty of Oriental Studies found the tattoos in 2017 with infrared photography.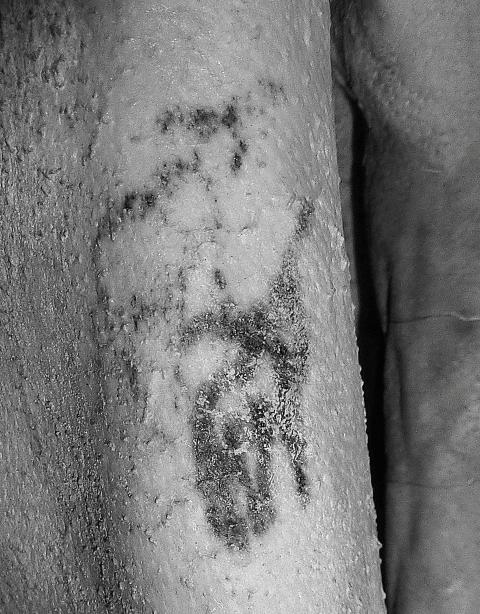 An infrared image of the tattoo discovered on the male mummy known as "Gebelein Man" can be seen in this photograph issued by The British Museum in London, the UK. The photograph shows detail of the tattoos observed on his right arm under infrared light. 在這張英國倫敦大英博物館發布的照片中,可以看到這具被稱作「基波林男子」木乃伊身上刺青的紅外線影像。在紅外線照射下,木乃伊右手臂上的刺青輪廓細節歷歷可見。
Photo: Reuters
照片:路透
"It's actually providing completely new insights into the use of tattooing," Daniel Antoine, curator of physical anthropology at the British Museum, told Reuters.
"The location of these tattoos suggests they were designed to be highly visible on the upper arm and the shoulder," he said, adding that the discoveries push back by 1,000 years evidence for tattooing in Africa.
The mummies were unearthed 100 years ago in the Egyptian town of Gebelein, around 40 km south of modern-day Luxor. They date to 3,351 to 3,017 BC, which is the Predynastic period before Egypt was unified by the first pharaoh.
Researchers said the female tattoos may have denoted status, bravery or magical knowledge, while the male's were likely symbols of virility and strength.
Prior to the discovery, archaeologists believed tattooing in Egypt was only performed on women, as tattoos were only depicted on female figurines of the period.
The oldest surviving tattoos are geometric designs on a mummified corpse known as Otzi, who lived around 5,300 years ago and was discovered preserved in the Italian Alps in 1991.
The research, led by Antoine and Oxford University's Renee Friedman, was published in the Journal of Archaeological Science on March 1. (Reuters)
大英博物館在三月一日發布的新聞稿指出,研究員在兩具古代埃及木乃伊上臂,發現目前世界最古老的象徵性圖案刺青。
其中一具男性木乃伊,上臂刺有描繪野生公牛與蠻羊的圖案,另一具女性木乃伊則被發現上臂與肩膀都刺有S型線條主題的圖形。
在自然光下,這些刺青藝術看起來就像暗沉的汙漬。然而,大英博物館與牛津大學東方研究所共同組成的研究團隊利用紅外線攝影,在二○一七年發現這些刺青。
大英博物館的體質人類學部門策展人丹尼爾‧安托萬向路透表示:「這個發現其實提供了全新的見解,改變我們對於古代刺青用途的認知。」
安托萬解釋:「這幾個刺青位置顯眼,暗示它們設計刺在上臂與肩膀上的原因,是為了顯得特別醒目。」他也補充表示,該發現將非洲有刺青的證據往前推了一千年。
這兩具木乃伊出土於距離今日盧克索南方約四十公里(二十四英里)遠的埃及小城基波林,年代推估為西元前三三五一年到三○一七年之間,也就是埃及被第一位法老統一之前的前王朝時期。
研究人員表示,這具女性木乃伊身上的刺青可能代表她的社會地位、英勇個性,或是掌握巫覡之術,而男性木乃伊身上的刺青則可能是男性氣概與力量的象徵。
在這個發現之前,考古學家普遍認為在古埃及只有女性身上會有刺青,因為從那時代留下來的文物中,只有在女性人俑上發現刺青的描繪。
目前最古老的刺青是在一具木乃伊化的屍體上發現的幾何圖形設計,這個木乃伊被稱為"奧茨",大約生於五千三百年前,於一九九一年在義大利境內的阿爾卑斯山區被發現,因為冰封而被完整地保存下來。
由安托萬與牛津大學的芮妮·傅利曼主持的這個研究,其結果已發表於三月一日出版的《考古科學期刊》。
(台北時報章厚明翻譯)
Publication Notes
TODAY'S WORDS
今日單字
1. figurative
adj. 象徵性的
(xiang4 zheng1 xing4 de5)
2. depict
v. 描繪
(miao2 hui4)
3. motif
n. 主題
(zhu3 ti2)
4. denote
v. 代表
(dai4 biao3)
5. mummify
v. 木乃伊化
(mu4 nai3 yi1 hua4)
Comments will be moderated. Keep comments relevant to the article. Remarks containing abusive and obscene language, personal attacks of any kind or promotion will be removed and the user banned. Final decision will be at the discretion of the Taipei Times.