Bilingual Arts: Max Ernst's "Two Children Are Threatened by a Nightingale" 雙語藝術:恩斯特的超現實夢境
Max Ernst's (1891-1976) Deux enfants sont menaces par un rossignol (Two Children Are Threatened by a Nightingale) was created in 1924, the year the Surrealism movement was officially started. Surrealism straddled art and literature, seeking to — through Sigmund Freud's psychoanalytic theory — achieve the surreal, to transcend reality and arrive at a truth more authentic than reality itself, holding that dreams and the unconscious mind were the way to reach this surreal plane.
Ernst, himself a major figure in the Surrealist movement, painted the deep blue of the night sky at the top of the painting, transitioning in bands of tone to the first glimmer of dawn on the horizon. Against this background, and in the light of this dawn, a girl brandishes a blade, chasing away a nightingale in the air above her, while another girl lies collapsed on the ground.
In the bottom right of the composition is a house made of wood, with a male figure — cradling a child in his right arm — seemingly fleeing something. The two-dimensional figure, perched precariously atop the ridge of the three-dimensional roof against the painted background, looks as if he might fall at any second. He stretches his left arm forward, desperately reaching out to touch a round wooden object, resembling both a door bell and a door knob, nailed to the picture frame.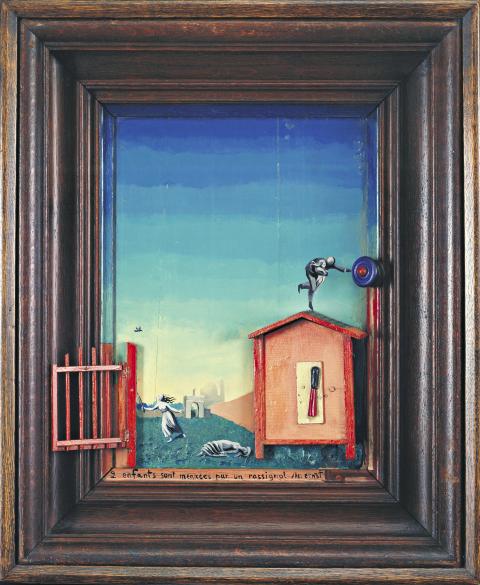 Max Ernst. Two Children Are Threatened by a Nightingale (Deux enfants sont menaces par un rossignol), 1924, oil on wood with painted wood elements and frame. 69.8 x 57.1 x 11.4 cm. Collection of the Museum of Modern Art, New York, USA. 馬克思‧恩斯特。《兩個孩子被夜鶯威脅》。一九二四年。木板油畫、上漆木料、木框,六十八‧八x 五十七‧一 x 十一‧四公分。美國紐約現代藝術博物館藏。
Photo courtesy of Museum of Modern Art
照片:現代藝術博物館提供
The wooden knob protrudes from the surface of the frame; the house is made from wood nailed to the picture. To the bottom left of the composition lies a gate, opened such that it extends beyond the frame. This solid object propels the flat surface of the painting out into three-dimensional space, giving the optical illusion of the two-dimensional painting a tactile substantiality. The stepped wooden frame is 10 cms deep, as if representing layers of reality.
The ridge of the roof, coupled with the tip of the man's foot and extended arm, create a kind of tension, as the man, caught somewhere in the interstice of reality and a dream state, desperately tries to touch the bell/doorknob at the frame's edge, to reach the other realm and break the spell.
(Translated by Paul Cooper, Taipei Times)
馬克斯‧恩斯特(西元一八九一~一九七六年)的《兩個孩子被夜鶯威脅》,作於一九二四年,也就是超現實主義正式成立的一年。超現實主義為橫跨文學與藝術的運動,受佛洛伊德心理分析的啟發,致力於發掘「超現實」──超越現實,比現實更真的真實,並認為夢及潛意識為通往超現實的渠道。
身為超現實主義的要角之一,恩斯特此幅作品的背景由畫幅頂端深沉的夜色,過渡到天邊的晨曦。晨曦中,一個女孩揮舞著一把刀,像是在驅趕空中的那隻鳥,另一個女孩倒在地上。
畫面右下方是用木頭釘成的房屋形狀,屋頂上方的畫面中一個男子右手抱著小孩,像是奔跑著逃離什麼,平面畫面中的他,腳尖看似點在立體突出畫面的屋脊上,隨時都會跌落,十分危險,他左手急著往前伸出去,迫不及待要去觸到框邊那又像電鈴又像門把的圓形木。
圓形木突出在框邊,房屋是釘在畫面的木材;左下方的柵欄,更是向框外打開──這些立體的實體,將平面的畫面延伸到三度空間,將畫面的視覺幻覺延伸到了現實中的觸覺。這件作品多層次的木製外框有十公分深,像是一層一層的現實。
屋脊尖端、男子的腳尖和伸出去的手尖端,造成了一種危急的張力,在夢境與現實的交界,他迫不及待要觸到那按鈕、那門把,觸碰到另一個世界,解除魔咒。
(台北時報林俐凱)
Comments will be moderated. Keep comments relevant to the article. Remarks containing abusive and obscene language, personal attacks of any kind or promotion will be removed and the user banned. Final decision will be at the discretion of the Taipei Times.