How dogs domesticated humans 犬類如何馴化人類
Studies have shown that wolves and dogs, when still young, are quite similar even now, after many generations of evolution. They both exhibit the same playful behavior, for example, and wolf pups are known to bark like dogs. However, when wolves mature, they become aloof, suspicious and fierce, and totally unsuited to a domestic environment.
The domestic dog we now share our homes with evolved from the wolf. Some say that humans domesticated the wolf, in a process that likely started somewhere between 20,000 and 15,000 years ago. It is also quite possible that this happened more through a symbiotic relationship and mutual reliance that changed the way humans evolved, too. Perhaps dogs domesticated humans.
To a degree, human society has successfully removed us from the dictates of the survival of the fittest in the wild. Back then, humans would have been competing with wolves for food. Indeed, humans did compete with carnivores, making sabre-tooth tigers and giant hyenas extinct in Europe, for example.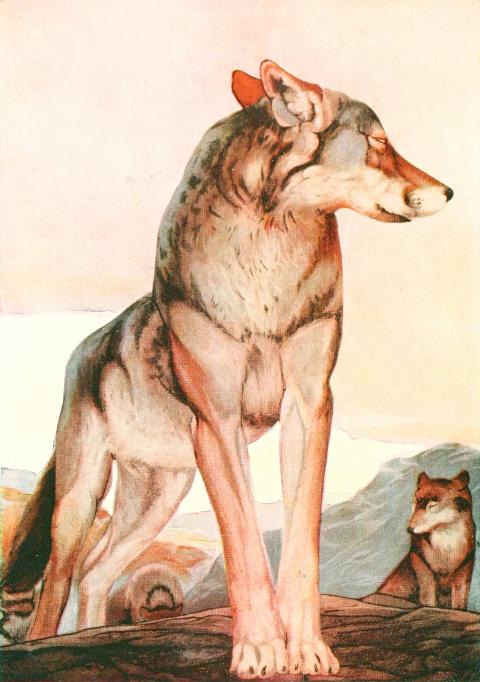 Akela, the Lone Wolf, on the frontispiece of the 1895 edition of The Two Jungle Books by Rudyard Kipling. 〈孤狼阿凱拉〉,魯亞德‧吉卜林著《叢林之書》首頁插圖,一八九五年版。
Photo: Wikimedia Commons
照片:維基共享資源
Humans were already efficient hunters, and wouldn't have needed wolves. However, hunters accompanied by dogs would have had an advantage over those hunting without. Dogs would also have served as sentries, barking at the approach of strangers or predators.
While the exact mechanism by which humans and the dog began to cooperate is down to pure guesswork, one idea is that wolves approached human settlements first, and the more friendly, less aggressive ones were allowed to get close, and stayed when they were offered food to eat. Over several generations, that more friendly trait would have been reinforced through interbreeding among the dogs in the settlements, which were necessarily more genetically predisposed to being friendly. Changes happened not only to their appearance or their biology — such as evolving, with humans, the ability to process starch in their diets — but to their psychology, as well. These protodogs evolved the ability to read human gestures and to understand certain commands, which would have been an advantage in hunting.
Over time, humans became reliant on their presence. You could even say that dogs had a huge impact on human development, or even served as a catalyst for our civilization.
(Paul Cooper, Taipei Times)
研究發現,狼和狗幼年時非常相似,即使經過代代演化到現在也是如此:例如,牠們同樣都表現出愛玩的行為,幼狼的吠叫則如同狗吠。但是,狼成年以後,就變得冷漠、戒心強且兇猛,完全不適合居家環境。
現今我們家裡所養的狗,是由狼演化而來的。有人說,人類可能在兩萬到一萬五千年前之間開始馴養狼。這樣的馴養過程很有可能在共同生活、互相依賴的關係中,也改變了人類進化的方式。或許,是狗馴化了人類。
某種程度上而言,人類社會已把我們從適者方足以生存的洪荒中成功解放出來。在遠古的當時,人類和狼之間還會為食物競爭──的確,人類曾會和肉食動物競爭,例如劍齒虎和巨型鬣狗在歐洲的滅絕即是肇因於此。
人類已是能力強的獵人,且已不需要狼。但是,帶狗的獵人會比沒有帶狗的更具優勢。狗會看哨,陌生人或掠食動物接近時狗會吠叫。
雖然人類和狗開始合作的確切機制純為猜測,但有一種看法認為是狼先接近人類聚落,而較友善、較不具侵略性的狼得以接近,因為有人餵食就住了下來。幾代之後,在人類聚落中的狗透過混種繁殖,使更多友善的特性得到強化,也必定使其在基因上更具友善的傾向。這些改變不僅是外表上或生理上的──例如與人類共同生活而演化出消化澱粉的能力──也是心理上的。這些原始狗演化出解讀人類手勢和理解某些指令的能力,這對狩獵來說是很有用的。
隨著時間的推移,人類變得更依賴狗。我們甚至可以說,狗對人類的發展產生了巨大的影響,甚至成為我們文明的催化劑。
(台北時報林俐凱譯)
Publication Notes
TODAY'S WORDS
今日單字
fierce adj.
兇猛 (xiong1 meng3)
domesticate v.
馴養;馴化 (xun2 yang3; xun2 hua4)
survival of the fittest phr.
適者生存 (shi4 zhe3 sheng1 cun2)
carnivore n.
肉食動物 (rou4 shi2 dong4 wu4)
interbreed v.
混種繁殖 (hun4 zhong3 fan2 zhi2)
Comments will be moderated. Keep comments relevant to the article. Remarks containing abusive and obscene language, personal attacks of any kind or promotion will be removed and the user banned. Final decision will be at the discretion of the Taipei Times.