Vietnam marks 50th anniversary of Tet Offensive 越南紀念「新春攻勢」突襲行動五十週年
Vietnam marked 50 years since the audacious Tet Offensive on Wednesday, in a bittersweet ceremony featuring patriotic dance performances recalling the attacks that changed the course of the Vietnam War.
The surprise military offensive in 1968 — launched by the communist north on the eve of the Tet lunar new year — targeted more than 100 cities and outposts in southern Vietnam, including in major cities Hue and Ho Chi Minh City, formerly the southern capital of Saigon.
On Wednesday entertainers dressed as soldiers and peasants took the stage at an official ceremony in Ho Chi Minh City, followed by a string of performances from flag-bearing dancers and martial arts performers in red and gold.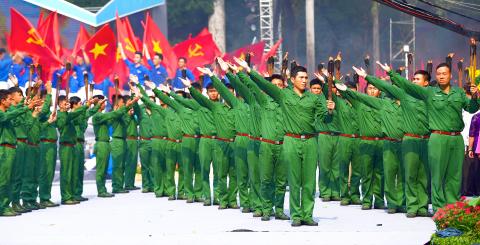 A revolutionary dance is performed during a ceremony marking the 50th anniversary of the Tet Offensive in Ho Chi Minh City on Wednesday. 週三在胡志明市舉辦的「新春攻勢」五十週年紀念典禮上,有革命軍舞蹈表演。
Photo: AFP
照片:法新社
Some war veterans attending the event recalled the thrill of hard-fought battle, followed by the heartache of losing fellow fighters.
The Tet Offensive is remembered with mixed emotions in Vietnam — especially among former southern soldiers who don't agree with Hanoi's narrative of events.
Nevertheless, officials glossed over the darker aspects of the war at Wednesday's ceremony, remembering the campaign as a heroic sacrifice.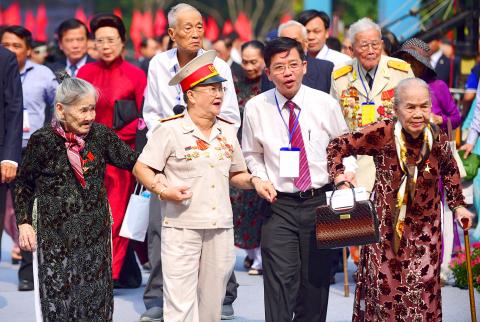 Tet Offensive veterans arrive to attend a ceremony marking the 50th anniversary of the military assault in Ho Chi Minh City on Wednesday. 曾參與「新春攻勢」突襲的退役軍人在週三抵達胡志明市,參加此軍事攻擊行動的五十週年紀念典禮。
Photo: AFP
照片:法新社
Although the US and their South Vietnam allies eventually beat back their communist enemies, the offensive electrified the anti-war movement in the US and persuaded politicians to pull out years later. (AFP)
週三適逢北越共軍當年在越戰中大膽發起「新春攻勢」突襲的五十週年。越南政府為此舉辦了一場苦樂參半的紀念典禮,其中充滿愛國情操的舞蹈表演,不禁讓人回憶起那場徹底改變越戰戰局的軍事攻擊行動。
一九六八年,北越共軍突然在越南農曆年除夕發動軍事突襲,攻擊目標為南越一百多個城鎮與前哨站,其中包括順化市,以及當時稱西貢的南越首都胡志明市等。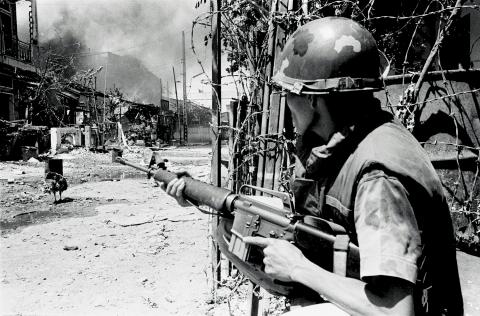 A South Vietnamese soldier takes a position on a Saigon street during the Tet Offensive in early 1968. 在一九六八年年初的「新春攻勢」期間,一名南越士兵在西貢街頭就戰鬥位置備戰。
Photo: AP
照片:美聯社
週三在胡志明市舉辦的官方紀念典禮上,表演的人們或穿軍服,或扮成農民,站滿了舞台。隨後,一系列的演出接連登場:舞者手持國旗翩翩起舞,武術表演者穿著鑲金邊的紅衣褲演示拳腳功夫。
曾經親自參與戰事而今已年邁的退役軍人,在活動中回想起那場艱困戰役當時帶來的強烈緊張與刺激感,卻又因為失去同袍而心痛。
越南人懷想起「新春攻勢」時,總帶有微妙而混雜的情感──這對那些原本效忠南越的士兵們更是如此,他們並不認可河內政府對這些戰事的敘事角度。
不過,在週三的典禮上,官方悄悄地掩飾了戰爭裡那些黑暗的面向,改以英雄為國犧牲奉獻的敘事角度紀念這個軍事行動。
雖然美國與南越最終擊退了來犯的北越共軍,但這場戰事後來卻在美國國內引發一連串的反戰示威運動,並在幾年後說服美國政府從越南撤軍。
(台北時報章厚明譯)
Comments will be moderated. Keep comments relevant to the article. Remarks containing abusive and obscene language, personal attacks of any kind or promotion will be removed and the user banned. Final decision will be at the discretion of the Taipei Times.