A-mei and Celine Dion to hold concerts in Taipei 阿妹、席琳開金嗓 東西天后接力唱
Pop diva Chang Hui-mei, also known as A-mei, is holding an outdoor concert to promote her new album, Story Thief, at Commune A7 in Taipei's Xinyi District on Sunday. She has promised her fans a spectacular show.
Not long ago, tens of thousands of A-mei's fans lined up at three locations in northern, central and southern Taiwan on the same day - to get tickets by exchanging the cardboard packaging of her album. All the tickets were gone within three hours.
Meanwhile, tickets for Canadian superstar Celine Dion's Taipei concerts went on sale last week. Originally, Dion planned to put on two shows at the Taipei Arena, on July 11 and 13, but demand was so high the system was temporarily paralyzed by the sheer number of fans trying to buy them. Taiwan's Kuang Hong Arts Management Incorporation, the event organizer, later announced there would be an extra show, on July 14.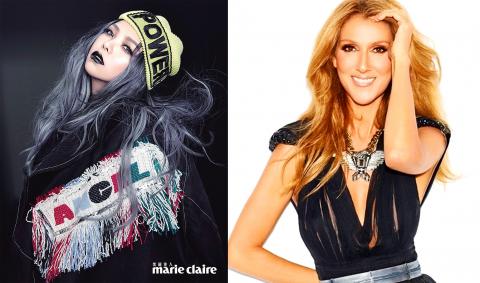 Pop divas Chang Hui-mei, left, also known as A-mei, and Celine Dion are pictured in promotional photos. 流行歌后「阿妹」張惠妹(左)和席琳狄翁的宣傳照,拍攝日期不詳。
Photo courtesy of the Liberty Times
照片︰自由時報提供
(CNA and Liberty Times, translated by Eddy Chang)
流行歌后張惠妹(阿妹)週日將在台北市信義區的Commune A7,舉辦新專輯「偷故事的人」戶外演唱會。阿妹還對歌迷喊話,這次將會帶來最精彩的演出。
上萬歌迷最近手持阿妹新專輯外框厚紙板,於同日在北、中、南部三地換票,僅三個多小時票就全部被掃光。
加拿大超級巨星席琳狄翁台北演唱會,門票亦於上週開賣,席琳原本預計將於七月十一日、十三日在台北小巨蛋開唱。由於門票太搶手,售票系統一度被大批歌迷癱瘓。主辦單位寬宏藝術稍後宣布,於十四日加場演出。
(中央社、自由時報)
Publication Notes
TODAY'S WORDS
今日單字
1. album n.
專輯 (zhuan1 ji2)
2. spectacular adj.
精彩的 (jing1 cai3 de5)
3. exchange v.
兌換;交換
(dui4 huan4; jiao1 huan4)
4. paralyze v.
癱瘓 (tan1 huan4)
5. event organizer phr.
主辦單位
(zhu3 ban4 dan1 wei4)
Comments will be moderated. Keep comments relevant to the article. Remarks containing abusive and obscene language, personal attacks of any kind or promotion will be removed and the user banned. Final decision will be at the discretion of the Taipei Times.