New Taipei City museums promote equality 倡文化平權 新北博物館越南語導覽
Museums in New Taipei City are now implementing cultural equality initiatives, with the Shihsanhang Museum of Archaeology opening early for autistic visitors, the Tamsui Historical Museum holding Vietnamese language tours and the New Taipei City Yingge Ceramics Museum inviting Aboriginal ceramic artists to hold an exhibition.
The Shihsanhang Museum of Archaeology's "early morning museum" is held on the first Saturday of every month, when the museum opens its doors an hour early so that autistic visitors can enjoy a quiet environment and have a space all to themselves. Autistic visitors to the "early morning museum" will have an area where they can read uninterrupted when they are feeling low which will help to reduce feelings of anxiety.
Meanwhile, the Tamsui Historical Museum is offering tours in Vietnamese so that new immigrants can learn more about Tamsui's natural and cultural history in their mother tongue.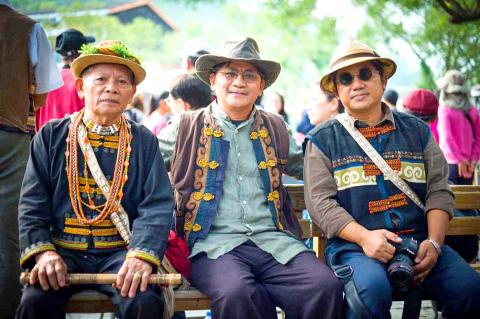 Aboriginal artist Sakuliu Pavavalung, center, in Taipei on Dec. 5. 原住民藝術家撒古流.巴瓦瓦隆(中),去年十二月五日攝於台北。
Photo courtesy of the National Culture and Arts Foundation
照片:國藝會提供
Last year, the Yingge Ceramics Museum held its first Aboriginal ceramics exhibition, showing the historical and contemporary development of Taiwanese Aboriginal ceramic culture. The Paiwan pots of Paiwan pottery artist Sakuliu Pavavalung, for example, make use of the hundred-pace snake decorative totem often seen in Paiwanese art and evocative of traditional Aboriginal art.
(CNA, translated by Paul Cooper)
新北市各博物館實踐文化平權,十三行博物館提早開館以服務自閉症遊客,淡水古蹟博物館開辦越南語行動導覽,鶯歌陶博館則邀原住民族陶藝家展覽。
十三行博物館的「早安博物館」,是於每月第一個星期六提早一小時開館,提供自閉症觀眾安靜的環境。專屬、獨立的參觀空間,可以讓參觀者在情緒低落時,能有不受干擾的空間,降低焦慮感以舒緩情緒。
淡水古蹟博物館提供遊客越南語行動導覽,讓新住民與越南遊客透過熟悉的母語,更能深入認識淡水的自然與人文。
鶯歌陶瓷博物館去年首次展舉辦原住民陶藝展,展示台灣原住民製陶文化的歷史與當代發展。排灣族藝術家撒古流.巴瓦瓦隆的排灣陶壺,運用排灣族常見的百步蛇圖騰做裝飾,生動刻劃出原住民的生活風格。
(中央社)
Publication Notes
TODAY'S WORDS
今日單字
autism; autistic n.; adj.
自閉症 (zi4 bi4 zheng4)
feeling low phr.
情緒低落 (qing2 xu4 di1 luo4)
new immigrant n. phr.
新住民 (xin1 zhu4 min2)
totem n.
圖騰 (tu2 teng2)
Comments will be moderated. Keep comments relevant to the article. Remarks containing abusive and obscene language, personal attacks of any kind or promotion will be removed and the user banned. Final decision will be at the discretion of the Taipei Times.