Passengers transferred down mountain following Alishan derailment 阿里山小火車出軌 一百八十一人接駁下山
A derailment along the Alishan Forest Railway at Jhuci Township occurred on Tuesday afternoon. Fortunately, there were no casualties, although the incident did affect that service and the service following behind. The 181 affected passengers from the two trains were transferred down the mountain in a train sent for the purpose. The cause of the accident awaits investigation.
The derailment occurred at 2:54 pm when the front carriage of the 214 Chiayi-bound service descending from Fenci Lake Station along the forest railway came off the tracks at the 16.9 km point.
Another train was following behind the derailed train. The Alishan Forest Railway administration dispatched a rescue train from Beimen Station in Chiayi City at 3:23 pm to transfer the 181 affected passengers from the mountain, saying that it expected to be able to get the front carriage back onto the tracks by dusk and to resume the service then.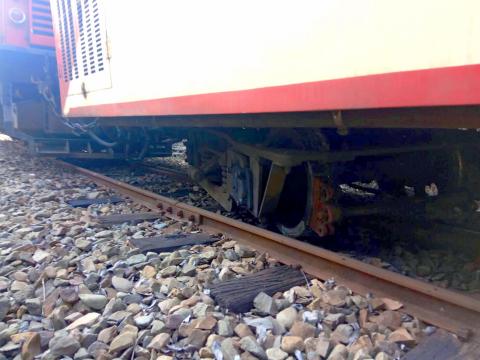 The Alishan service derailed at 2:54 pm on Tuesday. Fortunately, nobody was hurt. 阿里山小火車週二下午兩時五十四分發生出軌事故,幸無人受傷。
Photo courtesy of the Taiwan Railways Administration
照片:台鐵提供
(CNA, translated by Paul Cooper)
一列阿里山森林小火車週二下午在竹崎發生出軌意外,雖未造成傷亡,但影響當次及隨後下山的另一列車,兩列車共一百八十一人由救援列車接駁下山,事故原因待調查。
這起火車出軌意外發生在下午二時五十四分,一列由奮起湖下山、開往嘉義的二一四次列車,行經阿里山森林鐵路十六·九公里處時,第一節車廂突然出軌。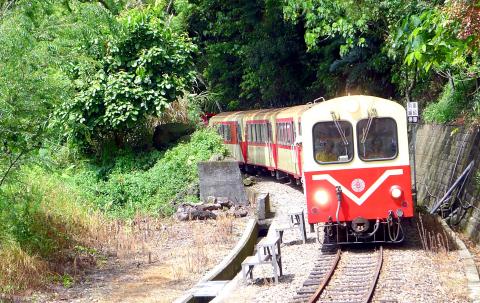 The Alishan Forest Railway. 阿里山森林鐵路。
Photo: CNA
照片:中央社
由於出軌列車後方也有一列二次列車隨後下山,兩列車上總共有一百八十一人受影響。阿里山森林鐵路管理處於下午三時二十三分從嘉義北門站開出救援列車,以接駁方式將一百八十一人接駁下山,預計傍晚前可將第一節車廂復軌,恢復通行。
(中央社)
Publication Notes
TODAY'S WORDS
今日單字
1. derailment n.
出軌 (chu1 gui3)
2. transfer v.
接駁 (jie1 bo2)
3. resume service phr.
恢復通行 (hui1 fu4 tong1 xing2)
Comments will be moderated. Keep comments relevant to the article. Remarks containing abusive and obscene language, personal attacks of any kind or promotion will be removed and the user banned. Final decision will be at the discretion of the Taipei Times.