Academia Sinica vice president: Tang Prize can complement Nobel 唐獎漢學及法治獎 黃進興:彌補諾貝爾獎
Academia Sinica Vice President Huang Chin-shing, talking about the Tang Prize during an interview with the media on Dec. 28, said that the awards for Sinology and rule of law were something that the Nobel Prize lacked, and could be complemented with.
To encourage young scholars to put their efforts into research into the humanities, Chinese American historian Yu Ying-shih, the winner of the first Tang Prize in Sinology, used his award to set up a research fellowship, for a period of five years from 2015 to 2019, to fund young scholars in the field in the writing of papers and doctoral dissertations. The third Yu Ying-shih Fellowship for the Humanities award ceremony was held in Taipei on Dec. 28.
Huang said that there were many awards in Taiwan, but if these were to be counted as international awards then they would need to differentiate themselves and transcend race, nationality, religion and gender before they would be acknowledged as such, as the standards were very high for international awards.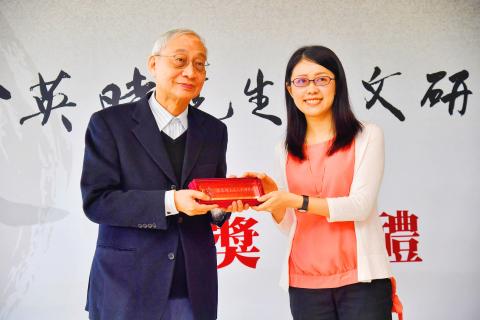 Academia Sinica Vice President Huang Chin-shing, left, presents Chan Yan-yi, winner of this year's Yu Ying-shih Fellowship for the Humanities with the award at the Museum of the Institute of History and Philology at the Academia Sinica in Taipei on Dec. 28. 二○一七年余英時先生人文研究獎頒獎典禮,十二月二十八日在中研院歷史文物陳列館舉行。圖為中央研究院副院長黃進興(左)頒獎給得獎人詹晏怡(右)。
Photo: CNA
照片:中央社
Huang said that the implementation of the prize was tied in with the Nobel Prize, and when they were planning the Tang Prize in the past they had learned from the experience of the Nobel Prize.
Huang also said that his own hopes for the Tang Prize for Sinology was that it could be more diverse, and could be used to help scholars involved in research into Sinology to have a chance to win the prize, which would be a big incentive for the whole world.
In addition, he said he hoped that younger people would be awarded the Tang Prize in Sinology, and that it wasn't just given to more senior scholars as a form of lifetime achievement award.
(CNA, translated by Paul Cooper)
中央研究院副院長黃進興上月二十八日接受媒體訪問談到唐獎時表示,唐獎中的漢學獎跟法治獎是諾貝爾獎所沒有的,可以彌補諾貝爾獎沒設的獎項。
首屆唐獎漢學獎得主余英時為了鼓勵年輕學人投入人文研究,用唐獎研究補助經費設立人文研究獎,以五年為期(二○一五~二○一九年),每年獎助年輕學者撰寫人文研究專書或博士論文。第三屆「余英時先生人文研究獎」頒獎典禮上月二十八日在台北舉行。
黃進興表示,國內有很多獎項,但要稱得上國際的獎項,層次和範圍上需要不一樣,要跨越種族、國別、信仰跟性別等,且國際獎項標準要比較高,才能獲得認可。
黃進興指出,唐獎的運作也跟諾貝爾獎很有關係,過去在規劃唐獎時,都有取經諾貝爾獎。
黃進興也說,他個人對漢學獎的期許,是希望可以多元化,讓世界各地從事漢學研究的學者都可以出線,這對全世界來說也會是很大的鼓勵。
除此之外,他也希望漢學獎得獎者的年齡可以年輕一點,而不是都頒給年長學者,變成終身成就獎的性質。 (中央社)
Publication Notes
TODAY'S WORDS
今日單字
1. Sinology
n. 漢學
(han4 xue2)
2. be counted as
phr. 稱得上
(cheng1 de2 shang4)
3. learn from [others'] experience
phr. 取經
(qu3 jing1)
4. lifetime achievement award
phr. 終身成就獎
(zhong1 shen1 cheng2 jiu4 jiang3)
Comments will be moderated. Keep comments relevant to the article. Remarks containing abusive and obscene language, personal attacks of any kind or promotion will be removed and the user banned. Final decision will be at the discretion of the Taipei Times.