Sharp drop in US bond yields sees dollar slip Friday 美債券殖利率大幅下降 美元週五下跌
The value of the US dollar slipped Dec. 29, the main reason being pressure on the greenback from a sharp drop in US bond yields.
Currency markets are slow going into the end of the year, but predictions are that they will pick up when investors return into the new year.
According to analysts, even though the US tax reform bill will buoy the economy, it will do little to seeing a rise in the US dollar, with investors continuing to maintain a pessimistic view on the US dollar.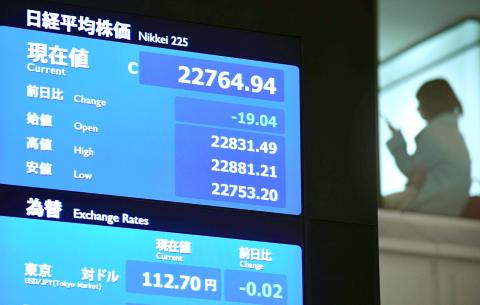 A woman checks her smartphone behind a stock quotation board flashing the Nikkei 225 key index at the Tokyo Stock Exchange in Tokyo on Dec. 29, last year. 一名女子週五在東京證券交易所的日經平均指數看板後看手機。
Photo: AFP
照片:法新社
Friday's fall in the value of the US dollar sets the worst annual performance for the currency since 2003, with the dollar index slipping 0.4 percent.
The euro increased by 0.6 percent to 1.1943, while sterling rose by 0.3 percent to 1.3443.
The US dollar slipped to 112.93 Japanese yen, down from 113.25 at closing on the Wednesday.
(Liberty Times, translated by Paul Cooper)
美元十二月二十九日下跌,主要原因為美國債券殖利率大幅下降,為美元帶來壓力。
由於目前是元旦前夕,貨幣市場交易冷淡,市場預估,應該要等到新年過後,投資人才會重返市場。
分析師預估,美國稅改法案雖有助支撐經濟,但可能無法讓美元升值,明年二○一八年,投資人依舊對美元持不樂觀的看法。
美元週五下跌,創下二○○三年以來最差的年度表現。美元指數下跌百分之○·四。
歐元上漲百分之○·六,至一·一九四三,英鎊上漲百分之○·三,至一·三四四三。
美元下跌至一一二·九三日圓,週三尾盤報一一三·二五。
(自由時報綜合報導)
Publication Notes
TODAY'S WORDS
今日單字
1. sharp drop
phr. 大幅下降
(da4 fu2 xia4 jiang4)
2. rise [in value]; appreciate
v. 升值
(sheng1 zhi2)
3. fall; slip
n.; v. 下跌
(xia4 die2)
4. increase; go up
v.; phr
上漲 (shang4 zhang3)
Comments will be moderated. Keep comments relevant to the article. Remarks containing abusive and obscene language, personal attacks of any kind or promotion will be removed and the user banned. Final decision will be at the discretion of the Taipei Times.