Academics urge Trump to release tax returns 美稅改川普賺很大 學者促公佈退稅記錄
After the US House of Representatives passed the Republican Party's tax bill, some experts have said that US President Donald Trump and his family stand to get richer from the new bill, which will allow them to save several million US dollars in tax every year. They are now pressing Trump to release his tax refund records.
Daniel Hemel, a tax law professor at the University of Chicago, who has urged Trump to release his tax return, has said that if the Republicans' new bill does, indeed, cause Trump to lose money, then he will reimburse Trump the balance; should the tax bill make Trump even richer, however, then he should pay Hemel the difference.
A professor of tax law at New York University has also said that, apart from a cut in federal tax deductions from state and local taxes, he cannot find any part of the bill that is not good for the Trump clan, and that it is manifestly evident that Trump will be able to make big tax savings. The professor expressed disbelief at how Trump could say that he would lose big from the bill.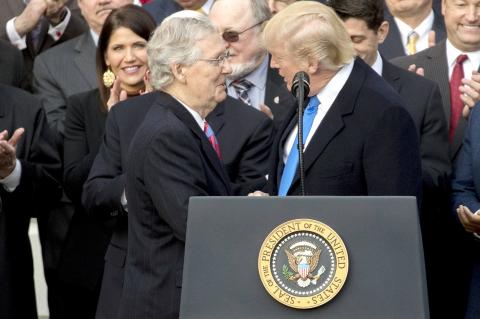 US President Donald Trump, right, shakes hands with Senate Majority Leader Mitch McConnell on the South Lawn of the White House in Washington on Dec. 20. 美國總統川普(右)與參議院多數黨領袖麥康諾十二月二十日在華盛頓特區的白宮南草坪上握手。
Photo: Bloomberg
照片:彭博社
Every American president since 1973, during the era of former president Richard Nixon, has declared information about their tax rebates to show that they were not enriching themselves, but Trump has consistently refused to reveal his, on the pretext that the Inland Revenue Service is auditing them.
(Liberty Times, translated by Paul Cooper)
美國眾議院通過共和黨稅改法案,有專家學者指出新的稅改將使川普家族更加富裕,每年可望少繳數百萬美元稅金,敦促川普盡快公佈退稅紀錄。
芝加哥大學稅法教授哈默爾敦促川普盡快公佈自己的納稅單,並表示如果共和黨新稅改法案若讓川普「損失一筆錢」的話,他將幫川普補上差額;但如果稅改讓川普變得更富有,多出來的錢就交給哈默爾。
紐約大學稅法教授也指出,除了州稅與地方稅抵免聯邦稅的扣除額減少之外,法案中他找不到任何不利川普家族之處,很明顯得可以看出川普將少繳很多稅,「我不懂他為什麼敢說自己虧很大。」
美國自一九七三年尼克森總統以來,歷任總統皆公布退稅資料證明沒有自肥,但川普一直以來卻以國稅局還在查稅為由拒絕公開。
(自由時報綜合報導)
Publication Notes
TODAY'S WORDS
今日單字
1. balance n.
差額
(cha1 e2)
2. federal tax phr.
聯邦稅
(lian2 bang1 shui4)
3. deduction n.
扣除額
(kou4 chu2 e2)
4. tax rebate phr.
退稅
(tui4 shui4)
Comments will be moderated. Keep comments relevant to the article. Remarks containing abusive and obscene language, personal attacks of any kind or promotion will be removed and the user banned. Final decision will be at the discretion of the Taipei Times.