Singer Cyndi Wang tops 2017 list of entertainers 二○一七年娛樂人物 歌手王心凌奪冠
2017 has been an astonishing year for showbiz, with plenty of gossip going around. Yahoo Kimo has recently announced its Top 10 list of entertainers in news searches. Singer Cyndi Wang, whose private photo was leaked allegedly by her ex-boyfriend, gained the top spot on the list, followed by entertainer Chris Ke, whose husband, a celebrity chef, was caught cheating.
Korean stars, who occupy half of the spots on the list, remain popular. In addition to actor Gong Yoo at no. 3, actors Kim Joo-hyuk and Park Hyung-sik, actress Kim Go-eun and actor Park Bo-gum are at nos. 4, 5, 7 and 9.
Taiwanese rock band Mayday and supermodel Lin Chih-ling also made the list at the sixth and tenth spots, respectively, while rising Chinese actress Guan Xiaotong took the eighth. Guan shot to fame after singer Luhan — one of China's hottest "little fresh meats" (hunks) — revealed on his Weibo page in October that they are in a relationship.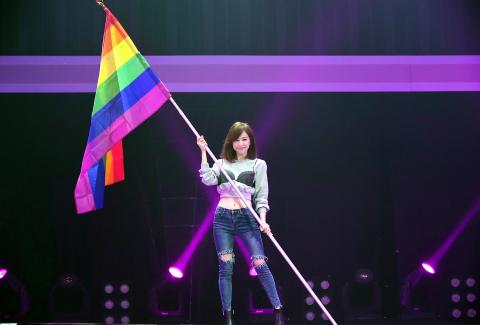 Singer Cyndi Wang upholds a rainbow flag at Taipei Arena on June 2 while rehearsing for the 2017 Hito Music Awards scheduled for two days later. 歌手王心凌六月二日在台北小巨蛋高舉彩虹旗,為兩天後的二○一七年Hito流行音樂獎頒獎典禮彩排。
Photo: Hu Shuan-hsiang, Liberty Times
照片︰自由時報記者胡舜翔
(Liberty Times, translated by Eddy Chang)
二○一七年的演藝圈很精彩,且依舊是八卦當道!Yahoo奇摩公布台灣新聞熱搜十大娛樂人物,歌手王心凌因前男友疑似將她的私密照外流高居冠軍,而藝人柯以柔因名廚老公偷吃得到亞軍。
韓流明星仍然大受歡迎,並攻佔半數榜單。除了第三名的人氣男神孔劉,演員金柱赫、朴炯植、金高恩和朴寶劍,分居第四、五、七和九名。
台灣搖滾天團五月天和第一名模林志玲,也登上名單第六和十名。第八名則是新崛起的中國女演員關曉彤,她因中國當紅「小鮮肉」歌手鹿晗於十月在微博公開戀情一舉成名。
(自由時報)
Publication Notes
TODAY'S WORDS
今日單字
astonishing
adj. 精彩的
(jing1 cai3 de5)
gossip
n. 八卦
(ba1 gua4)
entertainer
n. 娛樂人物
(yu2 le4 ren2 wu4)
cheat
v. 偷吃;出軌
(tou1 chi1; chu1 gui3)
hunk
n. 小鮮肉
(xiao3 xian1 rou4)
Comments will be moderated. Keep comments relevant to the article. Remarks containing abusive and obscene language, personal attacks of any kind or promotion will be removed and the user banned. Final decision will be at the discretion of the Taipei Times.