Lin Yi-han and Chi Po-lin appear on 2017 most-searched online names list 二零一七年十大熱搜新聞人物 林奕含、齊柏林離世 台灣最痛心
As we begin counting the waning days of the year, Yahoo Kimo has announced its Top 10 list of people in news searches during 2017. Compared to last year, when international and Taiwanese politicians dominated the list, 90 percent of this year's rankings were either talented Taiwanese who have left us or those who have figured in gossip stories.
There have been more people who will be sorely missed leaving us this year than usual. Top of the list is the talented writer Lin Yi-han, whose passing brought attention to a social issue, which contributed to her death, to the fore; second was director Chi Po-lin, who lost his life while documenting Taiwan. Sixth and seventh places went to Leslie Koo, who died following an accident, and Liu Wen-hsiung, who passed suddenly after being taken ill.
In addition to these, Chiu Hui-mei and Democratic Progressive Party Taipei City Councilor Tung Chung-yen were no. 3 and no. 10, respectively, for their roles in a sex scandal that shocked the nation. Fourth place was spiritual guru Master ("Seafood") Miaochan, who hit the headlines for the huge donations followers give him, while two others, cram school teacher Chen Hsing, under a cloud of suspicion for his involvement in a sexual assault case, and Justin Lee, who was sentenced to 39 years in prison by the Taiwan High Court early in the year for sexual offences, made the top 10. Premier William Lai was the only politician in the Top 10 that hadn't been involved in a scandal or suffered an untimely death.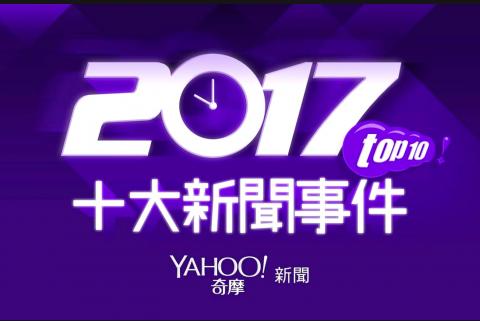 Screengrab of the Yahoo Kimo News Web site, taken Dec. 12. Yahoo奇摩新聞網站截圖,截於十二月十二日。
Photo: Paul Cooper, Taipei Times
照片:台北時報記者古德謙
(Liberty Times, translated by Paul Cooper)
二○一七年邁入倒數,Yahoo奇摩日前公布二○一七年十大熱搜新聞人物,一反去年以國際和台灣政治人物為首,今年榜上九成是台灣痛失的人才以及八卦人物。
今年讓人不捨離開的人特別多,才女作家林奕含香消玉殞,背後所隱藏的社會議題引起高度關注、排名第一;為記錄台灣而奉獻生命的導演齊柏林居第二。分別因意外和病痛驟逝的辜成允、劉文雄則為第六、七名。
此外,鬧得滿城風雨的「童邱戀」雙雙入榜,邱惠美、童仲彥排名第三、十名。受信徒大手筆供養的Seafood妙禪名列第四。捲入性侵疑雲的補教老師陳星、年初被高等法院重判三十九年的李宗瑞也進入前十大。新任行政院長賴清德成為榜上唯一未因八卦話題或不幸去世而入榜的政治人物。
(自由時報記者吳佩樺報導)
Publication Notes
Top 10 list of people in news searches, 2017
二○一七年十大熱搜新聞人物
1.林奕含 Lin Yi-han
2.齊柏林 Chi Po-lin
3.邱惠美 Chiu Hui-mei
4.妙禪 Miaochan
5.陳星 Chen Hsing
6.辜成允 Leslie Koo
7.劉文雄 Liu Wen-hsiung
8.賴清德 William Lai
9.李宗瑞 Justin Lee
10.童仲彥 Tung Chung-yen
Comments will be moderated. Keep comments relevant to the article. Remarks containing abusive and obscene language, personal attacks of any kind or promotion will be removed and the user banned. Final decision will be at the discretion of the Taipei Times.