Taiwanese-Egyptian couple bring traditional Egyptian dancing to Pingtung County 埃及夫台灣妻 攜手推中東傳統舞
Chao Hsin-ying from Pingtung County's Chaojhou Township has a love of dancing. While participating in an overseas competition, Chao became acquainted with one of the judges, a young Egyptian called Mohamed Mamdouh. Two years ago the two tied the knot and settled down to live in Chaojhou Township, where they established a dance studio to teach traditional Middle Eastern dance.
"After seeing each other for a year-and-a-half, we decided to be together," says Chao. The two met by chance while competing in a dance competition in Malaysia, where Mamdouh was acting as a judge. Their relationship flourished through their mutual love of dance, and the two later married in Egypt. The couple decided to return to Chao's hometown in order to bring the foreign dance styles they learned abroad to Taiwan.
Having married a Taiwanese woman and settled down in Chaojhou Township, as a Muslim, the only thing Mamdouh has been unable to get used to is Taiwanese food. Fortunately, specially-prepared Halal food, which Mamdouh has delivered to their home once a month, is now available in Taiwan. Mamdouh also became addicted to Chaojhou Township's famous sesame paste noodles on first tasting them, since Egyptian cuisine also features sesame paste.
Mohamed Mamdouh performs a traditional Egyptian tanoura dance. Mohamed Mamdouh演出埃及傳統旋轉舞。
Photo: Luo Hsin-chen, Liberty Times
照片:自由時報記者羅欣貞
Most Taiwanese are unfamiliar with Egyptian culture, so that whenever Mamdouh performs traditional Egyptian tanoura dancing, audiences usually cry out with astonishment. Mamdouh's heavy costume weighs 15kg and, with performances sometimes lasting half an hour, he needs to remain extremely fit. Chao occasionally dances together with her other half.
At the dance studio established by Chao and her husband, belly dancing classes are popular with Taiwanese women, and Chao infuses her dance lessons with a little Egyptian culture.
(Liberty Times, translated by Edward Jones)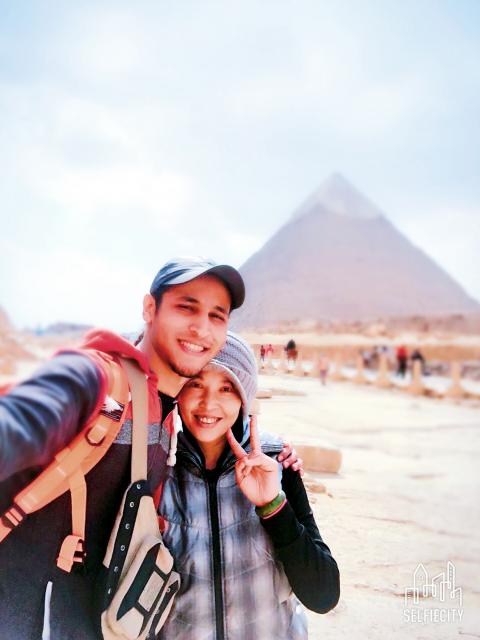 Chao Hsin-ying, right, and her husband Mohamed Mamdouh. 趙芯瑩和夫婿Mohamed Mamdouh。
Photo courtesy of Chao Hsin-ying
照片:趙芯瑩提供
屏東縣潮州姑娘趙芯瑩熱愛舞蹈,到海外參賽,結識擔任評審的埃及青年Mohamed Mamdouh,兩年前結婚,如今夫婦倆定居潮州鎮,創辦舞蹈教室教授中東地區傳統舞蹈。
「認識一年半後,我們決定在一起!」舞蹈老師趙芯瑩表示,當年是到馬來西亞參加舞蹈比賽,Mamdouh擔任評審,因為兩人都熱愛舞蹈,進而發展出感情,後來在埃及結婚。為了把在國外學到的東西帶回台灣,他們決定回到潮州家鄉。
成為台灣女婿定居潮州,身為穆斯林的Mamdouh唯一不習慣的就是飲食,還好台灣現在有專為穆斯林調配的食材,每個月宅配一次。潮州出名的麻醬麵讓Mamdouh一吃上癮,因為埃及也有麻醬。
台灣人對埃及文化比較陌生,每當Mamdouh表演傳統旋轉舞時,總是會引起全場驚呼,舞衣至少重達十五公斤,有時一場舞下來半小時,需要極好體力,趙芯瑩偶爾也和另一半一起演出。
趙芯瑩和丈夫創辦的舞蹈教室,台灣女生喜歡學肚皮舞,她會將埃及文化融入教學中。
(自由時報記者羅欣貞)
Publication Notes
TODAY'S WORDS
今日單字
1. tie the knot phr.
結婚
(jie2 hun1)
2. dance studio phr.
舞蹈教室
(wu3 dao4 jiao4 shi4)
3. become addicted to phr.
上癮
(shang4 yin3)
4. other half phr.
另一半
(ling4 yi2 ban4)
Comments will be moderated. Keep comments relevant to the article. Remarks containing abusive and obscene language, personal attacks of any kind or promotion will be removed and the user banned. Final decision will be at the discretion of the Taipei Times.