Taisugar plans oyster shell biological material plant 台糖規劃蚵殼生技材料廠
Democratic Progressive Party Legislator Huang Wei-cher on Tuesday met with representatives from Taiwan Sugar Corp (Taisugar), the Industrial Technology Research Institute (ITRI) and other agencies at the Fisheries Research Institute's Mariculture Research Center in Tainan City's Cigu District for a briefing on possible plans to reuse oyster shells.
According to Taisugar vice president Hung Huo-wen, Taiwan produces 120,000 tonnes of oyster shells every year. Oyster shells, which are mainly made of calcium carbonate, can be turned into fertilizer, feed and building materials, all of which Taisugar needs, he adds.
Huang Min-sheng, chief executive of the company's biotech division, says that after a year's planning and working with the ITRI, Taisugar is assessing possible locations for an oyster shell biomaterial plant. According to Huang, the company plans to begin building the plant, which will help improve the environment and incomes of residents in the city's coastal areas, next year.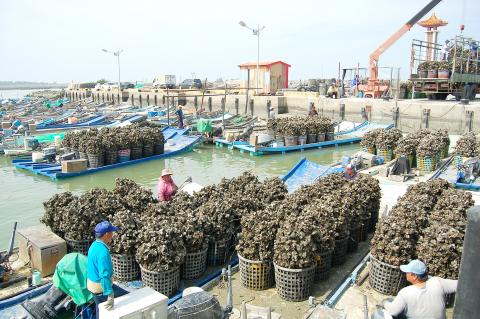 Fishing rafts with freshly harvested oysters are moored in Lujhugou Fishing Port in Tainan City's Beimen District on Nov. 5, 2015. 漁筏載滿剛採的牡蠣,停泊在台南的北門蘆竹溝漁港,攝於二○一五年十一月五日。
Photo: Yang Chin-cheng, Liberty Times
照片:自由時報記者楊金城
Huang Wei-cher notes that, as natural resources are gradually becoming depleted, the circular economy has become ever more important. He urges Taisugar to design a supply chain for biomaterials made of processed oyster shells as soon as possible, and to work with the ITRI in training local businesses to apply the technologies. It is hoped that the technologies will add value to oyster shells and create new jobs for people in the agriculture and fishing industries.
(CNA, translated by Tu Yu-an)
民進黨立法委員黃偉哲週二與台糖公司、工研院等單位人員到台南市七股區的水產試驗所海水繁養殖研究中心聽取牡蠣殼再利用的評估報告。
台糖公司副總經理洪火文說,台灣每年約產生十二萬噸牡蠣殼,牡蠣殼主要成分為碳酸鈣,回收處理後可做為肥料、飼料及建材,都是台糖公司所需要的物料。
台糖公司生技事業部執行長黃民生指出,經過一年的規劃並與工研院合作,台糖正在評估興建牡蠣殼生技材料廠的地點,預計明年可開始建廠。對於濱海區的環境改善,以及民眾收入都有益處。
黃偉哲表示,隨地球資源逐漸耗竭,循環經濟更顯重要,要求台糖盡速研議牡蠣殼原料供應物流鏈,並與工研院合作輔導在地企業,進行蚵殼生產加值技術交流,為農漁業創造新的就業模式。
(中央社)
Publication Notes
TODAY'S WORDS
今日單字
1. oyster n.
牡蠣;蚵 (mu3 li4; e2)
2. shell n.
殼 (ke1)
3. biomaterial n.
生技材料 (sheng1 ji4 cai2 liao4)
4. circular adj.
循環的 (xun2 huan2 de5)
Comments will be moderated. Keep comments relevant to the article. Remarks containing abusive and obscene language, personal attacks of any kind or promotion will be removed and the user banned. Final decision will be at the discretion of the Taipei Times.