Formosa Trail cross-country mountain marathon 美哉古道越野賽 最怕垃圾 、捕獸鋏
The 2017 Formosa Trail cross-country run kicked off on Saturday at Liyutan in Nantou County's Puli Township. More than 600 competitors from 35 different countries took part in the 104km cross-country run through mountain forests which is the longest event of its kind in Taiwan.
Foreign athletes came from countries as far as northern Europe, Germany, Hungary and the US to take part, combining the competition with a holiday in Taiwan.
Petr Novotny, who hails from the Czech Republic and originally came to Taiwan to study for a PhD at National Taiwan University, is also a professional marathon and cross-country mountain athlete and organized the competition with his wife, Eva Lobo, who is a member of the Sediq Aboriginal tribe. After a year of work surveying a section of the Formosa Trail which runs through Puli Township and the Jenai area, last year the competition was held for first time and received the seal of approval from international athletes.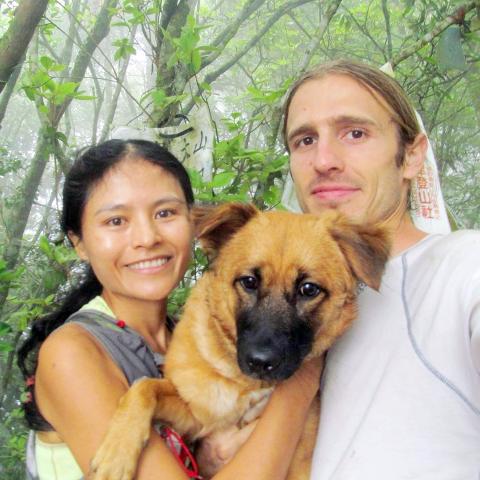 Eva Lobo, left, and Petr Novotny pose for a photograph with their pet dog. 策劃福爾摩沙古道越野賽的羅勃.依婉(左)和彼得‧諾瓦尼(右)與愛犬合影。
Photo courtesy of Taiwan Beast Runners
照片:跑山獸公司提供
Eva Lobo says that although Taiwan's mountain forests are extremely beautiful, she is concerned that two things may put a dampener on the event: garbage and animal traps, which she fears foreign competitors would find troubling. Eva Lobo has called on her fellow countrymen to care for the mountain forests and refrain from despoiling nature.
(Liberty Times, translated by Edward Jones)
二○一七福爾摩沙古道國際越野賽,昨於南投縣埔里鎮鯉魚潭登場,吸引了世界各地卅五國、六百多位喜愛山林越野的運動選手參加,其一○四公里的賽事,號稱全台最長越野距離。
選手有的遠從北歐、德國、匈牙利、美國來台參賽兼度假。
來自捷克的彼得.諾瓦尼,原本來台攻讀台大博士班,也是專業的馬拉松及山林越野選手,與賽德克族妻子羅勃.依婉,花了一年時間踏勘埔里、仁愛地區的古道,去年首辦即獲得國際選手的肯定。
羅勃.依婉指出,台灣山林真的很美,但最怕兩件東西煞風景,就是垃圾及捕獸鋏,這也是令國外選手感到困擾的問題。他們特別呼籲台灣人親近山林,也要愛護山林,別讓淨土蒙塵。
(自由時報記者佟振國)
Publication Notes
TODAY'S WORDS
今日單字
1. cross-country adj.
越野 (yue4 ye3)
2. kick off v.
登場 (deng1 chang3)
3. marathon n.
馬拉松 (ma3 la1 song1)
4. receive the seal of approval phr.
獲得肯定
(huo4 de2 ken3 ding4)
Comments will be moderated. Keep comments relevant to the article. Remarks containing abusive and obscene language, personal attacks of any kind or promotion will be removed and the user banned. Final decision will be at the discretion of the Taipei Times.