COP23 writes rule book 落實巴黎協定 波昂氣候高峰會議至關重要
The 23rd session of the Conference of the Parties (COP23) to the UN Framework Convention on Climate Change (UNFCCC) was held in Bonn, Germany, from Nov. 6 to 17.
This was the first major international climate conference since US President Donald Trump announced his intention to withdraw the US from the Paris Agreement.
On Oct. 30, prior to the opening of the conference, the World Meteorological Organization released data showing 2017, with its rapid succession of extreme weather events such as hurricanes, flooding and droughts, is to be the hottest year since records began.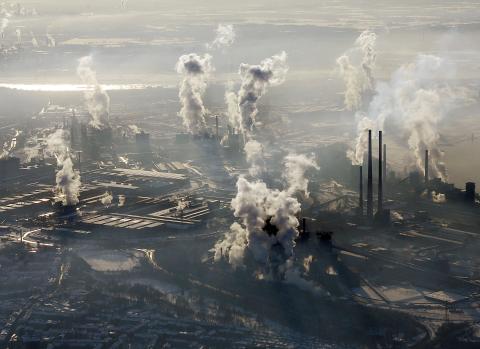 Aerial view of Ruhr district area, with the steel company ThyssenKrupp in Duisburg, western Germany, on Jan. 9, 2009. 德國蒂森克虜伯鋼鐵公司空拍照,二○○九年一月九日攝於德國西部魯爾區杜伊斯堡。
Photo: AP
照片:美聯社
Two years ago, 195 countries reached an agreement in Paris, promising to reduce greenhouse gas emissions, especially carbon dioxide, and to keep the temperature increase within 1.5 degrees Celsius. The agreement, which is to come into force three years after the signing, is a milestone in the fight against global warming. To implement the provisions in the agreement, it was necessary to plan a "rule book" for how it is to be implemented. The focus of the Bonn summit was to continue negotiations on the details, including ways to implement and verify carbon reduction, its technologies and tools, and sources of funding.
Although Taiwan, which is not a member of the UN, was not allowed to participate in this summit, since Taiwan's formal announcement in 2009 to promote meaningful participation of the UNFCCC, Taiwan has participated in COP meetings as an observer representing an NGO, the Industrial Technology Research Institute. This year, Taiwan planned to participate in COP23 in the same capacity, but due to China's intervention, its delegation was barred from entering the venue.
(CNA, translated by Lin Lee-kai)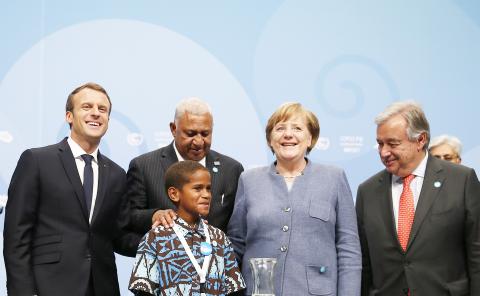 From left to right, French President Emmanuel Macron, Prime Minister of Fiji Frank Bainimarama, Fijian teenager Timothy Naulusala, Germany Chancellor Angela Merkel and Antonio Guterres, UN Secretary General, during the opening ceremony of the UN Climate Change Conference COP23 in Bonn, Germany, Nov. 15 2017. 法國總統馬克宏、斐濟總理班尼馬拉馬、斐濟少年諾魯撒拉、德國總理梅克爾,以及聯合國秘書長古特瑞斯,本月十五日合影於德國波昂聯合國氣候變遷會議第二十三次締約方會議開幕式。
Photo: EPA
照片:歐新社
聯合國氣候變化綱要公約第二十三次締約方會議本月六至十七日在德國波昂舉行。
這是美國總統川普宣布退出巴黎氣候協定以來,首度舉行的大型國際氣候會議。
就在會議揭幕前不久的上月三十日,聯合國氣象組織聲明,接連的颶風、水患和乾旱等極端氣候肆虐的二○一七年,可能是有氣象紀錄以來最熱的一年。
兩年前的此刻,一九五個國家在巴黎達成協議,承諾將透過減少排放溫室氣體,尤其是二氧化碳,努力把氣溫的升幅控制在攝氏一點五度以內,堪稱是對抗全球暖化的里程碑。巴黎協定在簽署三年後就將生效,為執行巴黎協定條款,則必須規劃一套詳細具體的「規則手冊」。本次波昂高峰會議談判的重點,便是繼續談判規則手冊內容,包括如何落實和查核減碳、其技術和工具,以及資金來源等。
雖然台灣不是聯合國的成員,無法加入該會議,但台灣自二OO九年正式宣布推動有意義參與聯合國氣候變化綱要公約迄今,皆以工業技術研究院為名,以非政府組織觀察員身分參與締約方大會活動。今年會議台灣援例組團與會,卻由於中國的干涉,無法進入會場。
(中央社)
Publication Notes
TODAY'S WORDS
今日單字
1. climate change
phr. 氣候變化
(qi4 hou4 bian4 hua4)
2. extreme weather
phr. 極端氣候
(ji2 duan1 qi4 hou4)
3. flooding
n. 水患
(shui3 huan4)
4. drought
n. 乾旱
(gan1 han4)
5. greenhouse gas
phr. 溫室氣體
(wen1 shi4 qi4 ti3)
6. carbon dioxide
phr. 二氧化碳
(er4 yang3 hua4 tan4)
Comments will be moderated. Keep comments relevant to the article. Remarks containing abusive and obscene language, personal attacks of any kind or promotion will be removed and the user banned. Final decision will be at the discretion of the Taipei Times.