Taiwan assists Solomon Islands in conserving rainforest species 索羅門雨林物種滅絕 台灣助原生植物保種
The Solomon Islands, one of Taiwan's South Pacific diplomatic allies, has an area of 28,000 square kilometers, over 90 percent of which is covered in tropical rain forest. The country has abundant forestry products, and it is estimated that it is home to over 7,000 indigenous species, and dotted with deposits of minerals such as gold, nickel, copper, cobalt and aluminum ore.
Over the past few decades, however, due to mass deforestation and the planting of cash crops such as coconut and cocoa, the area of virgin forest has gradually shrunk. With this, species are struggling to survive, and many are on the verge of extinction.
For this reason, Taiwan has implemented a joint program with the Soloman Islands' Ministry of Forestry and Research, and sent a botany survey team to collate the Solomon Islands' plants, establish greenhouses and improve the National Herbarium and digital preservation facilities in the country. At the same time, the team is training Solomon Islands' botanical conservation staff, to improve their basic scientific knowledge in botany. Taiwan's International Cooperation and Development Fund is also helping to publish an illustrated catalog of the flora of the Solomon Islands, to bolster the country's natural conservation efforts.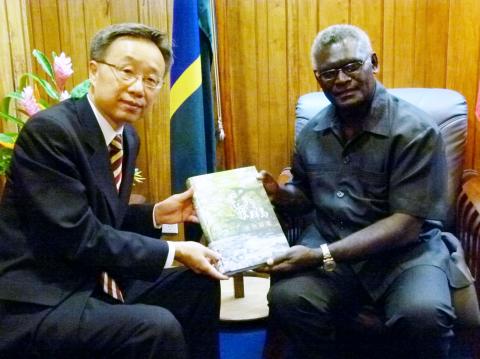 Taiwan's Ambassador to the Solomon Islands Roger Luo, left, presents Solomon Islands Prime Minister Manasseh Sogavare with a copy of the Investigation of Plant Resources and Compilation of the Flora for Solomon Islands catalog in the Solomon Islands on Feb. 3 我駐索羅門大使羅添宏(左)致贈索國總理蘇嘉瓦瑞「索羅門群島植物誌」,二月三日攝於索國。
Photo courtesy of the Embassy of the Republic of China in the Solomon Islands
照片: 我駐索羅門大使館提供
(CNA, translated by Paul Cooper)
台灣在南太平洋的邦交國索羅門群島陸地面積約兩萬八千平方公里,九成以上為熱帶雨林所覆蓋,林產豐富,據估計至少有七千多種原生物種,並有多處蘊藏金、鎳、銅、鈷、鋁土等礦物。
但近十幾年來因大量砍伐森林及種植油椰子、可可等經濟作物,原生森林面積逐漸減少,物種承受極大的生存壓力,更有部分物種瀕臨絕種。
台灣因此與索羅門群島森林部共同合作推行計畫,派遣植物專家調查團隊採集索國植物資源、建置索國溫室及強化國家植物標本館設備及數位化保存,同時訓練索國植物資源保存人員的能力,強化植物基礎科學知識。國合會也協助出版索羅門群島植物圖鑑,以提升索國自然保育工作。
(中央社)
Publication Notes
TODAY'S WORDS
今日單字
1. tropical rain forest phr.
熱帶雨林 (re4 dai4 yu3 lin2)
2. indigenous species phr.
原生物種 (yuan2 sheng1 wu4 zhong4)
3. virgin forest phr.
原生森林 (yuan2 sheng1 sen1 lin2)
4. extinct; extinction adj. n.
絕種 (jue2 zhong3)
Comments will be moderated. Keep comments relevant to the article. Remarks containing abusive and obscene language, personal attacks of any kind or promotion will be removed and the user banned. Final decision will be at the discretion of the Taipei Times.