Kaohsiung records first case of severe enterovirus 71 高市出現首例腸病毒71型重症
Kaohsiung has now had its first case of severe enterovirus 71 this year.
A seven-year-old girl in Kaohsiung's Renwu District was diagnosed as having contracted enterovirus after she started showing signs of fever, a rash on her cheeks, symptoms of Hand, Foot, and Mouth Disease (HFMD) and throat ulcers on Oct. 8 and Oct. 9. On Oct. 11 the little girl began twitching and exhibiting signs of cognitive dysfunction, upon which her parents became alarmed and took her to a hospital intensive care unit for treatment. Her condition had stabilized by Oct. 16 and she was transferred to an ordinary ward, before finally being discharged on the 19th. On Monday it was confirmed that she had been suffering from severe enterovirus 71.
According to the city's Department of Health, prevention of enterovirus should not be taken lightly, and enterovirus can rapidly turn into a severe form. Children of five and under are in the high risk group of contracting the severe form of the virus, and if children in your family are diagnosed by a physician as having contracted enterovirus then contact with other children should be avoided, to reduce the chances of cross infection.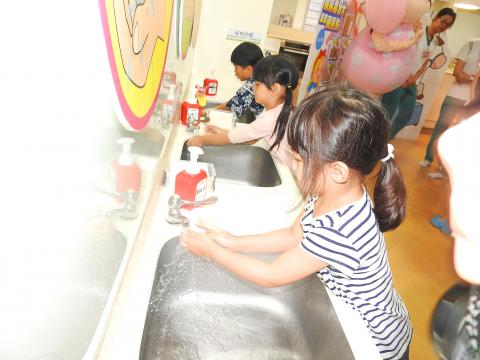 Pupils wash their hands in Kaohsiung on Tuesday. It is important to wash your hands properly to avoid contracting enterovirus. 學生週二在高雄洗手。防治腸病毒要正確勤洗手。
Photo: Fang Chih-hsien, Liberty Times
照片:自由時報記者方志賢攝
The public should also watch out for symptoms in children within the family of drowsiness; confusion, disorientation or difficulty concentrating; listlessness; lack of energy; muscle twitching and spasms; wheezing or difficulty breathing; or tachycardia (accelerated heart rate). If any of these symptoms are detected, parents should take the child to the hospital for treatment as soon as possible.
(Liberty Times, translated by Paul Cooper)
高雄市出現今年首例腸病毒71型重症個案。
居住仁武區的一位七歲大女童十月八日至九日因發燒、臉頰紅疹、手足口症及喉嚨潰瘍等症狀,至診所就醫診斷為腸病毒,十一日因抽搐及意識改變,家屬警覺轉送醫院加護病房治療。十六日病情穩定轉普通病房,十九日康復出院,二十三日確診為腸病毒71型重症個案。
衛生局呼籲,腸病毒防治不可輕忽,腸病毒重症病程發展快速,五歲以下嬰幼兒為重症高危險群,若家中嬰幼兒經醫師診斷感染腸病毒時,應避免與其他孩童接觸,以降低交叉感染之機會。
另也要提醒民眾應注意家中嬰幼兒是否出現嗜睡、意識不清、活力不佳、手腳無力、肌抽躍、呼吸喘及心跳加速等重症症狀,一旦出現以上任一病徵,請儘速至醫院治療。
(自由時報記者方志賢)
Publication Notes
TODAY'S WORDS
今日單字
1.enterovirus n.
腸病毒
(chang2 bing4 du2)
2.twitch v.
抽搐
(chou1 chu4)
3.high risk group phr.
高危險群
(gao1 wei1 xian3 qun2)
4.cross infection phr.
交叉感染
(jiao1 cha1 gan2 ran3)
5.drowsiness n.
嗜睡
(shi4 shui4)
Comments will be moderated. Keep comments relevant to the article. Remarks containing abusive and obscene language, personal attacks of any kind or promotion will be removed and the user banned. Final decision will be at the discretion of the Taipei Times.