Spacewalkers install 'new eyes' at space station 太空人為國際太空站安裝新攝影機
Two US astronauts installed a high-definition video camera at the International Space Station (ISS) last Tuesday and made more progress on repairs to the lab's robotic arm, NASA said.
NASA spokesman Rob Navias described the camera equipment as offering "new eyes" to the orbiting outpost.
The previous camera had aged, and was tinting images pink. Another camera outside the ISS, nicknamed "Old Yeller" because of its yellow hues, is set to be replaced on the next spacewalk on the coming Wednesday.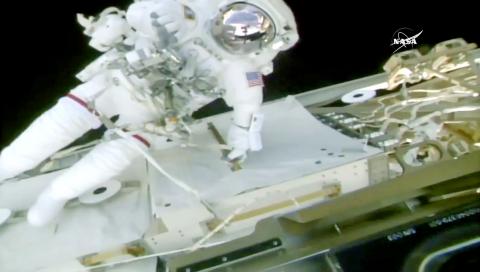 In this image from video made available by NASA, astronaut Randy Bresnik performs a spacewalk outside the International Space Station on Tuesday. 太空人藍迪‧布萊斯尼週二在國際太空站外進行太空漫步。
Photo: AP
照片:美聯社(美國太空總署影片截圖)
The spacewalk formally began when astronaut Randy Bresnik and his NASA colleague Mark Vande Hei switched their spacesuits to battery power at 1156 GMT, then floated out into the vacuum of space, NASA said. It ended six hours and 26 minutes later.
They lubricated the latching end effector of the 17-meter-long Canadian-made arm, called Canadarm2.
The robotic arm was installed at the orbiting outpost 16 years ago, and recently stopped gripping effectively. Astronauts need it in working order so it can capture incoming cargo ships that ferry supplies to the crew living in orbit. The next US shipment arrives in November.
(AFP)
美國太空總署表示,兩名美籍太空人週二在國際太空站安裝了一台高解析度攝影機,並為實驗室的機械手臂進行修復工作。
美國太空總署發言人羅伯‧納維亞斯說,新的攝影設備就如同為太空站裝上了「新的眼睛」。
先前的攝影機因過於老舊,畫質偏粉紅色調。另一台太空站外的攝影機,因偏黃色調被暱稱為「老黃」,則將在週三執行的太空漫步任務中替換。
美國太空總署說,太空人藍迪‧布萊斯尼以及名馬克‧范德海在格林威治標準時間上午十一點五十六分啟動太空裝的電源,正式展開太空漫步,並在六小時二十六分鐘後結束任務。
他們潤滑了機械手臂的手掌部分。名為「加拿大手臂二號」的機械手臂長十七公尺,為加拿大製造。
這個機械手臂是十六年前裝置在國際太空站的,最近出現問題,無法有效抓握。居住在太空站上的太空人需利用機械手臂抓取定期送來的物資。下一批從美國送出的物資預定在十一月抵達。
(台北時報編譯涂宇安譯)
Publication Notes
TODAY'S WORDS
今日單字
1. astronaut n.
太空人
(tai4 kong1 ren2)
2. robotic adj.
機械的
(ji1 xie4 de5)
3. spacewalk n.
太空漫步
(tai4 kong1 man4 bu4)
4. float v.
飄浮
(piao1 fu2)
5. grip v.
抓握
(zhua1 wo4)
Comments will be moderated. Keep comments relevant to the article. Remarks containing abusive and obscene language, personal attacks of any kind or promotion will be removed and the user banned. Final decision will be at the discretion of the Taipei Times.