Man robs bank with fruit knife, escapes with NT$300,000 刀煞挾女客搶瑞興銀 女行員嚇壞給三十萬
According to the police, at 1:12pm on Thursday afternoon last week, an unaccompanied young male wearing a motorcycle helmet, surgical mask, dark-colored top, blue jeans, white sports shoes, linen gloves and carrying a green backpack, entered a branch of Taipei Star Bank on Jiantan Road in Taipei's Shilin District. As it was lunchtime, inside the bank's main hall there was only one bank teller on duty and two customers sitting down waiting for their number to be called. The male suspect zeroed in on a female customer standing at the counter, surnamed Liu, walked over and stood next to her. Holding a fruit knife in his left hand, the suspect immediately pressed it against Liu's neck and with his right hand threw down a paper carrier bag, yelling: "Hand over the money."
On seeing the suspect put his arm around Liu's neck and shoulders, the bank teller initially mistook the two to be two friends joking around. However, the teller was shocked to spot a knife pressed against Liu's neck and seeing that Liu was frozen stiff with fright, she immediately became concerned the robber was going to hurt Liu. Following the suspect's instructions, she grabbed a large pile of cash laid out on the counter and while stuffing NT$300,000 of cash into the bag, simultaneously sounded the alarm. After the robber realized what had happened, he picked up the bag, turned around and immediately walked outside. The entire incident unfolded in about 60 seconds.
After reviewing CCTV footage, the police discovered that the bank robber used a silver-colored Sanyang scooter left at the intersection between Chengde and Jiantan road as the getaway vehicle, which he drove to a road 100km away before proceeding on foot to a nearby intersection, flagging down a taxi and escaping. After contacting the owner of the scooter, police discovered it had been stolen two days prior. However, due to having not yet reported the scooter as stolen, the owner was initially suspected of being involved in the robbery before later being cleared of any involvement in the case.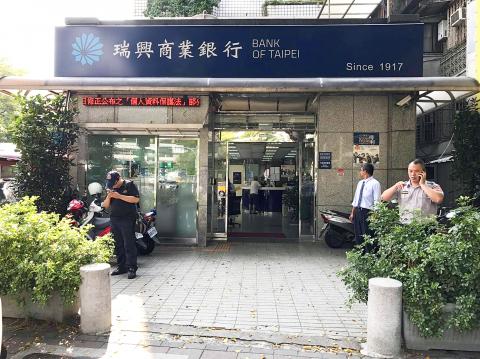 The Shilin District branch of Taipei Star Bank pictured on Thursday last week. 瑞興商業銀行士林分行,攝於上週四。
Photo: Chen En-huei, Liberty Times
照片:自由時報記者陳恩惠
(Liberty Times, translated by Edward Jones)
警方表示,上週四下午一時一十二分,一名頭戴水藍色安全帽、口罩,著深色上衣、藍色牛仔長褲、白色球鞋、綠色背包、戴麻布手套的年輕男子,獨自走入位在北市劍潭路的瑞興商業銀行士林分行,由於正值用餐時刻,營業大廳內僅有一名行員,兩名客戶坐著等待叫號,於是鎖定站在櫃檯前的劉姓女子,往她旁邊一站,左手的水果刀立刻抵住劉女脖子,然後扔出右手上的紙提袋,高聲大喊「把錢交出來」。
受理的女行員見歹徒對劉姓女客戶搭肩勾頸,一度誤會雙方是朋友間的玩笑,卻驚見刀子抵在劉女脖上,劉女嚇得呆立不動,女行員擔心歹徒會傷害劉女,依照指示隨手抓起擺放桌上的大批現金,一面丟入三把共三十萬元現鈔,一面按下警示器報案,歹徒見狀提起袋子,立刻轉身朝門外走去,整個過程大約六十秒。
警方根據監視器,發現歹徒騎上停在北市承德、劍潭路口犯案的銀色三陽機車,沿著劍潭路停在百公尺外的路邊停車格內,然後步行到路口攔了計程車離開,經連繫車主,發現犯案贓車兩天前已遭竊,但因車主還來不及報案,而涉入強盜案,警方已初步排除車主涉案。
(自由時報記者陳恩惠)
Publication Notes
TODAY'S WORDS
今日單字
1. unaccompanied adj.
獨自 (du2 zi4)
2. zero in on v. phr.
鎖定 (suo3 ding4)
3. robber n.
歹徒 (dai3 tu2)
Comments will be moderated. Keep comments relevant to the article. Remarks containing abusive and obscene language, personal attacks of any kind or promotion will be removed and the user banned. Final decision will be at the discretion of the Taipei Times.