Gogoro Smartscooters launch in Paris Gogoro抵達巴黎 首批四百部提供共享服務
Taiwanese electric scooter maker Gogoro Inc has teamed up with strategic partner Coup — a subsidiary of Germany's Bosch Group — to bring its scooter sharing service to Parisians. An initial batch of 400 Gogoro Smartscooters are already up and running in France's capital city.
Similar to its existing scooter sharing scheme in Berlin, pricing is at a flat rate of 4 euros for the first 30 minutes of use, then 1 euro for each additional 10 minutes of hire.
Gogoro chief executive officer Horace Luke says that Europeans generally possess a high level of awareness around environmental sustainability and added that Parisian customers commuting to work using a Gogoro Smartscooter will not just be able to save energy and reduce carbon emissions, but using one of Gogoro's "smart" two-wheelers will also help to alleviate traffic congestion in the city.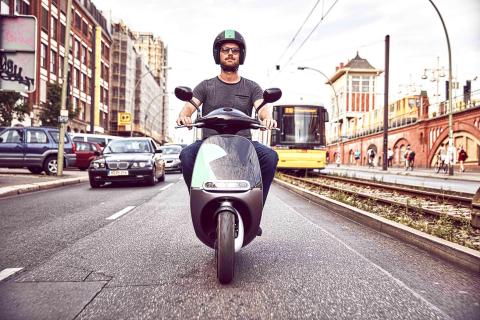 A man rides a Gogoro electric scooter in Berlin. 一名男子在柏林騎Gogoro電動機車。
Photo: CNA, courtesy of Gogoro
照片:中央社/Gogoro提供
Luke says Coup's electric scooter sharing service in Berlin has been extremely popular and is now creating waves in Paris. He believes the electric scooter sharing craze advanced by Gogoro and Coup can be brought to other cities, too.
(CNA, translated by Edward Jones)
Gogoro睿能創意公司結合策略夥伴德國博世集團子公司Coup,將Gogoro引進巴黎,首批四百部Smartscooter已開始提供共享服務。
這項計畫與Gogoro在柏林的共享計畫相似,價格相當平實,前三十分鐘僅需四歐元,之後則每增加十分鐘收取一歐元。
Gogoro執行長陸學森表示,歐洲民眾有相當高的環境永續意識,消費者利用Gogoro的Smartscooter智慧雙輪在都會通勤,不但節能減碳,還可舒緩交通擁塞的問題。
陸學森指出,Coup的電動機車共享服務在柏林推出後廣受歡迎,現在在巴黎,同樣引起極大迴響,相信Gogoro與Coup帶動的電動機車共享服務熱潮將可在更多城市發酵。
(中央社)
Publication Notes
TODAY'S WORDS
今日單字
1. strategic partner phr.
策略夥伴 (ce4 lue4 huo3 ban4)
2. commute v.
通勤 (tong1 qin2)
3. save energy phr.
節能 (jie2 neng2)
4. reduce carbon emissions phr.
減碳 (jian3 tan4)
Comments will be moderated. Keep comments relevant to the article. Remarks containing abusive and obscene language, personal attacks of any kind or promotion will be removed and the user banned. Final decision will be at the discretion of the Taipei Times.