Chinese Yuanshan Painting Association holds exhibition at Sun Yat-sen Memorial Hall 2017中華圓山畫會聯展 國父紀念館盛大展出
The 2017 Chinese Yuanshan Painting Association Joint Exhibition, held by the association and the Sun Yat-sen Memorial Hall, is now open to the public at the De-ming Gallery on the third floor. It ends tomorrow.
The Chinese Yuanshan Painting Association was founded 27 years ago by the renowned artist, Professor Kuo Tao-cheng. Most of its members are professional painters and Kuo's former students. Although they have all had decades of experience in oil on canvas, and already established themselves in the art scene, they have continued to hold joint exhibitions every year after Kuo passed away, in the hope of passing on his legacy.
Natural scenes are the main subjects of the Chinese Yuanshan painters, who take a realist approach and work en plein air in the spirit of the Barbizon school. For years, the association has promoted the education of oil on canvas in Taiwan and made great contributions to the nation's art scene.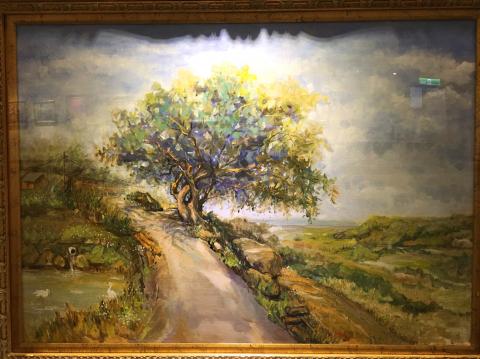 Painter Lai Shu-mei's Signs of Spring. 畫家賴淑梅作品《春訊》。
Photo courtesy of Chinese Yuanshan Painting Association
照片:中華圓山畫會提供
This year's exhibition features some of the best paintings by 35 of the association's members. The paintings cover a variety of subjects, from an old house at the corner of a street and sublime rivers in the mountains to lively crowds in the market, every one of them witness to the lives of the people the painters have encountered, and revealing a sincere love for the land of Taiwan. Years of introspection have made their works rich in meaning and their composition mellowed and enthralling.
All 80 paintings exhibited have been carefully selected as the best examples of each artist's work. They showcase the artists' stylistic and technical maturity, as well as their ability to convey profound meaning through simple images. Visitors to the exhibition are sure to be delighted and inspired.(Liberty Times, translated by Tu Yu-an)
由國立國父紀念館、中華圓山畫會共同主辦之「二○一七中華圓山畫會聯展」,現於該館三樓德明藝廊隆重展出,至明日止。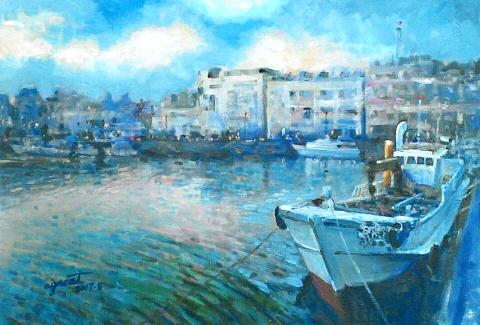 Painter Hsieh Fu-kui's Dusk at the Harbor. 畫家謝富貴作品《漁港黃昏》。
Photo courtesy of Chinese Yuanshan Painting Association
照片:中華圓山畫會提供
中華圓山畫會是一個成立廿七年的美術團體,以專職畫家為主幹,多半為該會創辦人畫壇耆宿郭道正教授的學生,都有數十年的油畫創作經歷,且在畫壇各有一片天地。他們為感念創會人的精神理念,在恩師辭世之後仍以畫會之名義,每年舉行聯展以示延續薪火。
該團體主張崇尚自然寫實主義的風格,效法巴比松畫家們戶外寫生的精神推廣油畫教育,深耕台灣畫壇成績斐然。
本次展覽為該會三十五位會員一年一度的精心創作,無論是取景街角老屋的或是壯闊的山林野溪、或是熙來攘往的市集人群,每幅作品都是畫家對這片土地的真情流露,用畫筆記錄下人們的生活點滴。歲月的省思使他們的作品更有意涵,技巧琢磨純熟讓畫面更趨藝境。
本次將展出約八十幅會員作品,張張都是作者匠心獨運精挑細選的精美佳作,是成熟畫家完美技巧的呈現,也是油畫藝術深入淺出的詮釋,必定能讓欣賞者有怦然心動的喜悅和品味再三回味無窮的樂趣。(自由時報記者張凱翔)
Comments will be moderated. Keep comments relevant to the article. Remarks containing abusive and obscene language, personal attacks of any kind or promotion will be removed and the user banned. Final decision will be at the discretion of the Taipei Times.