Hon Hai mulls major investment in US 鴻海擬赴美投資
Hon Hai Precision Industry Co 's (Foxconn) strategy to invest in the US is coming under increased scrutiny. The company has already sent a delegation to the White House and on the second day of the visit, governors from six US states, either in person or through representatives, submitted case studies to the delegation team. Detroit Free Press is now citing reports from two inside sources that the state of Michigan hopes to use a program of tax incentives to lure Hon Hai to invest in the state. Citing multiple sources, the report also claims that a number of US states are actively courting for business from the Taiwanese manufacturing giant.
In mid-May Reuters news agency, citing inside sources, reported that Hon Hai plans to start construction on a manufacturing facility in the US in the second half of this year, however no further details were provided.
Addressing rumors of a possible investment in the US and his two recent visits to the White House, at the end of April Hon Hai chairman Terry Gou said the company is planning capital-intensive investment in the US and said the project will include a combination of capital-intensive, skilled-labor-intensive and high-tech investment.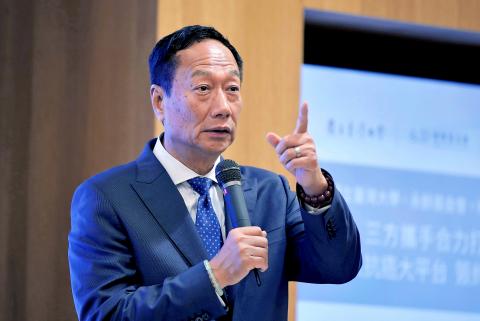 Hon Hai Precision Industry chairman Terry Gou attends a news conference in Taipei on Sept. 26 last year. 鴻海科技集團總裁郭台銘去年九月二十六日於台北出席記者會。
Photo: Reuters
照片:路透社
Additionally, in late January Guo stated that if Hon Hai were to establish a flat-panel manufacturing plant in the US, important clients such as Apple Inc would be willing to invest. He added that, as a rough estimate, the investment would likely exceed US$7 billion.
(CNA, translated by Edward Jones)
鴻海科技集團投資美國計劃備受關注,之前傳出集團拜訪白宮的第二天,美國六個州的州長曾親自或派人進行報告。現在美國媒體底特律自由報引述兩位知情人士消息報導,美國密西根州也希望透過租稅刺激方案,吸引鴻海集團投資。報導引述多個消息來源指出,已經有幾個州正在爭取鴻海集團的生意。
路透社於五月中旬引述知情人士消息報導,鴻海集團規劃今年下半年開始在美國設廠,不過並未透露細節。
對於赴美國投資,鴻海科技集團總裁郭台銘四月底二進美國白宮時曾表示,鴻海計劃在美國從事資本密集型投資,這項計畫將包括資本密集型和技能勞動密集型,及高科技投資。
郭台銘在一月下旬也表示,若在美國設面板廠,蘋果等主要客戶願意投資,粗估在美設面板廠投資規模將超過七十億美元。
(中央社)
Publication Notes
TODAY'S WORDS
今日單字
1. invest v.
投資 (tou2 zi1)
2. capital-intensive phr.
資本密集型 (zi1 ben3 mi4 ji2 xing2)
3. tax incentive phr.
租稅刺激方案 (zu1 shui4 ci4 ji2 fang1 an4)
4. skilled-labor-intensive phr.
技術勞工密集型 (ji4 shu4 lao2 gong1 mi4 ji2 xing2)
Comments will be moderated. Keep comments relevant to the article. Remarks containing abusive and obscene language, personal attacks of any kind or promotion will be removed and the user banned. Final decision will be at the discretion of the Taipei Times.