Late flowering trees put a damper on graduation festivities 畢業季節 今年她缺席了
The graduation season is upon us once again. This year, however, Taitung's royal poinciana trees will not be flowering in time, which means this year graduating students will miss out on the beauty of the trees' blossom.
Royal poinciana flowers symbolize graduates parting ways with their classmates and embarking upon their new lives. The beautiful and colorful royal poinciana flowers give graduates a vibrant, picturesque send off, and lessen the sadness of becoming separated from friends and classmates.
In previous years, the flower buds of royal poinciana trees in Taitung have started to blossom at the beginning of June, and by mid-June a riot of vermilion flowers take over from the trees' green leaves. Stretches of road several kilometers long in the downtown Taitung area, including Mahengheng and Nandao boulevards, are lined with flowering trees that normally open in time to give graduates a glorious send off. However, this year, while many schools have already held graduation ceremonies, the royal poinciana trees' flowers are nowhere to be seen, and this has put a damper on the celebrations.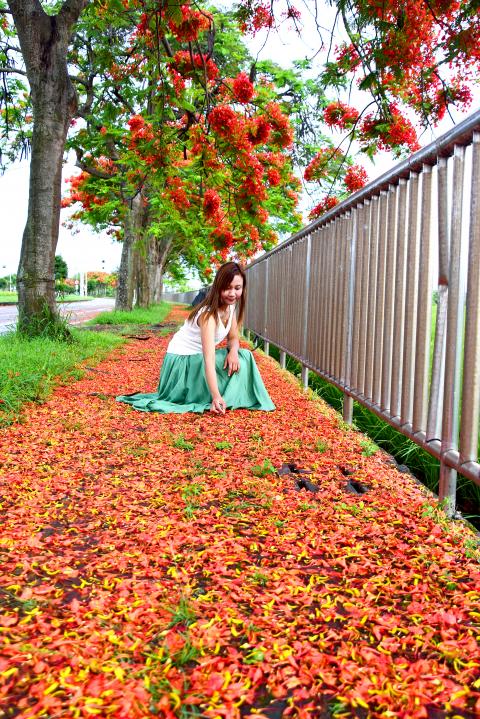 Royal poinciana trees in full flower in Taitung County last year. 去年台東縣繽紛的鳳凰花。
Photo: Chang Tsun-wei, Liberty Times
照片:自由時報記者張存薇
Taitung County Government's Department of Agriculture says that royal poinciana trees need high temperatures and low rainfall in order for their flowers buds to open, but the torrential rain at the beginning of June knocked off a large number of the trees' buds. The department therefore expects this year's flowering season to be one month later than usual; those who wish to see the beautiful spectacle will need to wait a little longer.
Furthermore, the flowering season for poinciana trees used to be between June and October, but in recent years, due to the effects of global warming, the trees' biological clocks have been thrown into confusion, says the department.
(CNA, translated by Edward Jones)
又到了畢業的季節;不過,台東今年的鳳凰花來不及盛開,畢業生少了一個美麗的祝福。
鳳凰花開象徵畢業生和同學道別離邁,向另一個人生的季節;美艷的鳳凰花,是畢業生最燦爛、美麗的祝福,也淡化了離情傷感。
往年在六月初,台東的鳳凰花苞就開始陸續綻放,六月中旬,繽紛的朱紅色花朵就會取代綠葉。台東市市區內包括馬亨亨大道、南島大道,三、四公里長的花海,趕著為畢業生獻上最美麗的祝福。不過,今年許多學校已經結束畢業典禮了,卻不見鳳凰花開,少了熱鬧的氣氛。
台東縣政府農業處表示,鳳凰花開花需要高溫、少雨的環境,但六月初豪雨打掉了不少花苞,估計今年花期將延後一個月,要看滿樹花朵綻放的美景,還要再等等。
另外,鳳凰花期原本在六至十月夏秋季,近年氣候變遷影響,鳳凰木生理時鐘也被打亂。
(中央社)
Publication Notes
TODAY'S WORDS
今日單字
flower bud phr.
花苞 (hua1 bao1)
blossom v.
綻放 (zhan4 fang4)
riot of phr.
繽紛的 (bin1 fen1 de5)
vermilion adj.
朱紅色 (zhu1 hong2 se4)
biological clock phr.
生理時鐘
(sheng1 li3 shi2 zhong1)
Comments will be moderated. Keep comments relevant to the article. Remarks containing abusive and obscene language, personal attacks of any kind or promotion will be removed and the user banned. Final decision will be at the discretion of the Taipei Times.