The Cat Man of Aleppo 「阿勒坡貓男」守護無數戰地貓咪
In the war-torn Syrian city of Aleppo, ambulance driver and paramedic Mohammad Alaa Aljaleel has been caring for homeless animals since 2013 in what was rebel-held eastern Aleppo. Aljaleel has become known as the "Cat Man of Aleppo" —a symbol of resilience and compassion amid war and devastation.
When people fled their neighborhoods, Aljaleel says, the cats started to come to his area, as he was already feeding strays. Fleeing families would drop their cats off with him before leaving the city in search of safety. Over time, the number of cats grew from six or seven to more than 170 felines.
Aljaleel said his aim was originally to protect, feed and keep the animals healthy, but then children would come to play with them, too. It was not just cats, either: Aljaleel would also take care of stray dogs, feeding them and providing them basic veterinary care.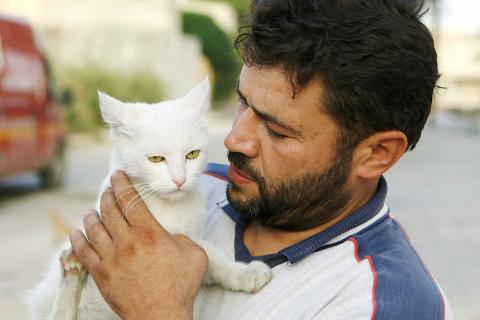 Ambulance driver Mohammad Alaa Aljaleel holds a cat in Masaken Hanano in Aleppo in this undated photo. 救護車司機艾力賈里在敘利亞阿勒坡城抱著一隻貓,拍攝日期不詳。
Photo: Reuters
照片:路透社
Then, in November, bombs struck the shelter, and most of the cats inside were killed. Aljaleel was forced to flee the city with just a handful of the survivors, and rebuilt the shelter in the countryside west of Aleppo.
His new house is home to about 25 cats. But for Aljaleel and the people who visit it, it is more than just a cat sanctuary. "It seeks to erase the war from children's minds," he said. "Caring for the cats is a gateway to bringing goodwill to the country and build it around being more merciful."
(Liberty Times, translated by Lin Lee-kai)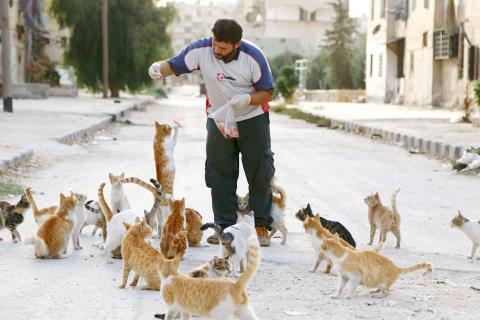 In 2015, Mohammad Alaa Aljaleel established the animal shelter Ernesto's House, named after his first cat. 艾力賈里在二○一五年創立動物庇護所「艾內斯托之家」,是以他第一隻貓咪的名字所命名。
Photo: Reuters
照片:路透社
敘利亞大城阿勒坡屢遭戰火摧殘,一名救護車司機及護理人員艾力賈里,從二○一三年開始,就在阿勒坡東部照料無家可歸的流浪動物,持續至今餵養過無數貓咪,因此他被譽為「阿勒坡貓男」,在戰爭和破壞中展現出人類的韌性和善良。
艾力賈里說,當烽火連天時,人們陸續逃離社區,但貓咪卻聚集到他的社區來,因為他之前已經在餵食一些流浪貓。要逃離阿勒坡的家庭也會把貓咪託他看顧。接著貓兒數量從六、七隻,增加到驚人的一百七十多隻。
他的目標是保護、飼養和照顧貓咪,小孩們也會來庇護所與貓兒玩耍。除了喵星人之外,艾力賈里也收留了流浪狗,日常餵食之外還幫牠們做了一些基本的獸醫護理。
然而,去年十一月庇護所遭炸彈襲擊,大部分的貓咪都罹難了。艾力賈里被迫離開,跟倖存的幾隻貓搬到阿勒坡西部的一處農村,重建動物庇護所。
艾力賈里現在和貓兒的新家共有二十五隻喵星人,他認為這裡不僅是一個貓的保護區,更可以「讓兒童消除心中的戰爭陰影」他說,「照顧貓咪是一個帶來良善的方式,讓這個國家更充滿慈悲」。
(自由時報)
Publication Notes
TODAY'S WORDS
今日單字
war-torn adj.
戰火摧殘 (zhan4 huo3 cui1 can2)
homeless adj.
無家可歸 (wu2 jia1 ke3 gui1)
devastation n.
破壞 (po4 huai4)
flee v.
逃離 (tao2 li2)
be killed phr.
罹難 (li2 nan4)
Comments will be moderated. Keep comments relevant to the article. Remarks containing abusive and obscene language, personal attacks of any kind or promotion will be removed and the user banned. Final decision will be at the discretion of the Taipei Times.