Voice assistant robots account for nearly half of service robot market 機器人商機爆發 語音助理機器人市占率近五成
Driven by advances in artificial intelligence (AI), robots are increasingly being used in applications in daily life. According to the latest report by the Topology Research Institute under TrendForce, voice-controlled assistant robot sales accounted for nearly 50 percent of all service robot sales last year – more than any other robots on the market. Robot vacuum cleaners have the second highest sales, accounting for nearly 40 percent of all service robot sales last year.
Harrison Po, a senior manager at the institute, says that voice-controlled robots have been available in the market for many years, but sales remained modest for a long time. Following the release of voiced-controlled home appliances and assistant robots capable of running Internet searches, the sales for robots finally took off and many big companies and start-ups began focusing on developing voice-controlled assistant robots. One such example is Echo developed by Amazon in 2014, which stood out in the service robot market last year with sales of about 5.2 million units.
Po notes that in the future, voice-controlled robots will not only be able to process voice commands more accurately, they will also be able to understand the emotions and habits of users to provide more appropriate assistance or responses, as well as appear to have more of a personality.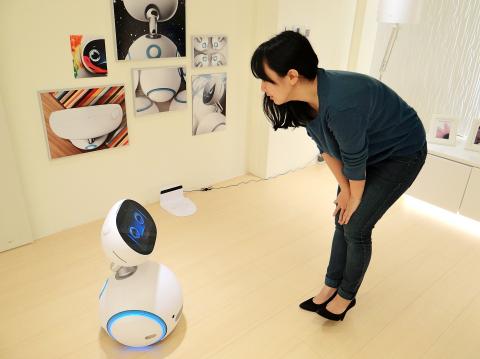 A woman interacts with Zenbo, a robot developed by Asustek, on March 29 in Taipei. 一名女子與華碩機器人Zenbo互動,三月二十九日攝於台北。
Photo: WU PEI-HUA, LIBERTY TIMES
照片:自由時報記者吳佩樺
(Liberty Times, translated by Tu Yu-an)
隨著人工智慧技術蓬勃發展,機器人在日常生活中的應用也日益頻繁。TrendForce旗下拓墣產業研究院的最新報告指出,去年整體服務型機器人銷售量中,語音助理機器人占市場最大宗,市占率近五成,其次為掃地機器人,市占率為近四成。
拓墣資深經理柏德葳表示,語音互動功能的機器人已推出多年,但銷量一直普通,直到近年出現可操作家電產品及連網搜尋功能的語音助理機器人產品,才成功掀起IT大廠與新創公司開發語音助理機器人的熱潮,如亞馬遜自二○一四年底推出的Echo,去年銷售量達約五百二十萬台,在服務型機器人市場中表現最為突出。
柏德葳指出,未來語音助理機器人除了持續強化語音辨識能力外,也將會學習、了解使用者的情緒、習慣,以在適當情況下提供協助或採取合適的反應,讓語音助理機器人顯得更有個性。
(自由時報記者陳梅英)
Publication Notes
TODAY'S WORDS
今日單字
1. voice-controlled adj.
語音控制的
(yu3 yin1 kong4 zhi4 de5)
2. home appliance phr.
家電
(jia1 dian4)
3. start-up n.
新創公司
(xing1 chuang4 gong1 si1)
4. personality n.
個性
(ge4 xing4)
Comments will be moderated. Keep comments relevant to the article. Remarks containing abusive and obscene language, personal attacks of any kind or promotion will be removed and the user banned. Final decision will be at the discretion of the Taipei Times.