"King of Showbiz" Chu Ke-liang's funeral scheduled for June 20 「秀場天王」豬哥亮 告別式本月舉行
Entertainer Chu Ke-liang died of colon cancer at the age of 70 on May 15. Chu's management agency, Arjay International Entertainment, released the death notice, or obituary, last week, and announced that his funeral is to be held at New Taipei City's Banqiao Funeral Home on June 20.
Chu was a legend in his own lifetime. Extremely popular early on, he later struggled with gambling and debts and went into hiding for 15 years, before successfully staging a comeback. When on his sickbed, Chu finally fulfilled his wish of being reunited with his daughter, Jeannie Hsieh, who is one of Taiwan's top singers.
According to Liang Cheng-chao, a vice superintendent of the Taipei Beitou Health Management Hospital, colon cancer is closely related to one's genes and dietary habits. Frequent consumption of grilled red meats, deep-fried foods, processed meat products, sausages and bacon may increase the risk of this cancer.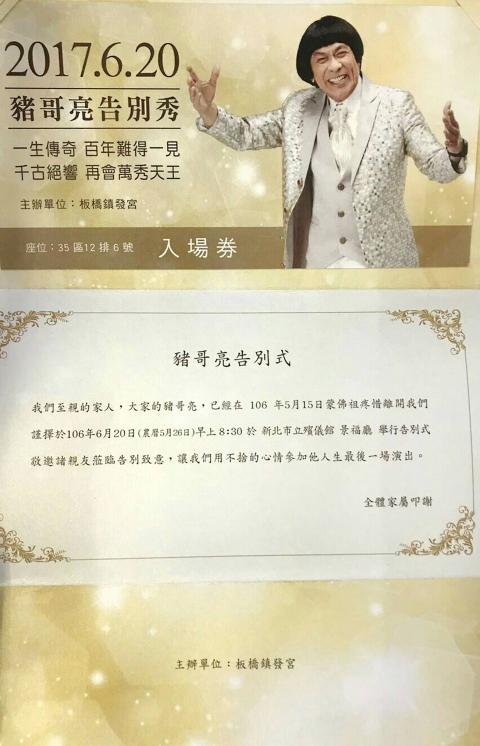 Entertainer Chu Ke-liang's funeral notice in the form of a show ticket is pictured in this photo taken on May 25. 藝人豬哥亮的訃聞以入場券的形式呈現,照片拍攝於五月二十五日。
Photo: He Yu-hua, Liberty Times
照片︰自由時報記者何玉華
(CNA, translated by Eddy Chang)
藝人豬哥亮罹患大腸癌於五月十五日病逝,享壽七十歲。他的經紀公司爾傑國際娛樂上週發布訃聞,宣布六月二十日將在新北市板橋殯儀館舉行告別式。
豬哥亮一生傳奇,當年紅透半邊天,為了躲賭債跑路十五年後又復出演藝圈。而他最終也達成了心願,與女兒、知名歌手謝金燕在病榻前團圓。
台北市北投健康管理醫院副院長梁程超表示,民眾罹患大腸癌跟基因和飲食習慣有關。尤其愛吃燒烤紅肉、油炸品、加工肉類、香腸、培根等,都會增加風險。
(中央社)
Publication Notes
TODAY'S WORDS
今日單字
1. cancer n.
癌症
(ai2 cheng4)
2. obituary n.
訃聞
(fu4 wen2)
3. funeral n.
喪禮;告別式
(sang1 li3; gao4 bie2 shi4)
4. sickbed n.
病床;病榻
(bing4 chuang2; bing4 ta4)
5. dietary habits phr.
飲食習慣
(yin3 shi2 xi2 guan4)
Comments will be moderated. Keep comments relevant to the article. Remarks containing abusive and obscene language, personal attacks of any kind or promotion will be removed and the user banned. Final decision will be at the discretion of the Taipei Times.