USING IDIOMS 活用成語
Chinese practice
殺雞取卵
(sha1 ji1 qu2 luan3)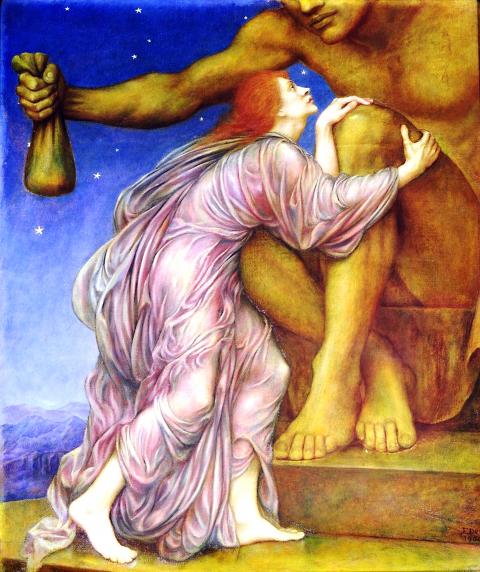 1909 painting The Worship of Mammon by Evelyn De Morgan. 財神瑪門的崇拜,艾芙林‧德‧摩根作於一九○九年。
Photo: Wikimedia Commons
照片:維基共享資源
kill the chicken to get the eggs
竭澤而漁
(jie2 ze2 er2 yu2)
drain the pond to get the fish
成語「殺雞取卵」其實是源自一則西方的故事:精確地說,是出自伊索寓言。這寫言故事是說,有一個人發現他養的一隻鵝下了顆金蛋。每一天都有一顆新的金蛋等著他。於是他把這些金蛋帶到市場上賣掉,很快就變得很有錢。但他不滿足,他開始想知道,如果他能夠把這隻鵝剖開,一下子拿到所有的金蛋,這樣的話能賺到多少錢金。於是他把鵝給殺了,往鵝肚子裡探看。他發現這隻鵝只是隻普通的鳥類,只不過它現在已經死了,而且不會再下蛋給他去賣了。這個寓言故事所說的是貪婪和愚蠢。
中文裡也有一個類似的成語,出自《呂氏春秋‧義賞》,在該章中有一段話說道:「竭澤而漁,豈不獲得,而明年無魚;焚藪而田,豈不獲可,而明年無獸。詐偽之道,雖今偷可,後將無複,非長術也」(若你今天把池塘裡的水放乾了,你難道不會獲得池裡所有的東西嗎?但這樣明年就不會有魚了。若你把林藪給燒了,你難道不會得到裡面所有的東西嗎?但這樣明年就不會有動物可供打獵了。若你今天說謊詐騙,儘管今天偷得成,但是下次你有辦法再騙嗎?這可不是長遠之計。)這種為以後留些餘地、以防短視貪婪的智慧,便總合體現在「竭澤而漁」這一成語中,也就是呂氏春秋中這段話的開頭一句,意為「放乾池水來得到魚」。(台北時報編譯林俐凱譯)
面對大環境的變遷,許多傳統產業不思轉型,只知不斷壓榨工人、削價競爭,不啻是殺雞取卵。
(In order to cope with changes in the industry, many traditional industries are ignoring the need for change, and are instead just exploiting workers and going in for price wars, which is very short-sighted.)
我們只有一個地球,不能只圖眼前的利益濫墾濫捕、竭澤而漁,應該要讓環境能永續發展。
(There is only one Earth. We shouldn't be overcultivating the land and overfishing, exhausting our natural resources just for the sake of our immediate interests. We should be concentrating on sustainable development.)
英文練習
kill the goose that lays the golden eggs
The idiom 殺雞取卵 actually derives from a Western story: one of Aesop's Fables, to be exact. The story goes that a man found that one of his geese had laid a golden egg. Every day a new one would be waiting for him. He would sell the eggs in the local market, and soon became rich. Not satisfied, he began wondering how much money he would make if he opened up the goose and removed all of the gold at once. He killed the goose, and looked inside. The goose was a normal bird. Except it was now dead, and there would be no new eggs laid for the man to sell. The fable is a story of greed and stupidity.
A similar Chinese idiom comes from the yi shang chapter of the Warring States period encyclopedic text lushi chunqiu (Annals of Master Lu). In this chapter, there is a line which says, "if today you drain the pond, will you not get everything there is? But next year, there will be no fish. And if you burn the marshes, will you not get everything there is? But next year, there will be no animals to hunt. If today you lie and cheat, what won't you be able to steal? But will you be able to repeat your lies next time? This is not the way to plan for the long-term." This idea, of the wisdom of leaving something for later and a caution against short-sighted greed, is summed up in the idiom 竭澤而漁, the first phrase of the line, and literally "drain the pond and get the fish."(Paul Cooper, Taipei Times)
Until digital photography transformed the industry, photographic film was regarded as a bit of a golden goose for imaging products manufacturers.
(影像產品製造商把攝影膠卷看作是該產業的穩定收益來源,直至數位攝影的出現改變了影像產業。)
Comments will be moderated. Keep comments relevant to the article. Remarks containing abusive and obscene language, personal attacks of any kind or promotion will be removed and the user banned. Final decision will be at the discretion of the Taipei Times.