A precarious way to enjoy a day 險路行
We were looking at an elevation increase of almost 800m in 1.5km: that is, intimidatingly steep, and often relying on fixed ropes. At one stage it involved scaling a vertical rock wall 20-25 precipitous meters straight up. By the time we made it back down, I was exhausted. I must have spent every last drop of energy I had in me.
We had set out at 4am for the roughly 10km hike along the 820 Forest Road to the trailhead for the ascent to the 3,371m high Mt. Bilu, located between Taroko Gorge and Mt. Hehuan in central Taiwan.
We had known from the outset that it was to be, if not outright dangerous, a precarious hike that had to be approached with caution and much preparation. Safety and avoiding missteps or stumbles were constantly on our minds as the gentle slopes of the forest road turned into a steep, narrow and rocky path. That path must turn into a small river when it rains.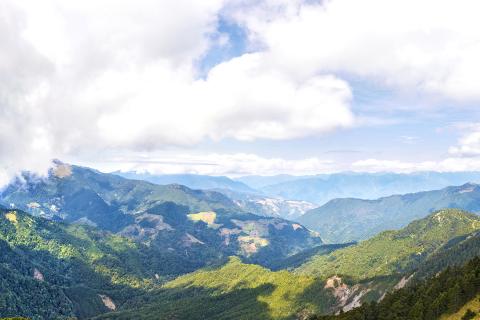 On top of the world. The view from Mt. Bilu, 3,371m above sea level. 從海拔三千三百七十一公尺高的畢祿山頂峰往下眺望,宛如立於世界之顛。
Photo: Perry Svensson, Taipei Times
照片:台北時報記者蘇沛攝
The parts where we had to rely on roping were especially steep. It took a lot of energy to get through some of these sections.
The whole hike took about 13 hours, roughly six of which had been spent on the climb from the trailhead to the peak and back again. Those six hours included a well-earned rest at the top to take in the beautiful vistas.
It had been a tough and challenging climb.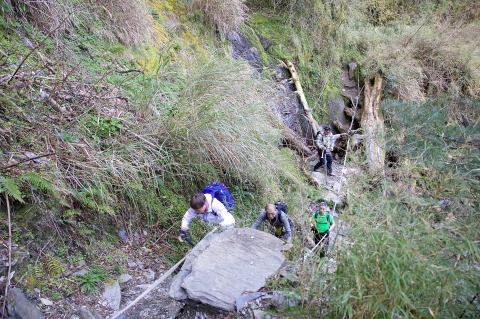 Several members of the group traverse a small stream. 登山隊伍穿過一條小溪。
Photo: Perry Svensson, Taipei Times
照片:台北時報記者蘇沛攝
(Perry Svensson, Taipei Times)
我們眼前所面對的是一道在一點五公里內拔升近八百公尺高度的險峻陡坡,許多路段都要倚賴繩索才能前進。其中一段路還必須垂直攀登岩壁,約有二十到二十五公尺高。待我們回到平地時,我已徹底精疲力盡。
我們是在清晨四點出發的,然後沿著八二○林道健行十公里左右來到畢祿山的登山口。畢祿山位於中台灣太魯閣與合歡山之間,高達三千三百七十一公尺。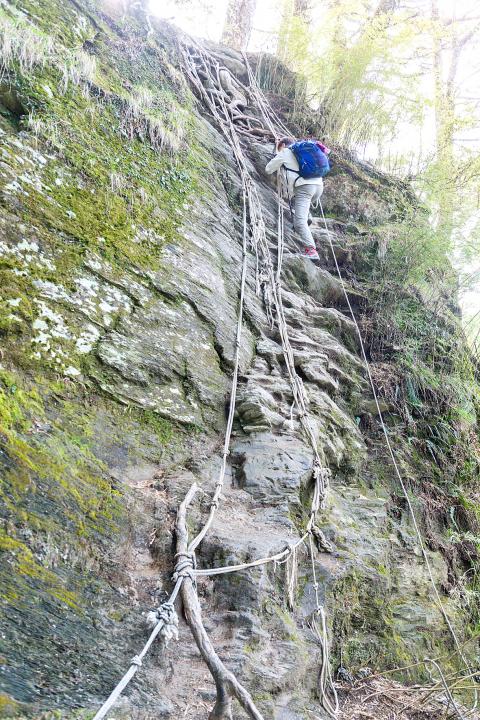 Carefully scaling a vertical rock wall with the help of fixed ropes to avoid a misstep and a tumble. 部份路段為垂直峭壁,須利用繩索小心攀登,以免失足跌落。
Photo: Perry Svensson, Taipei Times
照片:台北時報記者蘇沛攝
我們一開始就知道這趟登山之旅會是艱難的,就算稱不上「危機四伏」,也必定要有充足準備且隨時保持警覺。登山過程中,我們一路小心注意安全,生怕一不留神就會失足跌倒。隨著我們深入山中,登山道路也從林間的緩坡轉變為佈滿岩石的陡峭小徑。下雨時這條小徑想必會變成一條小河。
有好幾段格外陡峭的路,都必須拉著繩索才能前進,特別耗費力氣。
整趟健行全程花了十三小時。從登山口爬到山頂再回到原處就花了我們大約六小時,其中也包括攻頂後,在峰頂遠眺美景,苦盡甘來的休息時間。
這是一趟艱難且充滿挑戰的登山行。
(台北時報編譯林俐凱譯)
Comments will be moderated. Keep comments relevant to the article. Remarks containing abusive and obscene language, personal attacks of any kind or promotion will be removed and the user banned. Final decision will be at the discretion of the Taipei Times.