Increased algae causes Love River to turn white 藻類增生導致愛河變色
In recent years, there have been several instances where Kaohsiung's Love River has changed color, which tends to happen during changes of seasons. On Wednesday last week the section of the river that runs from the Zihyou Bridge along Minzu Road in the city's Zuoying District turned white, shocking many local residents, who originally thought it was caused by illegal dumping. Kaohsiung City Environmental Protection Bureau collected samples from the river and found no pollutants. Considering that the water was not polluted, and that there are no factories along the river in the area, the bureau concluded that the change of color must have been caused by increased algae in the river. By evening, the river had slowly begun changing back to its normal color.
According to the bureau, there are many algae and microorganisms in the river and certain weather conditions will cause some organisms to thrive. If the organism that is thriving causes water to turn white, the river will turn white. Likewise, if the thriving organism causes water to turn red, then the river will turn red.
Last year the bureau conducted a study on Love River's algae and water quality in water near Minzu Bridge, Mingcheng Bridge and Jianguo Bridge and found as many as 40 species of algae in the water near Minzu Bridge.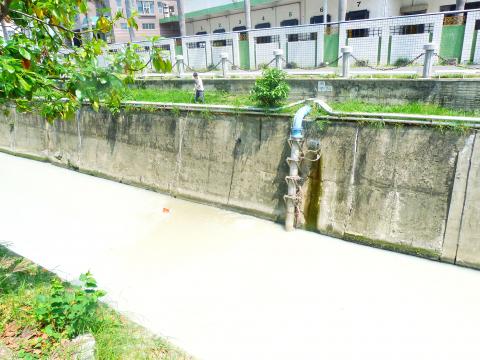 The section of Kaohsiung's Love River that runs from the Zihyou Bridge along Minzu Road in the city's Zuoying District was found to have turned white on Wednesday last week. 高雄左營區民族路至自由橋間愛河河段上週三變成乳白色。
Photo: Chen Wen-chan, Liberty Times
照片:自由時報記者陳文嬋
(Liberty Times, translated by Tu Yu-an)
高雄市愛河近年來發生多次變色現象,尤以季節轉換時期最頻繁,上週三左營區民族路至自由橋段驚傳變成乳白色,民眾一度以為有工廠違法排放,市府環保局現場採樣未發現污染源,且該段沿線沒有工廠,研判應是藻類增生所致,傍晚逐漸恢復正常。
環保局表示,愛河中藻類及微生物非常多,在特殊的氣候條件下,會導致特定的物種增生,若是會形成白色的物種增生,水色就會呈現白色,若是會形成紅色的物種增生,就會呈現紅色。
環保局去年起針對民族橋、明誠橋及建國橋,進行藻類及水質調查結果,發現民族橋測站測得水中藻類多達四十種。
(自由時報記者陳文嬋)
Publication Notes
TODAY'S WORDS
今日單字
1. change of season phr.
季節轉換
(ji4 jie2 zhuan3 huan4)
2. illegal dumping phr.
違法排放
(wei2 fa3 pai2 fang4)
3. algae n.
藻類
(zao3 lei4)
4. microorganism n.
微生物
(wei2 sheng1 wu4)
Comments will be moderated. Keep comments relevant to the article. Remarks containing abusive and obscene language, personal attacks of any kind or promotion will be removed and the user banned. Final decision will be at the discretion of the Taipei Times.