Three Taiwanese directors on 21st century's top 100 directors list 二十一世紀百大導演 台灣強佔三席
Famous film Web site "They Shoot Pictures, Don't They?" (TSPDT) has compiled a list of the 21st Century's Top 100 Directors. Among the three Taiwanese directors on the list, Taiwan's two-time Oscar-winning director Ang Lee is ranked No. 10.
To qualify among the top 100 directors, each director needs to have a minimum of two movies released between 2000 and 2016 and to be cited in TSPDT's list of Top 1,000 Films of the 21st Century, according to TSPDT. Taiwanese directors Tsai Ming-liang and Hou Hsiao-hsien also made it to the list at No. 34 and 36, respectively.
Hong Kong director Wong Kar-wai won the top spot on the list, followed by David Lynch of the US and then Michael Haneke of Austria. Taiwan is second only to the US, the UK, France and South Korea in terms of the number of directors on the list.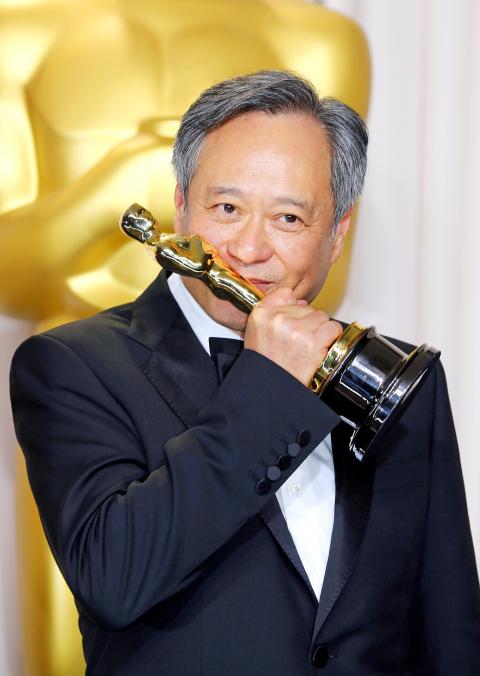 Taiwanese director Ang Lee kisses his trophy after winning the Best Director award for Life of Pi at the Academy Awards in 2013. 台灣導演李安二○一三年以「少年Pi的奇幻漂流」贏得 奧斯卡金像獎最佳導演獎,他在獲獎後親吻獎座。
Photo: Reuters
照片︰路透社
(CNA, translated by Eddy Chang)
知名電影網站「TSPDT」近日選出二十一世紀百大導演,台灣就有三名導演獲選,兩度贏得奧斯卡最佳導演獎的台灣導演李安高居第十名。
而根據「TSPDT」的資格限制,獲選的百大名導,必須至少有兩部在二○○○年到二○一六年間執導的電影,被列在「TSPDT」的二十一世紀千大名片中。另外兩名入選的台灣導演分別是第三十四名的蔡明亮,和第三十六名的侯孝賢。
在名單中贏得榜首的是香港名導王家衛,其後則是美國導演大衛.林區和奧地利導演麥可.漢內克。以上榜的導演人數來說,台灣僅次於美國、英國、法國、南韓。
(中央社)
Publication Notes
TODAY'S WORDS 今日單字
1. director n.
導演(dao2 yan3)
2. qualify v.
夠資格(gou4 zi1 ge2)
3. minimum n.
最少量(zui4 shao3 liang4)
4. respectively adv.
分別(fen1 bie2)
5. second only to phr.
僅次於(jin3 ci4 yu2)
Comments will be moderated. Keep comments relevant to the article. Remarks containing abusive and obscene language, personal attacks of any kind or promotion will be removed and the user banned. Final decision will be at the discretion of the Taipei Times.